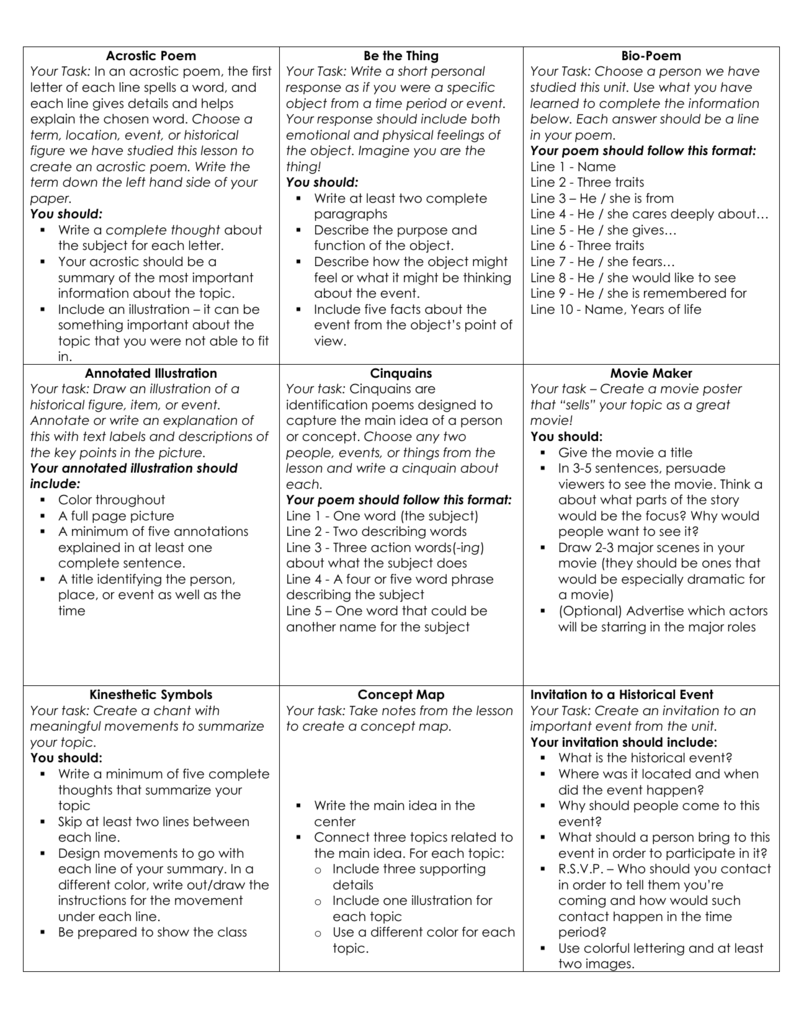 Acrostic Poem
Your Task: In an acrostic poem, the first
letter of each line spells a word, and
each line gives details and helps
explain the chosen word. Choose a
term, location, event, or historical
figure we have studied this lesson to
create an acrostic poem. Write the
term down the left hand side of your
paper.
You should:
 Write a complete thought about
the subject for each letter.
 Your acrostic should be a
summary of the most important
information about the topic.
 Include an illustration – it can be
something important about the
topic that you were not able to fit
in.
Annotated Illustration
Your task: Draw an illustration of a
historical figure, item, or event.
Annotate or write an explanation of
this with text labels and descriptions of
the key points in the picture.
Your annotated illustration should
include:
 Color throughout
 A full page picture
 A minimum of five annotations
explained in at least one
complete sentence.
 A title identifying the person,
place, or event as well as the
time
Be the Thing
Your Task: Write a short personal
response as if you were a specific
object from a time period or event.
Your response should include both
emotional and physical feelings of
the object. Imagine you are the
thing!
You should:
 Write at least two complete
paragraphs
 Describe the purpose and
function of the object.
 Describe how the object might
feel or what it might be thinking
about the event.
 Include five facts about the
event from the object's point of
view.
Bio-Poem
Your Task: Choose a person we have
studied this unit. Use what you have
learned to complete the information
below. Each answer should be a line
in your poem.
Your poem should follow this format:
Line 1 - Name
Line 2 - Three traits
Line 3 – He / she is from
Line 4 - He / she cares deeply about…
Line 5 - He / she gives…
Line 6 - Three traits
Line 7 - He / she fears…
Line 8 - He / she would like to see
Line 9 - He / she is remembered for
Line 10 - Name, Years of life
Cinquains
Your task: Cinquains are
identification poems designed to
capture the main idea of a person
or concept. Choose any two
people, events, or things from the
lesson and write a cinquain about
each.
Your poem should follow this format:
Line 1 - One word (the subject)
Line 2 - Two describing words
Line 3 - Three action words(-ing)
about what the subject does
Line 4 - A four or five word phrase
describing the subject
Line 5 – One word that could be
another name for the subject
Movie Maker
Your task – Create a movie poster
that "sells" your topic as a great
movie!
You should:
 Give the movie a title
 In 3-5 sentences, persuade
viewers to see the movie. Think a
about what parts of the story
would be the focus? Why would
people want to see it?
 Draw 2-3 major scenes in your
movie (they should be ones that
would be especially dramatic for
a movie)
 (Optional) Advertise which actors
will be starring in the major roles
Kinesthetic Symbols
Your task: Create a chant with
meaningful movements to summarize
your topic.
You should:
 Write a minimum of five complete
thoughts that summarize your
topic
 Skip at least two lines between
each line.
 Design movements to go with
each line of your summary. In a
different color, write out/draw the
instructions for the movement
under each line.
 Be prepared to show the class
Concept Map
Your task: Take notes from the lesson
to create a concept map.
Invitation to a Historical Event
Your Task: Create an invitation to an
important event from the unit.
Your invitation should include:
 What is the historical event?
 Where was it located and when
did the event happen?
 Why should people come to this
event?
 What should a person bring to this
event in order to participate in it?
 R.S.V.P. – Who should you contact
in order to tell them you're
coming and how would such
contact happen in the time
period?
 Use colorful lettering and at least
two images.
 Write the main idea in the
center
 Connect three topics related to
the main idea. For each topic:
o Include three supporting
details
o Include one illustration for
each topic
o Use a different color for each
topic.
Comic Book / Story Board
Your task: Determine the 8 most
important events in the lesson and
create an illustrated summary.
 Turn your notebook sideways and
 divide the page into eight panels.
 Each panel should represent a
different event.
 At the top or bottom of each
panel, write a caption in
complete sentences.
 Illustrations for each panel should
be meaningful and colorful
You Be the Teacher!
Your task: Create a quiz from the
lesson
You should:
 Include at least ten questions
 Use multiple choice, matching
or fill in the blank.
 Focus on the most important
ideas
 Include an answer key.
Magazine Cover
Your Task: Create a newsmagazine
cover such as Time. The final result
should look clean and artistic like
a magazine cover (colorful block
letters, quality artwork,etc.)
The page can be laid out however
you choose but must include ALL of
the following:
 Magazine Title
 A central, important image for
the "cover story" – your topic.
 At least 3 news story leads that go
along with the cover story
 Each lead should have a title and
some details about the article.
You do not have to write the
actual news story.
Letter of Advice
Your task: Write a personal letter to
someone in history giving them
advice on how to deal with a
historical situation.
You should:
 Address your letter properly. Ex.
"Dear President Lincoln,"
 Briefly explain the situation. (1
paragraph)
 Give advice on how the person
can deal with the problem. (1
paragraph)
 Each paragraph must contain
accurate information, and your
advice must be based on facts
as well.
 Try to be helpful!
 Close the letter properly. Ex.
"Sincerely, your friend…"
Historical Marker or Monument
As you travel around town or across the country you see historical markers or
monuments.
Marker
Monument
Your task: Create a sign posted at an
Your task: Sketch a statue or building
important place that explains what
to recognize an important person or
happened there.
event.
Your marker should:
You should:
 Have a title
 Be thoughtful and reflect on
 Include a simple drawing to
what is important about the
represent the place/event
person/event
 Be colorful
 Include an explanation of each
 a paragraph to explain the
feature of your monument and
place/event
how it relates to the
person/event.
 Explain where you would locate
your monument and why.
Double Entry Journal
Your task: Respond specifically and
personally to a reading assignment.
You should:
 Divide your paper into two
columns: quote and response
 In the quotes column, write down
anything from the reading that
you found interesting or
important.
 In the response column, write
down your reaction to that quote.
Include a connection or personal
opinion about it. Be sure to
elaborate on your thinking!
 Include at least 3 entries
Venn Diagram
Your task: Copy and complete the
following organizer.
You should:
 Draw two circles that intersect
each other.
 Write the name of one idea on
one side and the name of the
other idea on the opposite side.
 In the outside circles, list 5
characteristics unique to each
idea.
 In the middle section listed shared
characteristics.
Historical Journal
Your task: Write a series of journal
entries as a person living in the past.
You journal should have:
 at least three entries, one for
beginning, middle, and end of
the event
Each entry should have:
 at least 5 sentences
 factual information
 an accurate or possible date.
Think about:
 How did the event affect you?
 Are things better or worse now?
 How do you feel about what
happened?
 Has your life changed?
 How will the event affect the
future?