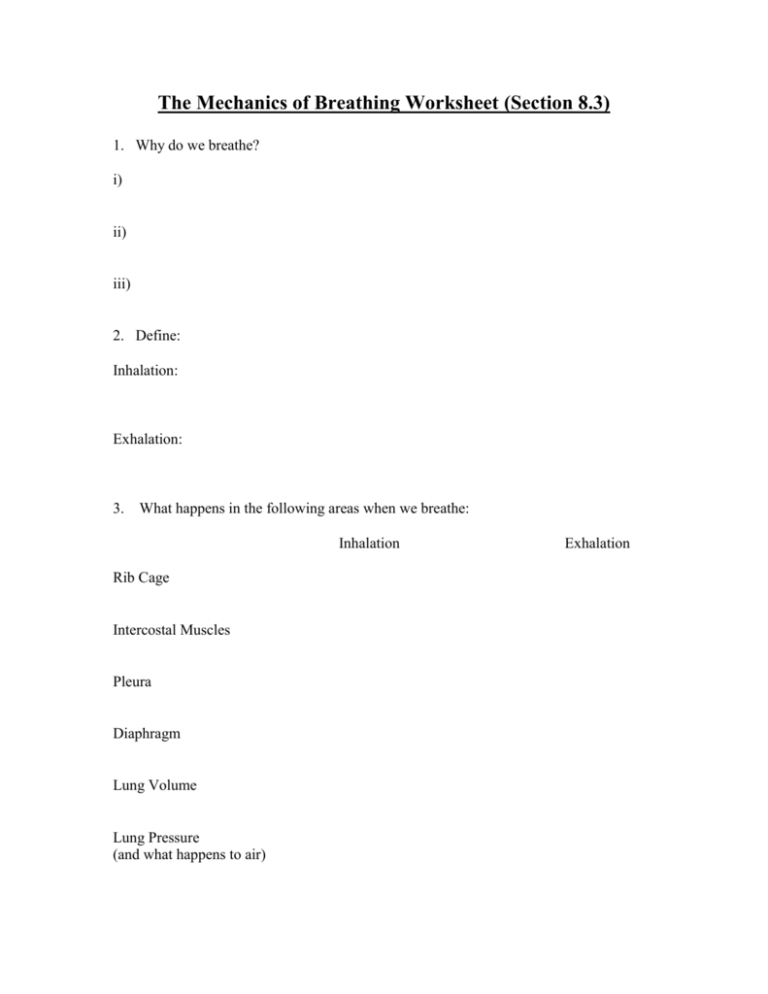 The Mechanics of Breathing Worksheet (Section 8.3)
1. Why do we breathe?
i)
ii)
iii)
2. Define:
Inhalation:
Exhalation:
3. What happens in the following areas when we breathe:
Inhalation
Rib Cage
Intercostal Muscles
Pleura
Diaphragm
Lung Volume
Lung Pressure
(and what happens to air)
Exhalation
4. What is the composition of inhaled air? Exhaled air?
5. When exhaling the composition of oxygen is ______________ while the composition
of carbon dioxide is ______________. Therefore our bodies are keeping some of the
_____________ and replacing it with __________________. Also our bodies are
giving off substantial amounts of ____________.
6. Explain how the lung/alveoli/capillaries make it easy for the diffusion of respiratory
gases.
7. Under normal conditions, your regular breathing does not use up the full capacity of
your lungs. As your body's needs increase, such as when you exercise, the volume of
air drawn in can also increase. The different volumes of air drawn in or pushed out
by the lungs are:
Tidal Volume:
Inspiratory reserve volume:
Expiratory reserve volume:
Vital Capacity:
Residual Volume:
8. Draw and label a spirograph showing each of the aforementioned volumes of air.