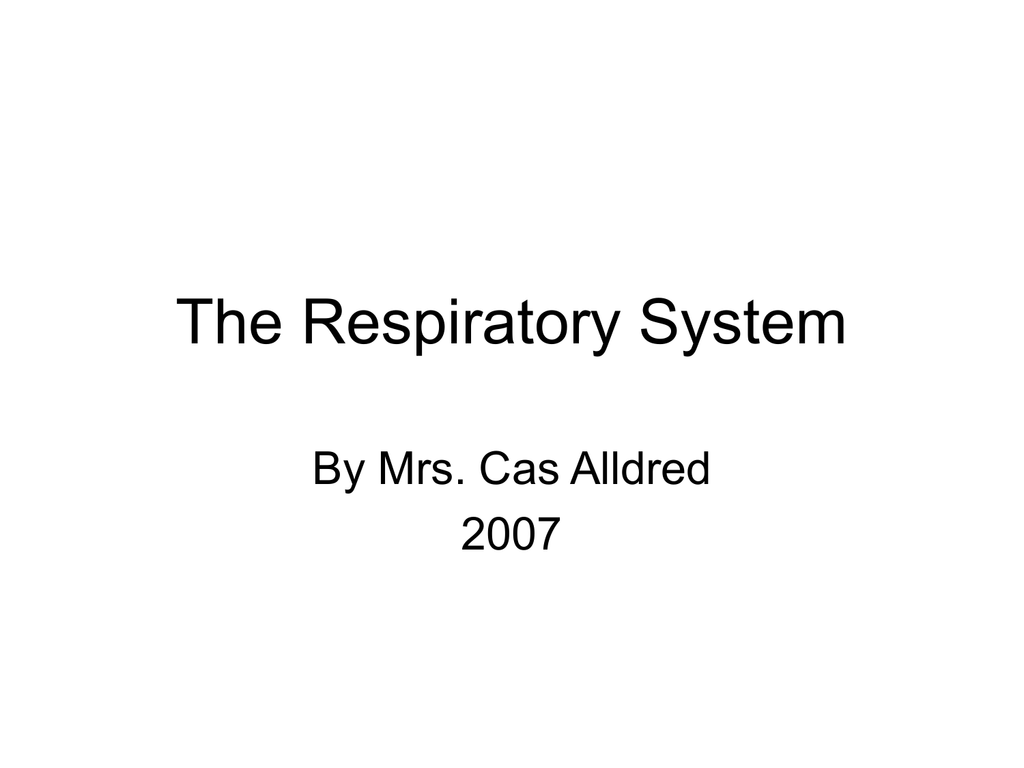 The Respiratory System
By Mrs. Cas Alldred
2007
Primary Function
• Supply the blood with oxygen and to
take away the waste product of cellscarbon dioxide.
Path of air
• Respire- to breathe
• Expire- , let out air, or death
• Expiration date- not any good
Mouth & Nose
Pharynx
Larynx
Trachea
Trachea's Job
• Filter the air
• Cilia- hair like projections in the liner of
the trachea.
• Secrete mucus- helps trap air particles
• Warms the air before it enters the lungs
Bronchi
Bronchiole Tubes
Lungs
Lung's job
• Oxygen is taken into the blood
• Carbon Dioxide is exhaled.
Alveoli
Diaphragm
Smoker's lung vs. healthy
lung
Emphysema
Respiratory System
Cool facts
• * Your lungs contain almost 1500 miles of
airways and over 300 million alveoli.
•
* Every minute you breathe in 13 pints of
air.
•
* Plants are our partners in breathing. We
breathe in air, use the oxygen in it, and
release carbon dioxide. Plants take in carbon
dioxide and release oxygen. Thank
goodness!
Asthma
How are all these pictures
related?
Answer these questions
• Why is respiration important for your
cells?
• Where does cellular respiration take
place?
• Why does smoking affect the amount of
oxygen your cells are acquiring?