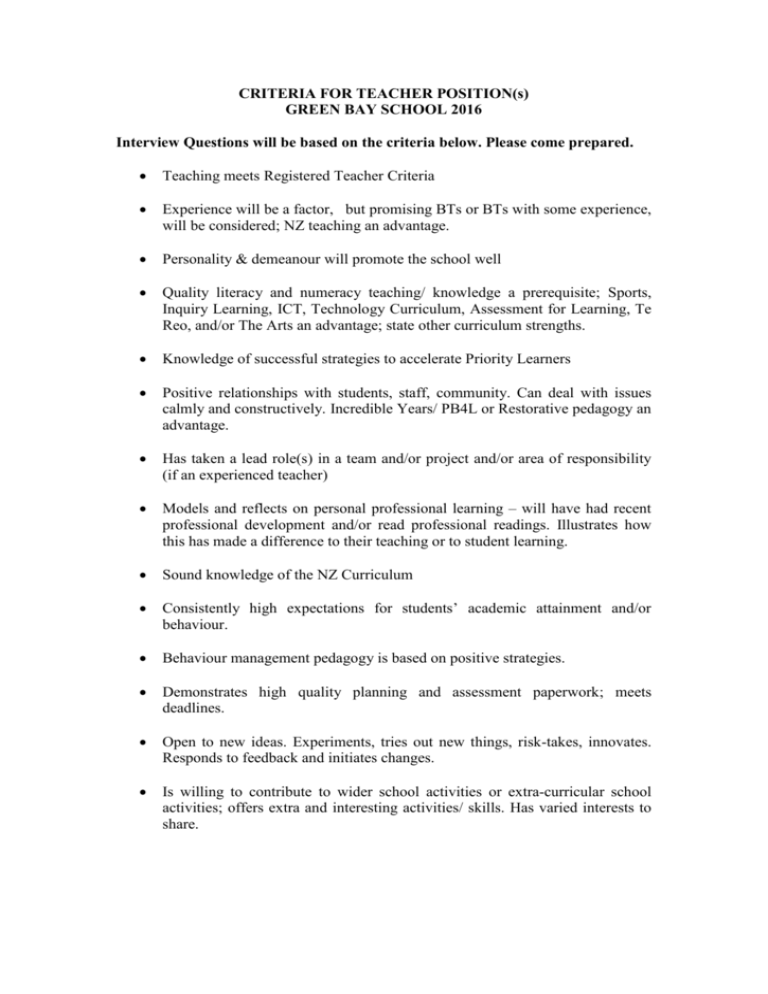 CRITERIA FOR TEACHER POSITION(s)
GREEN BAY SCHOOL 2016
Interview Questions will be based on the criteria below. Please come prepared.

Teaching meets Registered Teacher Criteria

Experience will be a factor, but promising BTs or BTs with some experience,
will be considered; NZ teaching an advantage.

Personality & demeanour will promote the school well

Quality literacy and numeracy teaching/ knowledge a prerequisite; Sports,
Inquiry Learning, ICT, Technology Curriculum, Assessment for Learning, Te
Reo, and/or The Arts an advantage; state other curriculum strengths.

Knowledge of successful strategies to accelerate Priority Learners

Positive relationships with students, staff, community. Can deal with issues
calmly and constructively. Incredible Years/ PB4L or Restorative pedagogy an
advantage.

Has taken a lead role(s) in a team and/or project and/or area of responsibility
(if an experienced teacher)

Models and reflects on personal professional learning – will have had recent
professional development and/or read professional readings. Illustrates how
this has made a difference to their teaching or to student learning.

Sound knowledge of the NZ Curriculum

Consistently high expectations for students' academic attainment and/or
behaviour.

Behaviour management pedagogy is based on positive strategies.

Demonstrates high quality planning and assessment paperwork; meets
deadlines.

Open to new ideas. Experiments, tries out new things, risk-takes, innovates.
Responds to feedback and initiates changes.

Is willing to contribute to wider school activities or extra-curricular school
activities; offers extra and interesting activities/ skills. Has varied interests to
share.