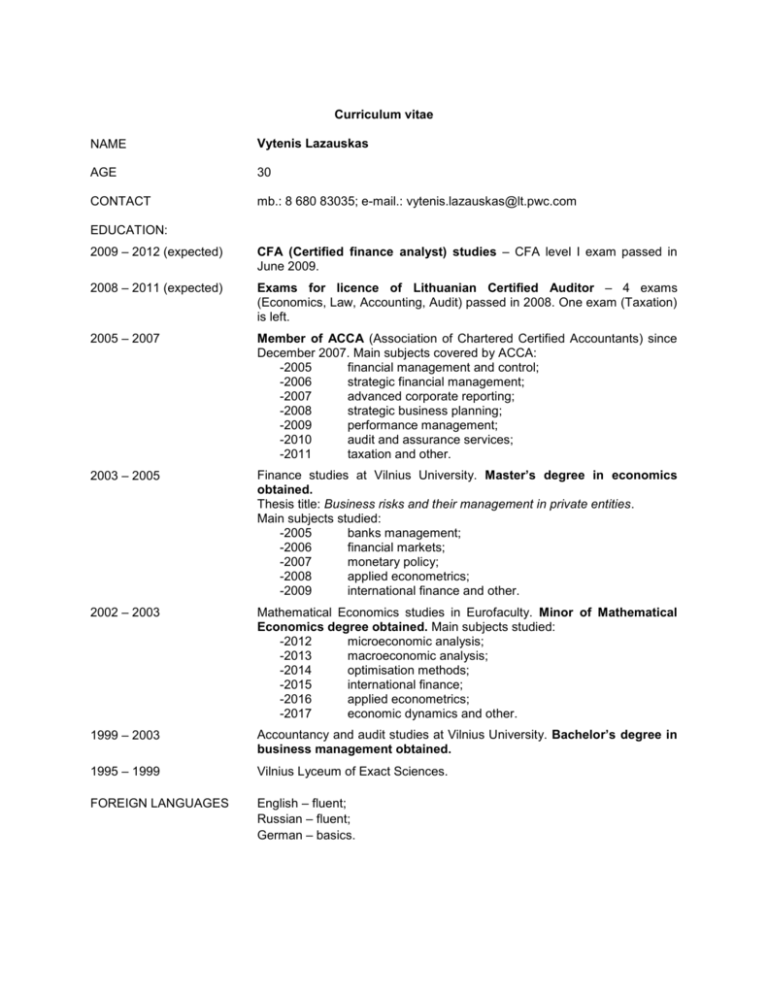 Curriculum vitae
NAME
Vytenis Lazauskas
AGE
30
CONTACT
mb.: 8 680 83035; e-mail.: [email protected]
EDUCATION:
2009 – 2012 (expected)
CFA (Certified finance analyst) studies – CFA level I exam passed in
June 2009.
2008 – 2011 (expected)
Exams for licence of Lithuanian Certified Auditor – 4 exams
(Economics, Law, Accounting, Audit) passed in 2008. One exam (Taxation)
is left.
2005 – 2007
Member of ACCA (Association of Chartered Certified Accountants) since
December 2007. Main subjects covered by ACCA:
-2005
financial management and control;
-2006
strategic financial management;
-2007
advanced corporate reporting;
-2008
strategic business planning;
-2009
performance management;
-2010
audit and assurance services;
-2011
taxation and other.
2003 – 2005
Finance studies at Vilnius University. Master's degree in economics
obtained.
Thesis title: Business risks and their management in private entities.
Main subjects studied:
-2005
banks management;
-2006
financial markets;
-2007
monetary policy;
-2008
applied econometrics;
-2009
international finance and other.
2002 – 2003
Mathematical Economics studies in Eurofaculty. Minor of Mathematical
Economics degree obtained. Main subjects studied:
-2012
microeconomic analysis;
-2013
macroeconomic analysis;
-2014
optimisation methods;
-2015
international finance;
-2016
applied econometrics;
-2017
economic dynamics and other.
1999 – 2003
Accountancy and audit studies at Vilnius University. Bachelor's degree in
business management obtained.
1995 – 1999
Vilnius Lyceum of Exact Sciences.
FOREIGN LANGUAGES
English – fluent;
Russian – fluent;
German – basics.
WORK EXPERIENCE:
January 2003 – TO
DATE
PricewaterhouseCoopers UAB, Assurance department. Current
position – Manager of Assurance Services. Position includes the
following tasks and responsibilities:
-2018
audit project management, including tasks planning,
assignment, coaching and reviewing of work performed;
-2019
communication with client top management;
-2020
summary and presentation of audit issues to the client
management;
-2021
reviewing of financial statements (stand-alone and
consolidated);
-2022
preparation of auditor's report;
-2023
client consultations on complex accounting issues
and other.
Main audit clients under my current responsibility: Šiaulių bankas AB,
Avia Solutions Group AB, Koncernas MG Baltic UAB, Šiaulių plentas
Group, Mitnija UAB, YIT Kausta AB, Visagino atominė elektrinė UAB.
Assignments I have worked in include: audit of Palink UAB, Ignalinos
atominė elektrinė AB; audit of Lietuvos bankas, Lifosa AB, Koncernas
SBA UAB.
Internal rating. Each position in assurance department is divided into
rates according to the employee performance in that position in
comparison to peers. Ratings are between 1 and 5, 1 being the best. I
have consistently maintained internal rating of 2 (exceeds
expectations) among my grade, currently I am rated 1 (outstanding).
Additional responsibilities:
-2005
leader of SPA (System and Process Assurance) team
in assurance department, responsibilities include:
-2024 planning of SPA team activities;
-2025 performance of Information Technology General
Controls (ITGC) testing for audit clients;
-2026 consulting of other audit staff on ITGC testing for audit
clients.
-2006
member of marketing committee of the firm.
International experience: secondment to PricewaterhouseCoopers
Kyiv office in Ukraine (June – July 2008), team manager of review of
Alfa Bank Ukraine (10th largest bank in Ukraine). Responsibilities
included managing the review of condensed interim financial
information, and review of bond issuance prospectus of the bank.
Other experience:
Since 2006 I make presentations in client seminars on IFRS
(International Financial Reporting Standards) organized by PwC.
AREAS OF
PROFESSIONAL
INTEREST
Equity investments, portfolio management.
HOBBIES
Long distances running, mountain hiking, cross-country skiing.