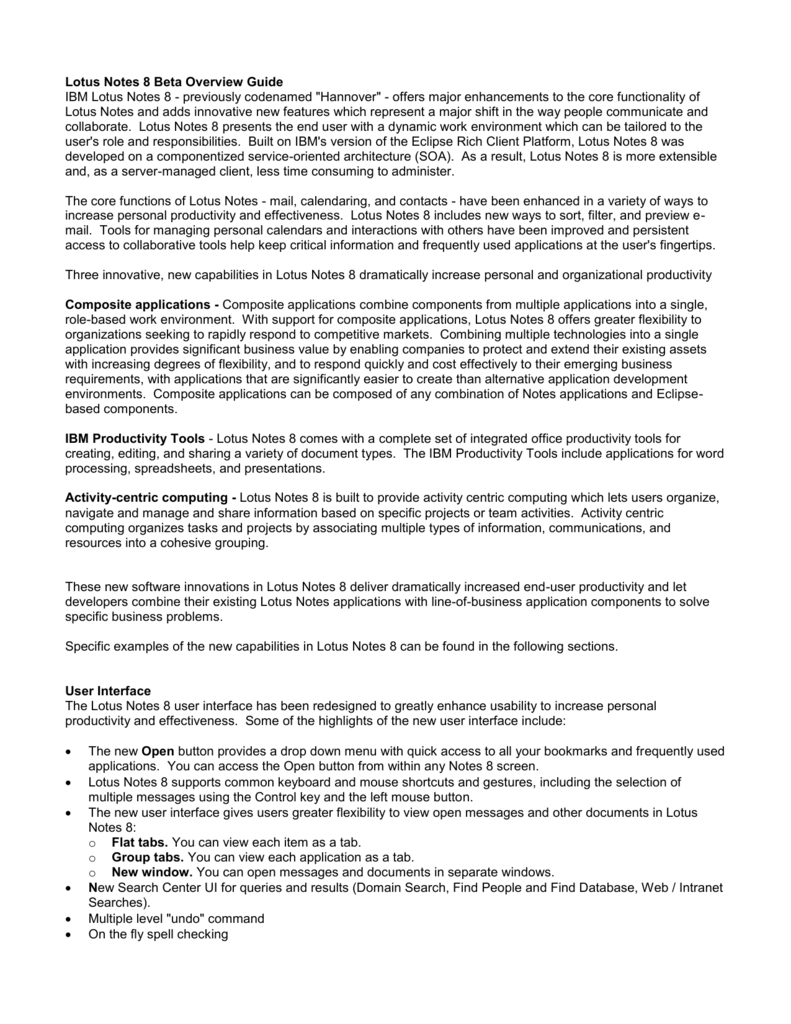 Lotus Notes 8 Beta Overview Guide
IBM Lotus Notes 8 - previously codenamed "Hannover" - offers major enhancements to the core functionality of
Lotus Notes and adds innovative new features which represent a major shift in the way people communicate and
collaborate. Lotus Notes 8 presents the end user with a dynamic work environment which can be tailored to the
user's role and responsibilities. Built on IBM's version of the Eclipse Rich Client Platform, Lotus Notes 8 was
developed on a componentized service-oriented architecture (SOA). As a result, Lotus Notes 8 is more extensible
and, as a server-managed client, less time consuming to administer.
The core functions of Lotus Notes - mail, calendaring, and contacts - have been enhanced in a variety of ways to
increase personal productivity and effectiveness. Lotus Notes 8 includes new ways to sort, filter, and preview email. Tools for managing personal calendars and interactions with others have been improved and persistent
access to collaborative tools help keep critical information and frequently used applications at the user's fingertips.
Three innovative, new capabilities in Lotus Notes 8 dramatically increase personal and organizational productivity
Composite applications - Composite applications combine components from multiple applications into a single,
role-based work environment. With support for composite applications, Lotus Notes 8 offers greater flexibility to
organizations seeking to rapidly respond to competitive markets. Combining multiple technologies into a single
application provides significant business value by enabling companies to protect and extend their existing assets
with increasing degrees of flexibility, and to respond quickly and cost effectively to their emerging business
requirements, with applications that are significantly easier to create than alternative application development
environments. Composite applications can be composed of any combination of Notes applications and Eclipsebased components.
IBM Productivity Tools - Lotus Notes 8 comes with a complete set of integrated office productivity tools for
creating, editing, and sharing a variety of document types. The IBM Productivity Tools include applications for word
processing, spreadsheets, and presentations.
Activity-centric computing - Lotus Notes 8 is built to provide activity centric computing which lets users organize,
navigate and manage and share information based on specific projects or team activities. Activity centric
computing organizes tasks and projects by associating multiple types of information, communications, and
resources into a cohesive grouping.
These new software innovations in Lotus Notes 8 deliver dramatically increased end-user productivity and let
developers combine their existing Lotus Notes applications with line-of-business application components to solve
specific business problems.
Specific examples of the new capabilities in Lotus Notes 8 can be found in the following sections.
User Interface
The Lotus Notes 8 user interface has been redesigned to greatly enhance usability to increase personal
productivity and effectiveness. Some of the highlights of the new user interface include:






The new Open button provides a drop down menu with quick access to all your bookmarks and frequently used
applications. You can access the Open button from within any Notes 8 screen.
Lotus Notes 8 supports common keyboard and mouse shortcuts and gestures, including the selection of
multiple messages using the Control key and the left mouse button.
The new user interface gives users greater flexibility to view open messages and other documents in Lotus
Notes 8:
o Flat tabs. You can view each item as a tab.
o Group tabs. You can view each application as a tab.
o New window. You can open messages and documents in separate windows.
New Search Center UI for queries and results (Domain Search, Find People and Find Database, Web / Intranet
Searches).
Multiple level "undo" command
On the fly spell checking
Mail
 Lotus Notes 8 Mail offers visual clue link messages with associated threads. Threaded emails can be gathered
together and presented at the view level. Users can easily expand mail threads and see all messages related
to a specific topic. A new brief preview message feature allows users to quickly see information contained in
individual mail messages.
 Users now have the option of previewing messages vertically or horizontally.
 By double-clicking on an item, users can launch the item in a separate window. A user can then interact with
open messages and other Notes elements more easily.
 Users have greater control to toggle Lotus Notes mail fields on or off. For example, users can select or
deselect the "bcc:" field in the Lotus Notes memo form.
 Mail recall capability.
 Improved rendering of HTML messages.
Calendar
 Unprocessed invitations appear as "ghosted" or highlighted entries in the monthly calendar view. Users can
simply double-click on the highlighted date to accept, decline, or counter the invitation.
 When scheduling conflicts arise, the meeting chairperson can deselect non-critical attendees to find dates and
times that can accommodate the remaining attendees.
Contacts
 Business card-like views for displaying individual contact information.
 Contact records can include a photograph of the person.
 Instant messaging chats can be initiated from the Contact view.
 Drop down addressing and the "Recent Contacts" category in Contacts presents a list of people you have
recently collaborated with to speed the addressing of outbound messages.
 "Recent Collaborations" provide an easy way to see documents that have been recently collaborated on with
specific people.
Productivity Tools
Lotus Notes 8 includes an integrated set of office productivity applications for creating, editing, and sharing a
variety of documents types. These IBM Productivity Tools include a word processor, spreadsheet application, and
presentation graphics application. The IBM Productivity Tools support the OASIS Open Document Format (ODF),
an international standard for sharing and editing editable documents. The open standards based productivity tools
give users and organizations the a choice file formats and frees them from proprietary vendor formats. The IBM
Productivity Tools can also open, edit, and save documents in certain Microsoft Office formats. Additionally,
SmartSuite formats may be imported to the IBM productivity editors through an included filter.
Composite Applications
A composite application is a collection of components brought together for a business purpose. Composite
applications bring together components on the screen to offer a role-based user experience. Composite
applications can provide access to data from multiple back-end sources such as Notes databases, Java
applications, or custom applications. These component parts can be mixed and reused to create combinations of
applications that are coupled together and which share information. When components are inter-connected in such
a fashion, data that is changed in one application is processed in the affects the corresponding data and views in
the connected applications/components.
Using the Lotus Notes 8 client, end users can access composite applications from within the Lotus Notes interface.
Organizations can deploy composite applications made up of only Notes databases and applications or they can
create composite applications using a variety of component types including Eclipse/Java applications. This beta
release provides three sample composite applications, and gets you started creating your own composite
applications.
Composite applications in Lotus Notes 8 can be used online or offline.
Activities
Activity centric computing lets teams of users manage projects via an ad hoc workflow which groups together
information objects that are related to an ongoing project and are shared among team members. The information
objects can be documents, files, and notes. The ad hoc workflow is presented in graphical, hierarchal format and
makes it easier to refer to past work, visualize project status, and discover opportunities for further progress.
Information is organized and categorized according to the activity or project rather than the document type. Email,
instant messaging chat histories, documents, web pages, and images are grouped together under the activity or
project to which they are related.
The Activities function in Lotus Notes 8 lets teams of users achieve project objectives by participating in different
activities. For example, a team may be charged with developing a user manual to enhance knowledge about a new
software application. Activities for that project include gathering product specifications and creating a database to
store the information. The Activities function in Lotus Notes 8 lets individuals collect all of the documents, charts
and presentations needed for the manual in one place, along with the communication messages and interactions
between the team. Team members can edit documents, make comments and add information as needed, as the
project evolves organically and everyone participates in the creation of the manual. As a users day can typically
switch from one work task or project to another task or project that is largely unrelated and involving different coworkers, so can the Activities function of Lotus Notes easily switch.
In Lotus Notes 8, the Activities feature allows users to quickly create new activities or access existing activities via
the Activities viewer. User can add and edit the existing content associated with the activities. Activities can be
composed of email, instant messaging chats, web pages, images, files and folders. Activities can be searched and
filtered.
Activities requires WebSphere Application Server (WAS version 6.0.2.11).