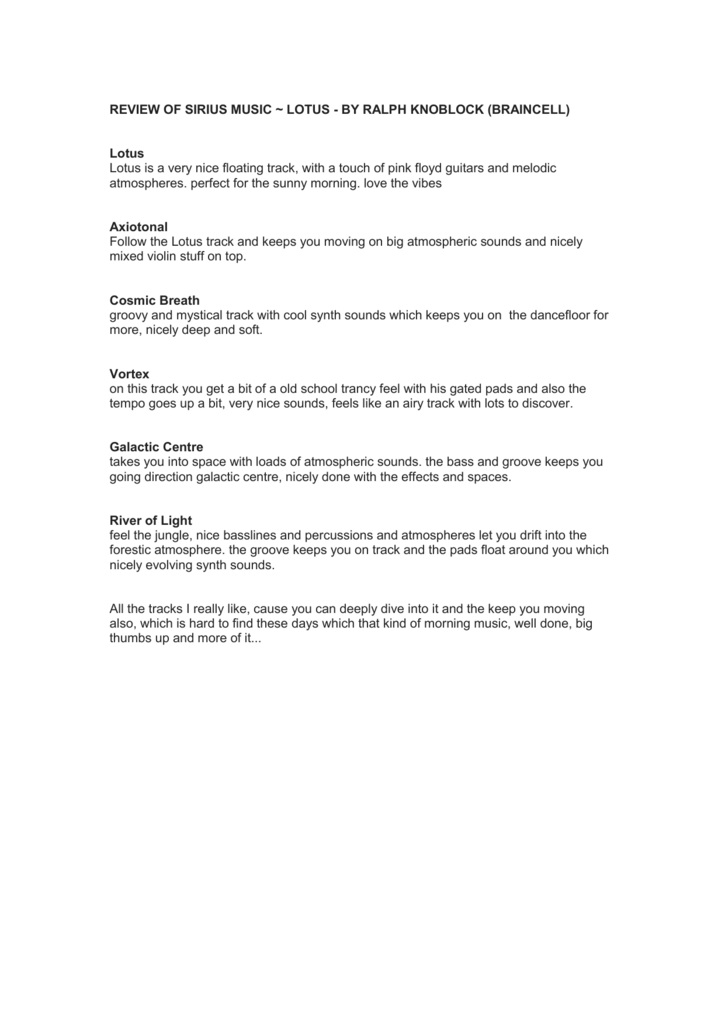 REVIEW OF SIRIUS MUSIC ~ LOTUS - BY RALPH KNOBLOCK (BRAINCELL)
Lotus
Lotus is a very nice floating track, with a touch of pink floyd guitars and melodic
atmospheres. perfect for the sunny morning. love the vibes
Axiotonal
Follow the Lotus track and keeps you moving on big atmospheric sounds and nicely
mixed violin stuff on top.
Cosmic Breath
groovy and mystical track with cool synth sounds which keeps you on the dancefloor for
more, nicely deep and soft.
Vortex
on this track you get a bit of a old school trancy feel with his gated pads and also the
tempo goes up a bit, very nice sounds, feels like an airy track with lots to discover.
Galactic Centre
takes you into space with loads of atmospheric sounds. the bass and groove keeps you
going direction galactic centre, nicely done with the effects and spaces.
River of Light
feel the jungle, nice basslines and percussions and atmospheres let you drift into the
forestic atmosphere. the groove keeps you on track and the pads float around you which
nicely evolving synth sounds.
All the tracks I really like, cause you can deeply dive into it and the keep you moving
also, which is hard to find these days which that kind of morning music, well done, big
thumbs up and more of it...