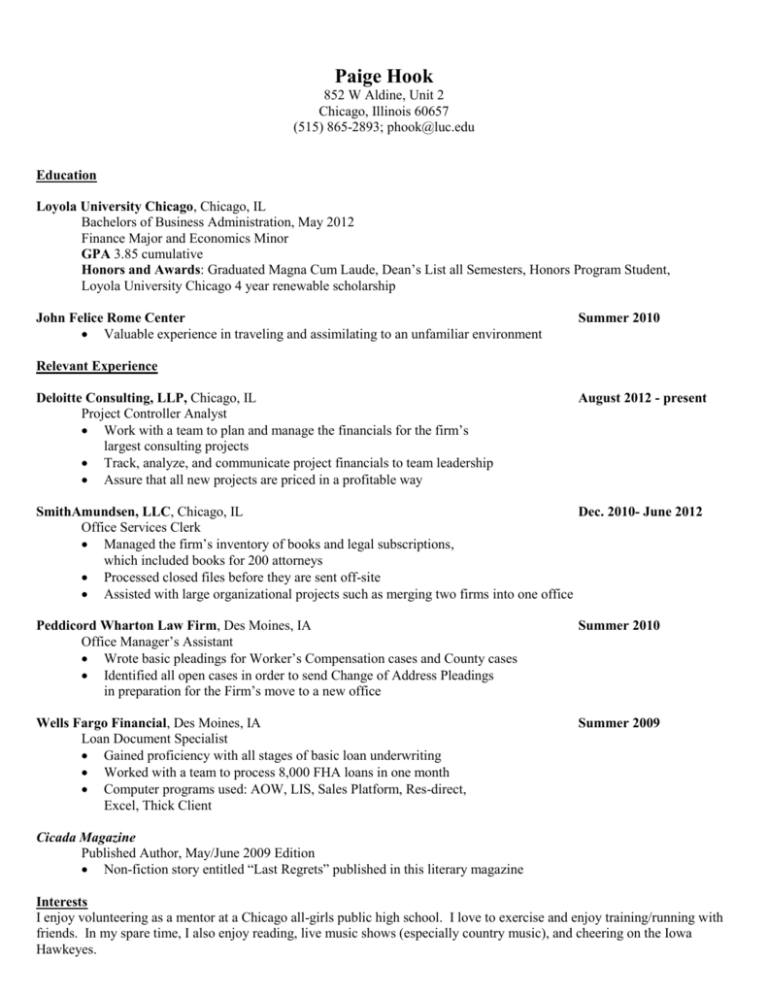 Paige Hook
852 W Aldine, Unit 2
Chicago, Illinois 60657
(515) 865-2893; phook@luc.edu
Education
Loyola University Chicago, Chicago, IL
Bachelors of Business Administration, May 2012
Finance Major and Economics Minor
GPA 3.85 cumulative
Honors and Awards: Graduated Magna Cum Laude, Dean's List all Semesters, Honors Program Student,
Loyola University Chicago 4 year renewable scholarship
John Felice Rome Center
 Valuable experience in traveling and assimilating to an unfamiliar environment
Summer 2010
Relevant Experience
Deloitte Consulting, LLP, Chicago, IL
Project Controller Analyst
 Work with a team to plan and manage the financials for the firm's
largest consulting projects
 Track, analyze, and communicate project financials to team leadership
 Assure that all new projects are priced in a profitable way
August 2012 - present
SmithAmundsen, LLC, Chicago, IL
Dec. 2010- June 2012
Office Services Clerk
 Managed the firm's inventory of books and legal subscriptions,
which included books for 200 attorneys
 Processed closed files before they are sent off-site
 Assisted with large organizational projects such as merging two firms into one office
Peddicord Wharton Law Firm, Des Moines, IA
Office Manager's Assistant
 Wrote basic pleadings for Worker's Compensation cases and County cases
 Identified all open cases in order to send Change of Address Pleadings
in preparation for the Firm's move to a new office
Summer 2010
Wells Fargo Financial, Des Moines, IA
Loan Document Specialist
 Gained proficiency with all stages of basic loan underwriting
 Worked with a team to process 8,000 FHA loans in one month
 Computer programs used: AOW, LIS, Sales Platform, Res-direct,
Excel, Thick Client
Summer 2009
Cicada Magazine
Published Author, May/June 2009 Edition
 Non-fiction story entitled "Last Regrets" published in this literary magazine
Interests
I enjoy volunteering as a mentor at a Chicago all-girls public high school. I love to exercise and enjoy training/running with
friends. In my spare time, I also enjoy reading, live music shows (especially country music), and cheering on the Iowa
Hawkeyes.
Personal Thoughts
I credit my professional and personal life success so far to developing strong connections with others. My parents
led by example when it came to making family and friends one of the most important parts of life – they made it a
point to be there in the good times and the bad. Through the years, I realized how important the great relationships in
my life were. In high school, I was blessed with great friends – we played sports together, we studied together, we
laughed and we hung out all weekend long. I chose to attend college in Chicago, six hours from home, so my friends
took on an even more important role of "family away from family." More than ever before, I realized how important
consistent and genuine relationships with others were in my life.
Upon entering the work-force, it was quickly evident that the development of strong, healthy relationships with the
people I am serving is what will make my professional life personally rewarding. The people who are most
successful and satisfied in their careers are those individuals who work hard to make a genuine connection with their
clients and their co-workers. This seems to be especially true in Wealth Management because finances are often a
highly personal and stressful topic. As I transition to a career in the Wealth Management area, I desire to help
connect with clients, earn their trust and work together to make wise financial and life decisions.