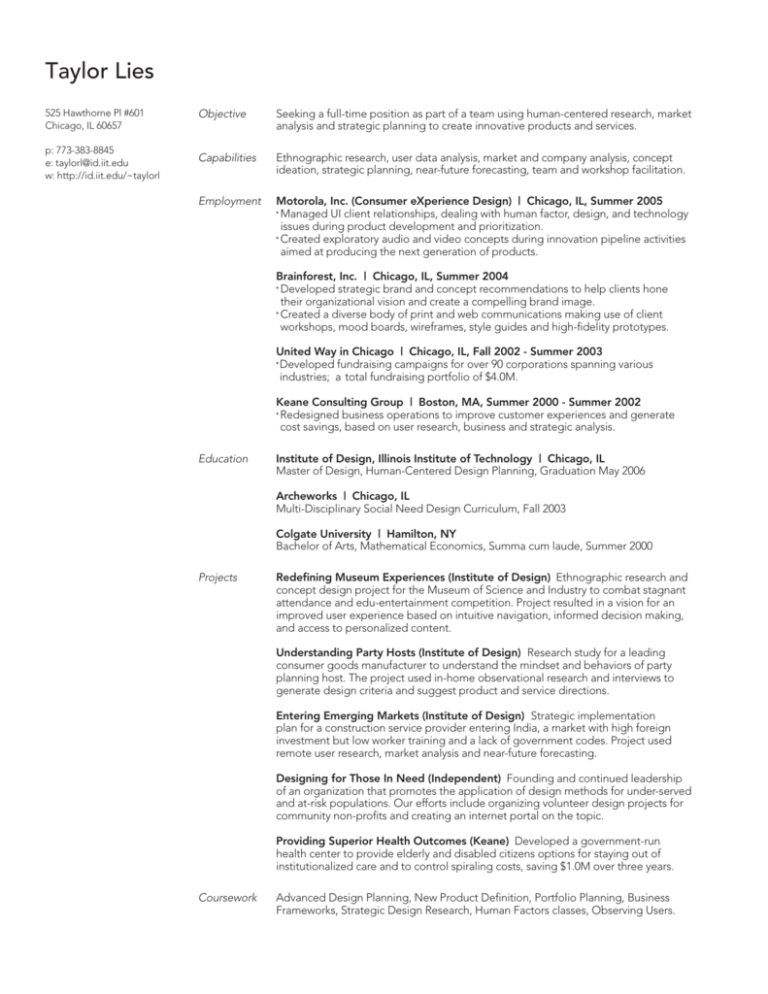 Taylor Lies
525 Hawthorne Pl #601
Chicago, IL 60657
p: 773-383-8845
e: taylorl@id.iit.edu
w: http://id.iit.edu/~taylorl
Objective
Seeking a full-time position as part of a team using human-centered research, market
analysis and strategic planning to create innovative products and services.
Capabilities
Ethnographic research, user data analysis, market and company analysis, concept
ideation, strategic planning, near-future forecasting, team and workshop facilitation.
Employment
Motorola, Inc. (Consumer eXperience Design) | Chicago, IL, Summer 2005
•
M
anaged UI client relationships, dealing with human factor, design, and technology
issues during product development and prioritization.
•
C
reated exploratory audio and video concepts during innovation pipeline activities
aimed at producing the next generation of products.
Brainforest, Inc. | Chicago, IL, Summer 2004
•
D
eveloped strategic brand and concept recommendations to help clients hone
their organizational vision and create a compelling brand image.
•
Created a diverse body of print and web communications making use of client
workshops, mood boards, wireframes, style guides and high-fidelity prototypes.
United Way in Chicago | Chicago, IL, Fall 2002 - Summer 2003
•
Developed fundraising campaigns for over 90 corporations spanning various
industries; a total fundraising portfolio of $4.0M.
Keane Consulting Group | Boston, MA, Summer 2000 - Summer 2002
•
Redesigned business operations to improve customer experiences and generate
cost savings, based on user research, business and strategic analysis.
Education
Institute of Design, Illinois Institute of Technology | Chicago, IL
Master of Design, Human-Centered Design Planning, Graduation May 2006
Archeworks | Chicago, IL
Multi-Disciplinary Social Need Design Curriculum, Fall 2003
Colgate University | Hamilton, NY
Bachelor of Arts, Mathematical Economics, Summa cum laude, Summer 2000
Projects
Redefining Museum Experiences (Institute of Design) Ethnographic research and
concept design project for the Museum of Science and Industry to combat stagnant
attendance and edu-entertainment competition. Project resulted in a vision for an
improved user experience based on intuitive navigation, informed decision making,
and access to personalized content.
Understanding Party Hosts (Institute of Design) Research study for a leading
consumer goods manufacturer to understand the mindset and behaviors of party
planning host. The project used in-home observational research and interviews to
generate design criteria and suggest product and service directions.
Entering Emerging Markets (Institute of Design) Strategic implementation
plan for a construction service provider entering India, a market with high foreign
investment but low worker training and a lack of government codes. Project used
remote user research, market analysis and near-future forecasting.
Designing for Those In Need (Independent) Founding and continued leadership
of an organization that promotes the application of design methods for under-served
and at-risk populations. Our efforts include organizing volunteer design projects for
community non-profits and creating an internet portal on the topic.
Providing Superior Health Outcomes (Keane) Developed a government-run
health center to provide elderly and disabled citizens options for staying out of
institutionalized care and to control spiraling costs, saving $1.0M over three years.
Coursework
Advanced Design Planning, New Product Definition, Portfolio Planning, Business
Frameworks, Strategic Design Research, Human Factors classes, Observing Users.