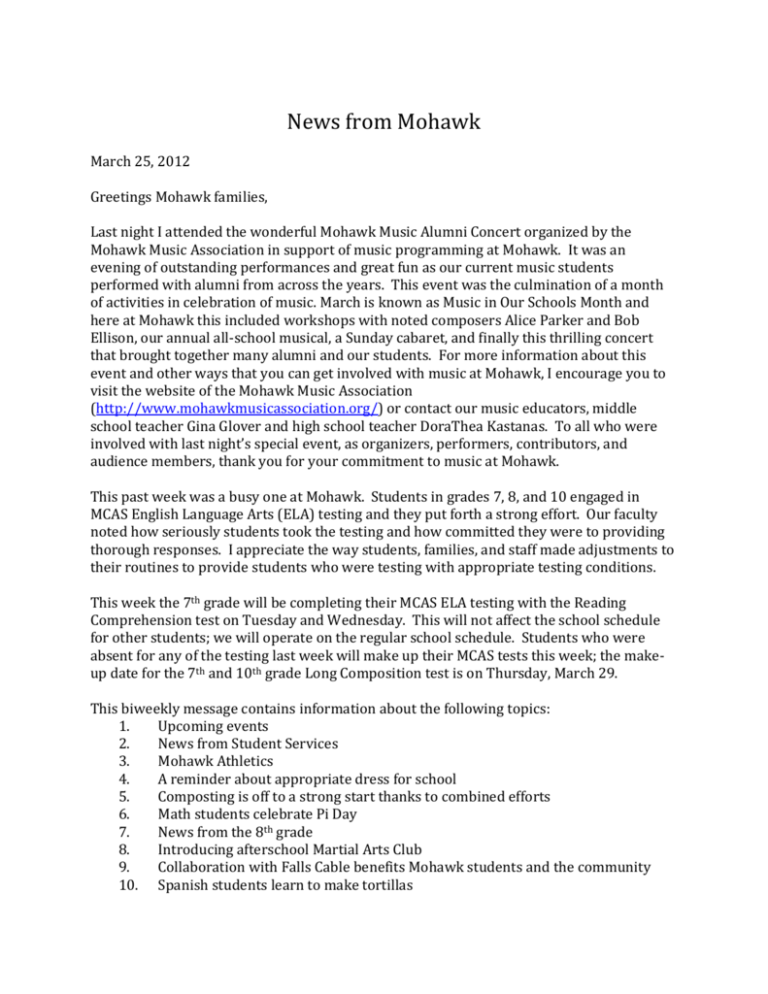 News from Mohawk
March 25, 2012
Greetings Mohawk families,
Last night I attended the wonderful Mohawk Music Alumni Concert organized by the
Mohawk Music Association in support of music programming at Mohawk. It was an
evening of outstanding performances and great fun as our current music students
performed with alumni from across the years. This event was the culmination of a month
of activities in celebration of music. March is known as Music in Our Schools Month and
here at Mohawk this included workshops with noted composers Alice Parker and Bob
Ellison, our annual all-school musical, a Sunday cabaret, and finally this thrilling concert
that brought together many alumni and our students. For more information about this
event and other ways that you can get involved with music at Mohawk, I encourage you to
visit the website of the Mohawk Music Association
(http://www.mohawkmusicassociation.org/) or contact our music educators, middle
school teacher Gina Glover and high school teacher DoraThea Kastanas. To all who were
involved with last night's special event, as organizers, performers, contributors, and
audience members, thank you for your commitment to music at Mohawk.
This past week was a busy one at Mohawk. Students in grades 7, 8, and 10 engaged in
MCAS English Language Arts (ELA) testing and they put forth a strong effort. Our faculty
noted how seriously students took the testing and how committed they were to providing
thorough responses. I appreciate the way students, families, and staff made adjustments to
their routines to provide students who were testing with appropriate testing conditions.
This week the 7th grade will be completing their MCAS ELA testing with the Reading
Comprehension test on Tuesday and Wednesday. This will not affect the school schedule
for other students; we will operate on the regular school schedule. Students who were
absent for any of the testing last week will make up their MCAS tests this week; the makeup date for the 7th and 10th grade Long Composition test is on Thursday, March 29.
This biweekly message contains information about the following topics:
1.
Upcoming events
2.
News from Student Services
3.
Mohawk Athletics
4.
A reminder about appropriate dress for school
5.
Composting is off to a strong start thanks to combined efforts
6.
Math students celebrate Pi Day
7.
News from the 8th grade
8.
Introducing afterschool Martial Arts Club
9.
Collaboration with Falls Cable benefits Mohawk students and the community
10. Spanish students learn to make tortillas
11.
12.
Science teacher Phil Lussier participates in Citizens' Legislative Seminar
Hands-on science opportunities for students who didn't participate in MCAS
testing
1. Upcoming events
Monday, March 26
Red Cross Blood Drive coordinated by National Honor Society
Students age 16 and over and the general public are invited to donate blood between 9:00
a.m. and 2:00 p.m. in the small gym. Students who are 16 years old need parental
permission. All donors must bring a photo ID such as a driver's license.
Tuesday and Wednesday, March 27 and 28
MCAS English Language Arts Reading Comprehension testing for grade 7 students
Seventh grade students will be testing at the beginning of the day. Breakfast will be
provided. This testing will not affect the schedules of students in other grades and we will
operate on the regular school schedule.
Thursday, March 29
Representative from GCC to visit Mohawk
A representative from Greenfield Community College (GCC) will be in Student Services at
9:30 on Thursday, March 29. Students should get a pass from Student Services if they are
interested in talking with the representative.
National Honor Society Induction Ceremony in the evening
New members to the Mohawk chapter of the National Honor Society will be inducted at an
event in the evening.
Friday, March 30
Mohawk Talent Show coordinated by Student Council during the school day
The Student Council is organizing the annual talent show featuring performances from
students of all grades. There will be two performances during the day: one in the morning
for middle school students and one in the afternoon (from 12:45-2:15) for high school
students. Family members are welcome to attend these performances.
Community Action Youth Programs will share information about Youth Expo at lunch
A representative from Community Action Youth Programs will be in the cafeteria during
lunch periods on Friday, March 30 to provide information about the Youth Business Expo
that will be held in May. For more information about the Youth Business Expo, see #2.
Spaghetti Dinner Fundraiser in the evening
Students who will be traveling to Spain and Italy over April vacation are hosting a spaghetti
dinner fundraiser. The meal will be served at 6:00 p.m. at the Fellowship Hall in Shelburne
Center (on Little Mohawk Road behind the Congregational Church off of Route 2).
Seventeen students in 8th and 9th grade who are participating in the trip are selling tickets
in advance. The group will be traveling to the Italian cities of Rome, Florence, and Pisa, and
Barcelona, Spain for nine days with Middle School educators Leann Loomis and Wayne
Kermenski. You may also contact MS Guidance Counselor Leann Loomis
(lloomis@mohawkschools.org) to reserve a ticket.
Thursday, April 5 and Friday, April 6
Early Release Days. Students are released at 11:30. Lunch will be served.
Staff will be engaged in Professional Development work on these two days. We are well
underway in our NEASC accreditation self-study process, and on those days we will be
reviewing the narrative reports that staff committees have been preparing over the course
of the past year.
Friday, April 6
Middle School Career Fair
Middle School Guidance Counselor Leann Loomis has organized a career fair featuring
community members representing an array of occupations. Middle school students will be
completing the CDM (Career Decision-Making) form prior to the fair. This tool is designed
to help middle school students assess their interests and skills. They will be making a
selection of 4 out of 20 careers represented at the career fair. On the day of the fair they
will meet with community members who are employed in the careers they selected and get
a glimpse into a day in the life of … an engineer, a doctor, an electrician, and any of the
other varied occupations represented. Following the fair, the students will be writing
about their experiences. Parents should contact Middle School Guidance Counselor Leann
Loomis with questions.
Week of April 9-13
Reading Celebration Week featuring Scholastic Book Fair
Library Manager Gina Wells and her student library assistants are organizing this year's
Reading Celebration events and Scholastic Book Fair. Students can visit the Book Fair
during the school day with their classes and on Thursday, April 12, the Resource Center
will be open to students, parents and families from 6:00-7:30 p.m. so that all can attend the
Scholastic Book Fair. In anticipation of this annual event, Ms. Wells has organized a poster
contest for students.
Thursday, April 12
Scholastic Book Fair, 6:00-7:30 p.m.
Our library will be open in the evening so that families can attend the Scholastic Book Fair
that is part of our annual Reading Celebration Week organized by Library Manager Gina
Wells.
Friday, April 13
Middle School band and chorus students will perform at several elementary schools
On Friday, April 13, middle school band and chorus students will travel to Rowe, Heath, and
Hawlemont to perform. Later in the spring they will be visiting the other elementary
schools in our system.
2. News from Student Services
Scholarship deadlines are fast approaching. Students should be alert to these deadlines
and submit complete scholarship applications. For information about additional
scholarship opportunities, students are encouraged to check out the Student Services
section of the Mohawk Class Pages.
MEFA's After the Acceptance Seminar, April 11
The waiting is over, and you've received your college acceptance and financial aid award
letters. Now what? This seminar will help students and their families navigate the next
steps, such as determining how to pay their college bill, understanding financial aid and
other financing options. The Massachusetts Educational Financing Authority (MEFA) will
present this seminar at 6:30 p.m. on Wednesday, April 11 at Turners Falls High
School. Mohawk students and their parents are welcome. Please visit
www.mefacounselor.org to register and for more information.
Two opportunities to explore careers and local employment options:
Youth Career Opportunities and Job Fair, April 25
Juniors and Seniors: What occupations interest you? Thought about an internship? Learn
about summer employment possibilities. There will be a field trip to the Youth Career
Opportunities and Job Fair at Franklin Hampshire Career Center at One Arch Place in
Greenfield from 9 a.m. - 1:00 p.m. on April 25. Local employers will participate. Please sign
up in Student Services by April 13. For more information see http://www.fhyouth.org/
and the flyer at http://www.fhyouth.org/Documents/cfflygf.pdf.
Youth Business Expo, May 24
A representative from Community Action Youth Programs will be in the cafeteria during
lunch periods on Friday, March 30 to share information about the Youth Business Expo that
will be held in May. This event is geared towards young people, ages 12-24. The Expo will
provide a chance for young people who are interested in starting their own business to
create a business plan, design business cards and brochures, and learn how to make
themselves and their services known to the community. Some examples of youth
businesses that were initiated in recent years includes babysitting, yard work, tutoring, and
making and selling jewelry or art. The Youth Business Expo will be held Thursday, May 24,
from
5:30-7:30 p.m.
at the
GCC Downtown Center
at 277 Main Street, in Greenfield.
For additional information, visit the website http://www.bizventure.org/expo/
UMass Summer College Residential Programs
UMass Amherst Summer College Residential Programs offer opportunities for high school
juniors and seniors. Students will learn what life is like in a university environment as they
explore their areas of interest and develop the skills and abilities that will help them
succeed in college. Summer College offers one-, two- or six-week residential academic
programs, from many majors, across the nine colleges that comprise UMass Amherst. All
offerings are college-level courses that offer optional college credit. They have been
designed to explore career pathways (the Forensics Institute), environmental issues
(Professor Tyson's Arsenic Research Project), Leadership (Honors Summer Institute for
Leadership and Sustainability), and the arts (the Design Academy or Contemporary Studio
Arts), for example. Qualified high school students will also have the opportunity to apply
for Research Intensives. These six-week programs engage students in an authentic
research project where they will gain hands-on experience in research laboratories. Costs
for each two week program are approximately $2100 depending on student housing and
program choices. Session l takes place June 24-July 7; Session 2, July 9 - July 21; and
Session 3, July 22 - August 4. There are a small number of $500 scholarships available for
specific programs. For program and application information:
http://www.umass.edu/summer/ or contact summercollege@provost.umass.edu
3. Mohawk Athletics
Our spring sports season has begun! The fields and courts of our beautiful campus are full
of activity as athletes practice for their various sports. For information about the athletic
program, please visit the Athletics section of the Mohawk Class Pages. This includes
information about how to contact coaches of spring sports, the Athletic Contract, Financial
Assistance Application, and MIAA Handbook.
Schedules are available through http://highschoolsports.masslive.com where you can also
get the High School Sports App for your cellphone to receive updates about schedule
changes.
The ski season already seems like a distant memory after the recent warm weather, but it
wasn't that long ago that Mohawk skiers were on the slopes. The following athletes were
recognized for their accomplishments:
First Team All Western Mass. Ski Team:
Jake Looman, Kyle Mitchell, Bryan Schwartz, and Jon White
Second Team All Western Mass. Ski Team:
Luke Looman, Dane Amstein, and Liam Datres de la Blotier
Sport Management Program at the UMass Amherst Summer College
Do you know any high school students who are ready to learn about Sport Management
from UMass Amherst Summer College? The Mark H. McCormack Department of Sport
Management at the Isenberg School of Management is excited to offer high school students
the opportunity to learn more about this rapidly growing field. Two sections of an intensive
introduction to the McCormack Sport Management program are offered this summer
through the new UMass Amherst Summer College. Rising high school juniors and seniors
are invited to apply for a two week residential program that gives them an introduction to
the university, helps them develop the skills and knowledge they need to be
successful in college and allows them to explore one of Isenberg's fastest growing majors.
For more information visit: http://www.umass.edu/summer/sport-management
4. A reminder about appropriate dress for school
The recent warm weather led to many conversations about appropriate dress for school.
In general we advise students to recognize that school is a public workplace where their
focus needs to be on education. We want to help students realize that their dress needs to
match the situation and what is appropriate for the beach is not necessarily appropriate for
school. On Thursday, March 22, when temperatures were close to 80, Middle School
Guidance Counselor Leann Loomis, Principal Lynn Dole, and female educators in the middle
school met with female 7th and 8th grade students to review dress code expectations. While
we recognize that current fashion trends may not be in line with school expectations, we do
want students to recognize that they must dress appropriately for the school setting. As a
guide for helping students determine if their shorts are appropriate for school, we advised
that the length of the shorts should extend at least to the tips of their fingers; another
reference is that the inseam for shorts should be the length of their hand. We outlined that
breasts, bare midriffs, and underwear should not be exposed. In a nutshell we stated: "no
butts, no boobs, no bellies, and no bras." Students were informed that if they come to
school dressed inappropriately they would be asked to put something else on. If they have
no appropriate clothing here they will have to stay in the office until someone can bring
them clothing that is appropriate for school. We ask that parents help students recognize
that they must dress appropriately for school. Please feel free to call with questions.
5. Composting is off to a strong start thanks to combined efforts
In early March Mohawk launched a composting program. After the first three weeks we
are able to report a dramatic reduction in the amount of waste generated in our cafeteria.
Before composting we used 90 black bags (for trash) and 30 clear bags (in the recycling bin
where they got dirty with milk residue so had to be replaced) in the cafeteria over a 15 day
period. Since we began our composting program on March 5, over the past 15 days we have
used 17 black bags and only 3 clear bags in the cafeteria. Custodian Nelson Clukey has
been instrumental in supporting this significant change in practice. Senior Brenna Keogh
initiated this project with the support of the Key Club. The students in the Mohawk Key
Club work closely with the Shelburne Falls Kiwanis Club on various activities and in
appreciation of their shared efforts at the recent Kiwanis Dinner, the Kiwanis Club has
generously donated hundreds of dollars to the Key Club to offset the cost of the
compostable trash bags that were not originally budgeted for the school this year. Our
successful composting program is therefore made possible through the combined efforts of
the Key Club, the Shelburne Falls Kiwanis Club, Amy Donovan of the Franklin County Solid
Waste Management District, our cafeteria and custodial staff, our Facilities Director and
Food Services Director, and our students and staff. Students have recently launched an
Environmental Club to provide ongoing support for this project and related conservation
initiatives.
6. Math students celebrate Pi Day
The high school math department, through the generosity of Stop & Shop, Big Y, and the
former math department chair, was able to offer pies on pi day (March 14) again this year.
All had fun and enjoyed the day and pies. The math department is looking for others who
would like to sponsor some pies for next year. Contact Mr. Mastorakis
(rmastorakis@mohawkschools.org) at the high school if you or your employer would like
to support this annual event.
7. News from the 8th grade
The 8th grade is selling Yankee Candles between March 23rd and April 10th as a class
fundraiser. Students in the 8th grade are also reminded to submit their permission slips
and $20 for the field trip to the Boston Museum of Science by April 6th.
8. Introducing afterschool Martial Arts Club
Jody Scalise will be offering an afterschool martial arts club that combines elements of Tae
Kwon Do and Karate on Tuesday and Thursday afternoons after April vacation. The club
will meet from 2:30-3:30 on Tuesday and Thursday afternoons beginning April 24.
Students will learn hand and foot techniques and defensive tactics, along with focus,
respect, discipline, and stamina. The martial arts program will cost $5 per class or $45 for
the full ten classes being offered between April 24 and May 29. Mr. Scalise is an
experienced martial arts educator.
9. Collaboration with Falls Cable benefits Mohawk students and the community
Through our collaboration with Falls Cable Television, the local public access television
station serving the towns of Shelburne and Buckland and the village of Shelburne Falls,
Mohawk is able to offer a Television Studio course that introduces students to many
aspects of production. The Falls Cable studio is located in the Mohawk Resource Center.
Part of the mission of Falls Cable is to provide education and there are many opportunities
for volunteers, including students, to learn TV broadcast technology by participating in the
production of in-studio programs. For each in-studio show, jobs include operations
director, camera operator(s), audio technician, graphics, and DVD duplication. Throughout
the year a variety of school events are broadcast from the school auditorium as well, and
Falls Cable broadcasts a cooking show from the school's cooking classroom. Falls Cable
also broadcasts live, on location, the meetings of the Shelburne and Buckland Select Boards.
These broadcasts are produced by volunteers. If you are interested in volunteering, please
call the station at 413-625-8371, or email Falls Cable at info@fallscable.com
Alina Schmidt is currently enrolled in teacher Darren Elwell's Television Studio course. She
submitted the following report: "As a Mohawk senior, I'm glad that I've had the
opportunity to take TV Studio. Using the Falls Cable equipment, we have learned a lot about
the production process. This semester, we've created TV commercials and music videos,
and we're now working on genre movies. The projects are hands-on and require a lot of
creativity; we have the ability to pursue topics of interest within the parameters of each
assignment. I'm glad that I took this class because it has expanded my knowledge of video
editing and digital media, skills that I will definitely use in college and beyond." Students
in the course have also produced Public Service Announcements (PSAs) for various
audiences.
10. Spanish students learn to make tortillas
Sra. Elizabeth Buck is one of several teaching interns working at Mohawk this year. She is
doing her Spanish teaching internship with our Spanish teachers, Sras. Pam Adlersmith and
Shelley Schieffelin. Last week Sra. Buck taught the students in Spanish I classes how to
make tortillas from scratch and how to prepare delicious authentic tacos. This is one of
many ways that the Spanish teachers at Mohawk integrate learning about culture into their
study of the Spanish language. Other examples include the annual Day of the Dead projects
and the day of Latin dancing that students from the University of Massachusetts dance
program facilitate each year.
11. Science teacher Phil Lussier participates in Citizens' Legislative Seminar
High school science teacher Phil Lussier was selected to participate in the Citizens'
Legislative Seminar at the Massachusetts Statehouse on March 20 and 21. Mr. Lussier
joined citizens from across the Commonwealth in the program that featured interactions
with state legislators and an orientation to the workings of the Massachusetts Senate,
including both a simulated joint legislative hearing and a simulated Senate Session with
Senate President Therese Murray, presiding. This year's Citizens' Legislative Seminar focus
was on bullying legislation, an apt topic for an educator.
12. Hands-on science opportunities for students who didn't participate in MCAS
testing
Austin Savoie is an intern teacher working with the science department this year. He
recognized that the delay schedule we used this past week for high school students who
were not participating in MCAS testing afforded an opportunity for students to explore
science informally through hands-on learning and experimentation. On Tuesday, March 20
Mr. Savoie organized a forensics activity where students learned how to gather and
examine fingerprints. On Wednesday and Thursday, March 21 and 22, Mr. Savoie and
advanced science students provided a variety of hands-on activities related to chemistry
and physics.
Sincerely yours,
Principal Lynn R. Dole
Our Foundational Commitments
1. Mohawk values and supports inspired teaching and learning, as well as imagination,
initiative, and independent thinking.
2. Mohawk cultivates rigorous academics and embraces diverse approaches to
learning, within and beyond the classroom.
3. Mohawk encourages self-expression and respects and responds to students' voices.
4. Mohawk fosters a sense of responsibility for one's self, others, and the environment.
5. Mohawk commits to effective partnerships through communication and
collaboration among staff, students, families, and community.
6. Mohawk reflects the vibrancy of the community and natural environment that
surrounds it.