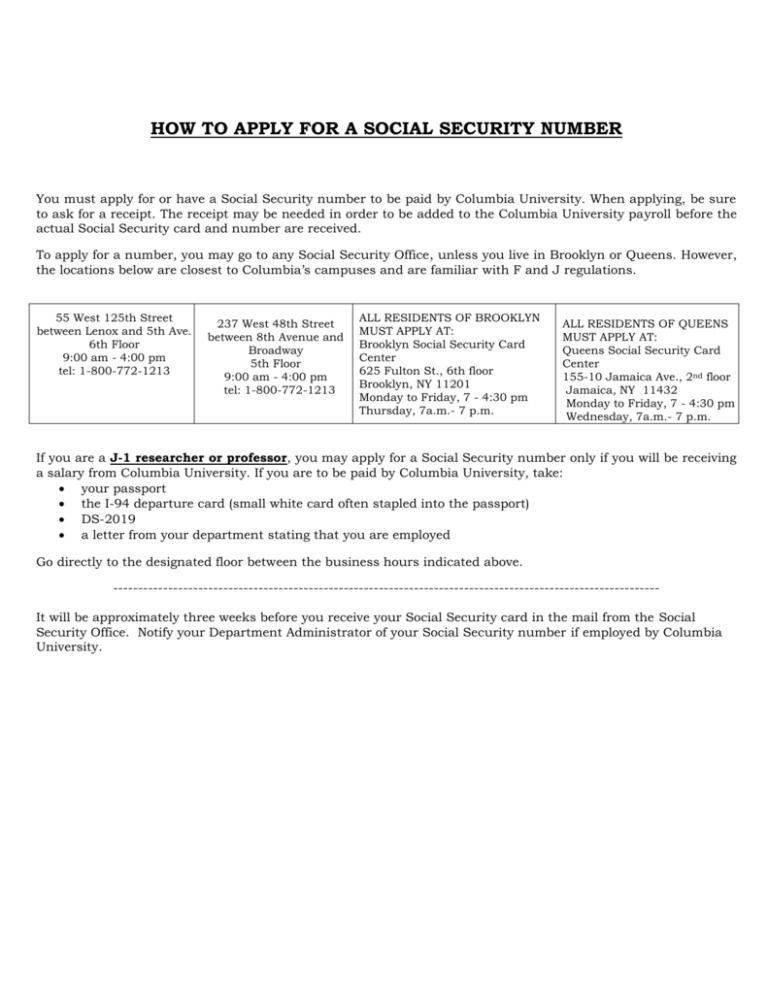 HOW TO APPLY FOR A SOCIAL SECURITY NUMBER
You must apply for or have a Social Security number to be paid by Columbia University. When applying, be sure
to ask for a receipt. The receipt may be needed in order to be added to the Columbia University payroll before the
actual Social Security card and number are received.
To apply for a number, you may go to any Social Security Office, unless you live in Brooklyn or Queens. However,
the locations below are closest to Columbia's campuses and are familiar with F and J regulations.
55 West 125th Street
between Lenox and 5th Ave.
6th Floor
9:00 am - 4:00 pm
tel: 1-800-772-1213
ALL RESIDENTS OF BROOKLYN
237 West 48th Street
MUST APPLY AT:
between 8th Avenue and
Brooklyn Social Security Card
Broadway
Center
5th Floor
625 Fulton St., 6th floor
9:00 am - 4:00 pm
Brooklyn, NY 11201
tel.: 1-800-772-1213
tel: 1-800-772-1213
Monday to Friday, 7 - 4:30 pm
Thursday, 7a.m.- 7 p.m.
ALL RESIDENTS OF QUEENS
MUST APPLY AT:
Queens Social Security Card
Center
155-10 Jamaica Ave., 2nd floor
Jamaica, NY 11432
Monday to Friday, 7 - 4:30 pm
Wednesday, 7a.m.- 7 p.m.
If you are a J-1 researcher or professor, you may apply for a Social Security number only if you will be receiving
a salary from Columbia University. If you are to be paid by Columbia University, take:
 your passport
 the I-94 departure card (small white card often stapled into the passport)
 DS-2019
 a letter from your department stating that you are employed
Go directly to the designated floor between the business hours indicated above.
------------------------------------------------------------------------------------------------------------It will be approximately three weeks before you receive your Social Security card in the mail from the Social
Security Office. Notify your Department Administrator of your Social Security number if employed by Columbia
University.