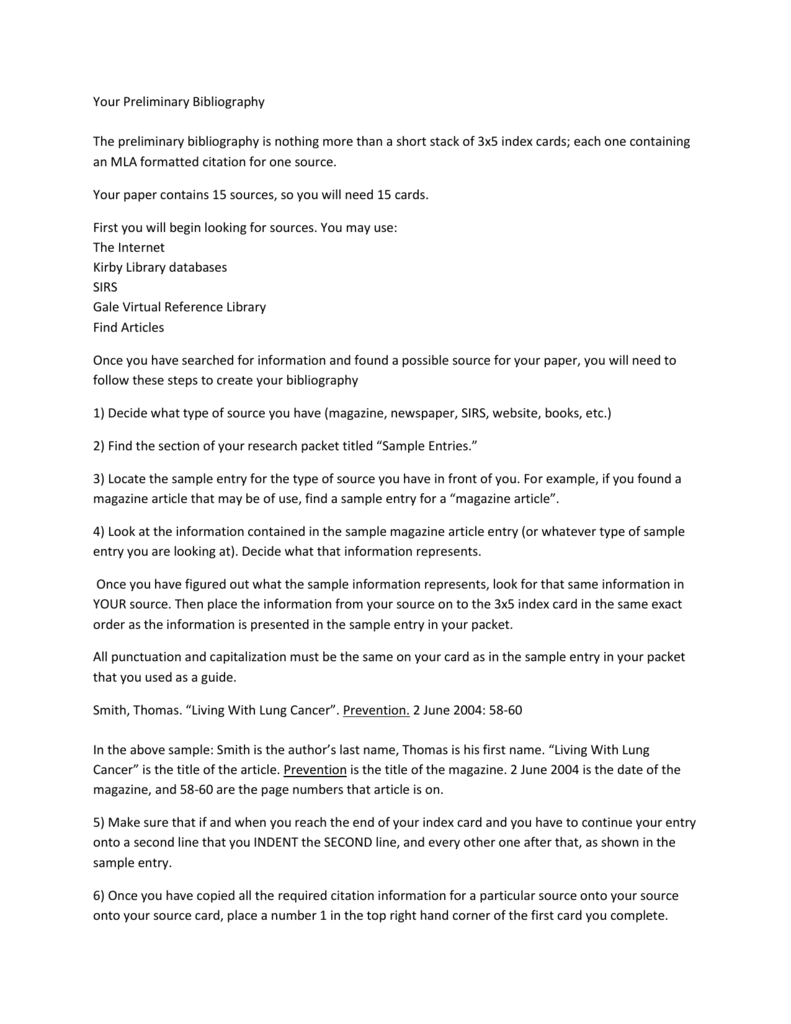 Your Preliminary Bibliography
The preliminary bibliography is nothing more than a short stack of 3x5 index cards; each one containing
an MLA formatted citation for one source.
Your paper contains 15 sources, so you will need 15 cards.
First you will begin looking for sources. You may use:
The Internet
Kirby Library databases
SIRS
Gale Virtual Reference Library
Find Articles
Once you have searched for information and found a possible source for your paper, you will need to
follow these steps to create your bibliography
1) Decide what type of source you have (magazine, newspaper, SIRS, website, books, etc.)
2) Find the section of your research packet titled "Sample Entries."
3) Locate the sample entry for the type of source you have in front of you. For example, if you found a
magazine article that may be of use, find a sample entry for a "magazine article".
4) Look at the information contained in the sample magazine article entry (or whatever type of sample
entry you are looking at). Decide what that information represents.
Once you have figured out what the sample information represents, look for that same information in
YOUR source. Then place the information from your source on to the 3x5 index card in the same exact
order as the information is presented in the sample entry in your packet.
All punctuation and capitalization must be the same on your card as in the sample entry in your packet
that you used as a guide.
Smith, Thomas. "Living With Lung Cancer". Prevention. 2 June 2004: 58-60
In the above sample: Smith is the author's last name, Thomas is his first name. "Living With Lung
Cancer" is the title of the article. Prevention is the title of the magazine. 2 June 2004 is the date of the
magazine, and 58-60 are the page numbers that article is on.
5) Make sure that if and when you reach the end of your index card and you have to continue your entry
onto a second line that you INDENT the SECOND line, and every other one after that, as shown in the
sample entry.
6) Once you have copied all the required citation information for a particular source onto your source
onto your source card, place a number 1 in the top right hand corner of the first card you complete.
Number each card after that (the second card you complete will be numbered 2 in the top right corner,
and so forth) until you reach the required number of cards for the assignment. You will have 15
numbered cards.
7) Once you have completed your cards, consult the Bibliography Card Checklist that is attached and
make sure you have done what is listed on there.
8) When you have successfully and correctly completed all of your cards, make sure they are in
numerical order by the number in the top right corner, rubber band them together, and place your
name on the back of the LAST card.
9) If you do not know how to cite a source, and there is no sample entry listed in the Sample Entry
section of your packet, go to www.easybib.com You will be prompted to enter certain information about
where you got the source from, and when finished, easybib.com will create the correct MLA formatted
citation for you.
One Author
Smith, Emmit. Where I Run to Glory. Dallas: Lone Star, 1993.
In the above example, Dallas is the city of publication, and Lone Star is the name of the publishing
company
2 or 3 Authors
Bostick, Matthew, George Albright, and Kim Jones. The New World Oration. Wilkes-Barre: Wilkes U P,
1998
More Than 3 Authors
Fuerbringer, Jonathan. "Budgetary Rhythms." New York Times 20 Mar. 1987, A8
Newspaper Article
Edens, Albert F., et al. Western Movies Without Horses. Cheyenne: U of Wyoming P, 1978
Magazine Article
Prince, James. "Marriage in the 80's." New Yorker 1 June 1987: 30-38
Unsigned Magazine
"A Tale of Two Cities: The Rebirth of Pittsburg." Time 16 July 1978: 7-9
Article in Encyclopedia
Andsersen, Harrison. "Walter Winlow." Encyclopedia Americana. 1990 ed.
Unsigned Encyclopedia
"Mount Saint Helena." World Book. 1991 ed.
SIRS (Grey Binders ONLY!!!)
Gilman, Robert. "No Simple Answers." Newsweek Spring 1992: 10-13. Rpt.In Population, Vol. 5. Ed.
Eleanor Goldstein. Boca Raton, Fla.: SIRS, 1993. Art. 44.
Internet
Yuke, James. "The Cold War Revisited: A Splintered Germany." 5 Nov. 1996. 25 Apr. 2000
http://usa.coldwar.server.gov.
Anthology or Compilation
Allen, Fred, Ed. The Art of Fire- Eating. Denver: Mile High Press, 1987.
Corporate Author
American Library Association. Intellectual Freedom Manual. 2nd ed. ALA Printing, 1983.
Work in an Anthology
lazard, Naomi. "In Answer to Your Query." The Norton Book of Light Verse. Ed. Norman Thomas Di
Giovanni. New York: Delta-Dell, 1973.
Personal Interview
Jones, Esther P. Telephone Interview 3 May 1996
OR
Jones, Esther P. Personal Interview 3 May 1996
Commercially Produced Videotape
Crete and Mycenae. Videocassette. Kartes Video, 1986.
SIRS ONLINE DATABASE (that information you find at www.proquestk12.com)
DO NOT USE THE SAME FORMAT FOR THE SIRS GRAY BINDERS
If you do not know how to cite the source on a small card, click the red "How to Cite" in the upper-right
hand corner of the article window. Most articles found through the SIRS online research method, are
full-text, and thus will be cited in the following manner:
Author's Name. "Title of Article." Original Source of Article Date of Original source: page numbers. Name
of Database Used. Name of Service. Name of Library or Library System, City, State Abbreviation.
Date of access <URL of service's homepage>.
Frick, Robert. "Investing in Medical Miracles." Kiplinger's Personal Finance Feb. 1999: School Library
Mountain Top, PA. 25 Feb. 2009 <http://www.proquestk12.com>.
If the article is not full text, clicking the red "How to Cite" button in the article window till give sample
citations for other types of documents found through the SIRS online databases.
Make sure you take note:
Watch punctuation. Each citation ends in a period. There is also a period after the authors name, and
following the title of the article or source you are citing.
Make sure you indent the second line and every line there after.
When abbreviating months of the year, keep in mind that if the name of the month has four letters or
less in it, you would write the whole name of the month. If it is more than 4 letters long, abbreviate to 3
letters.
But, what if my article doesn't have an author?
If your article does not have an author, you would simply move up the next piece of information and
make that the first entry of your citation.
We will be in the library tomorrow, Friday and Monday working on the bibliography cards. Only one
person per computer. If you do not get access to a computer, you may use the library's other resources
(books, SIRS binders, etc.) or work on your thesis cards. You may not do work from other classes, talk to
each other, or use your cell phones.