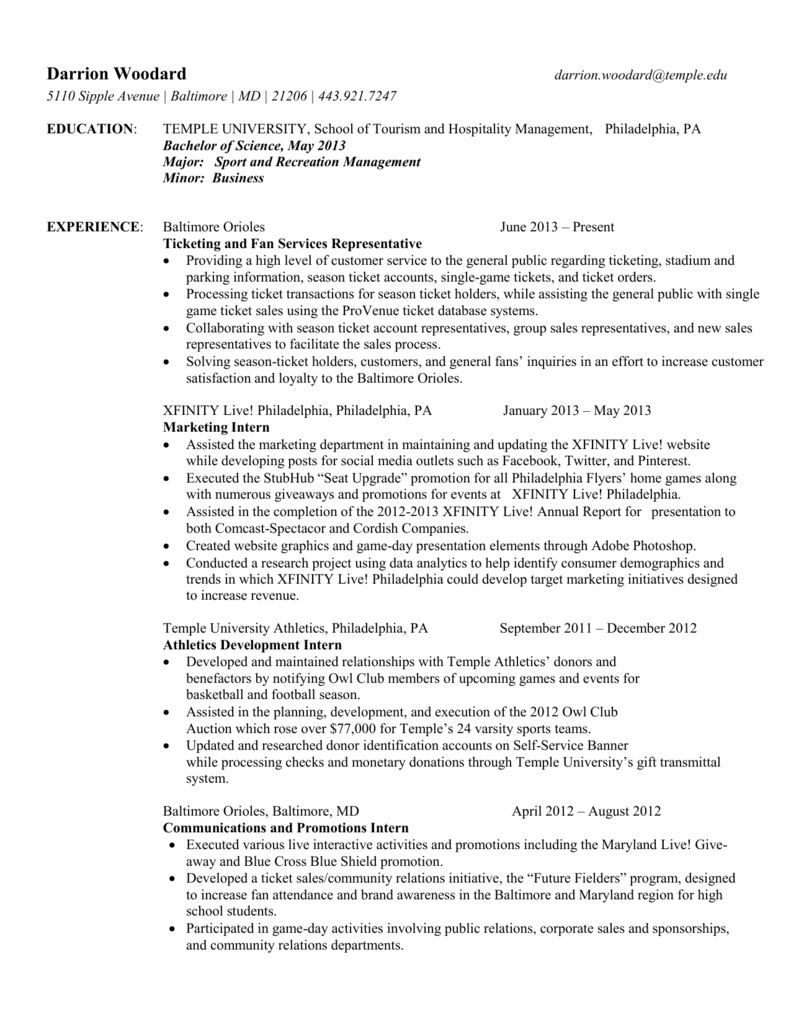 Darrion Woodard
[email protected]
5110 Sipple Avenue | Baltimore | MD | 21206 | 443.921.7247
EDUCATION:
TEMPLE UNIVERSITY, School of Tourism and Hospitality Management, Philadelphia, PA
Bachelor of Science, May 2013
Major: Sport and Recreation Management
Minor: Business
EXPERIENCE:
Baltimore Orioles
June 2013 – Present
Ticketing and Fan Services Representative
 Providing a high level of customer service to the general public regarding ticketing, stadium and
parking information, season ticket accounts, single-game tickets, and ticket orders.
 Processing ticket transactions for season ticket holders, while assisting the general public with single
game ticket sales using the ProVenue ticket database systems.
 Collaborating with season ticket account representatives, group sales representatives, and new sales
representatives to facilitate the sales process.
 Solving season-ticket holders, customers, and general fans' inquiries in an effort to increase customer
satisfaction and loyalty to the Baltimore Orioles.
XFINITY Live! Philadelphia, Philadelphia, PA
January 2013 – May 2013
Marketing Intern
 Assisted the marketing department in maintaining and updating the XFINITY Live! website
while developing posts for social media outlets such as Facebook, Twitter, and Pinterest.
 Executed the StubHub "Seat Upgrade" promotion for all Philadelphia Flyers' home games along
with numerous giveaways and promotions for events at XFINITY Live! Philadelphia.
 Assisted in the completion of the 2012-2013 XFINITY Live! Annual Report for presentation to
both Comcast-Spectacor and Cordish Companies.
 Created website graphics and game-day presentation elements through Adobe Photoshop.
 Conducted a research project using data analytics to help identify consumer demographics and
trends in which XFINITY Live! Philadelphia could develop target marketing initiatives designed
to increase revenue.
Temple University Athletics, Philadelphia, PA
September 2011 – December 2012
Athletics Development Intern
 Developed and maintained relationships with Temple Athletics' donors and
benefactors by notifying Owl Club members of upcoming games and events for
basketball and football season.
 Assisted in the planning, development, and execution of the 2012 Owl Club
Auction which rose over $77,000 for Temple's 24 varsity sports teams.
 Updated and researched donor identification accounts on Self-Service Banner
while processing checks and monetary donations through Temple University's gift transmittal
system.
Baltimore Orioles, Baltimore, MD
April 2012 – August 2012
Communications and Promotions Intern
 Executed various live interactive activities and promotions including the Maryland Live! Giveaway and Blue Cross Blue Shield promotion.
 Developed a ticket sales/community relations initiative, the "Future Fielders" program, designed
to increase fan attendance and brand awareness in the Baltimore and Maryland region for high
school students.
 Participated in game-day activities involving public relations, corporate sales and sponsorships,
and community relations departments.
Comcast-Spectacor Charities, Philadelphia, PA
January 2012 – May 2012
Communications and Development Intern
 Coordinated the Flyers Charities kiosk at all Flyers' home games while promoting items for
charity, silent auctions, mystery pucks, upcoming charitable events, and the Flyers Charities
License Plate program.
 Managed inventory and merchandise for use at game-day kiosks and charity auctions.
 Assisted with the planning and development of the 35th Annual Flyers Wives Carnival which
raised approximately $800,000 dollars for charities across the Philadelphia region.
 Provided customer service by answering incoming calls for inquiries, donations, and the Flyers
Charities License Plate program.
SKILLS:
ACTIVITIES:

ProVenue Ticketing Management System, Microsoft Office Suite (Microsoft Office, Word,
PowerPoint, Excel, Publisher, Access, Outlook), Adobe Photoshop, Event Planning, Fundraising
and Development, Marketing, Facebook Analytics, Twitter Analytics, Organizational,
Communication

Montague-Ridall & Associates (Fall 2012), Ed Snider Youth Hockey Foundation Volunteer
(Spring 2012), Temple University Activities: STHM General Student Body Association, SERPA
(Sports and Recreation Professional Association), NSMH (The National Society of Minorities in
Hospitality), SMSA (Stadium Manager Student Association).