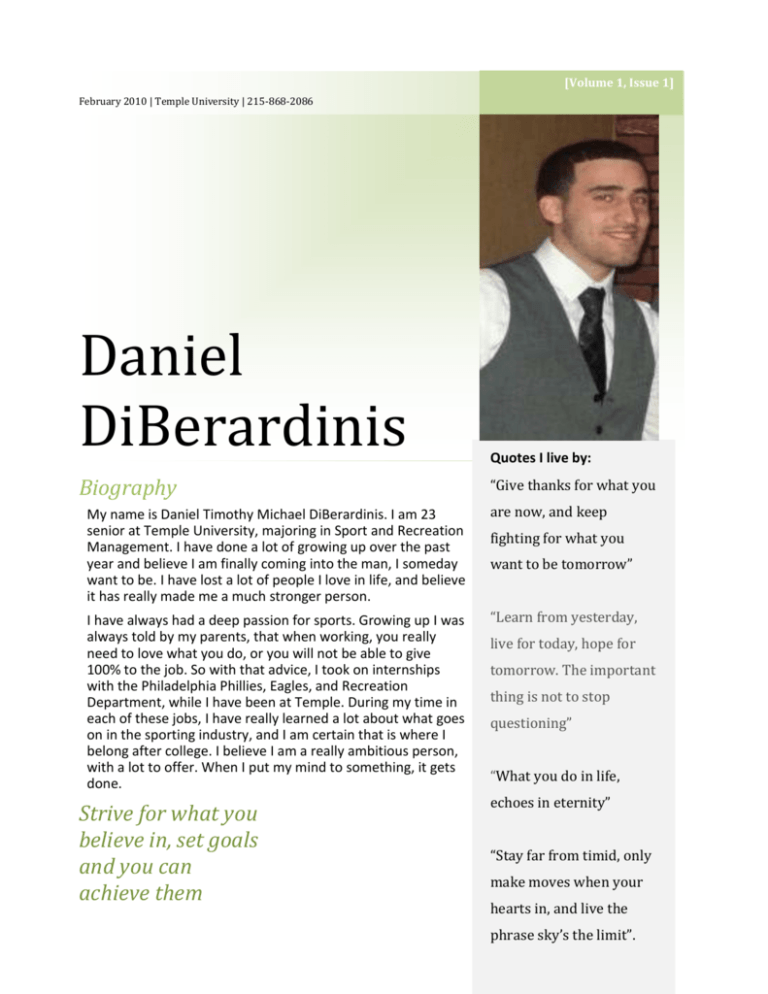 [Volume 1, Issue 1]
February 2010 | Temple University | 215-868-2086
Daniel
DiBerardinis
Quotes I live by:
Biography
"Give thanks for what you
My name is Daniel Timothy Michael DiBerardinis. I am 23
senior at Temple University, majoring in Sport and Recreation
Management. I have done a lot of growing up over the past
year and believe I am finally coming into the man, I someday
want to be. I have lost a lot of people I love in life, and believe
it has really made me a much stronger person.
are now, and keep
I have always had a deep passion for sports. Growing up I was
always told by my parents, that when working, you really
need to love what you do, or you will not be able to give
100% to the job. So with that advice, I took on internships
with the Philadelphia Phillies, Eagles, and Recreation
Department, while I have been at Temple. During my time in
each of these jobs, I have really learned a lot about what goes
on in the sporting industry, and I am certain that is where I
belong after college. I believe I am a really ambitious person,
with a lot to offer. When I put my mind to something, it gets
done.
"Learn from yesterday,
Strive for what you
believe in, set goals
and you can
achieve them
fighting for what you
want to be tomorrow"
live for today, hope for
tomorrow. The important
thing is not to stop
questioning"
"What you do in life,
echoes in eternity"
"Stay far from timid, only
make moves when your
hearts in, and live the
phrase sky's the limit".