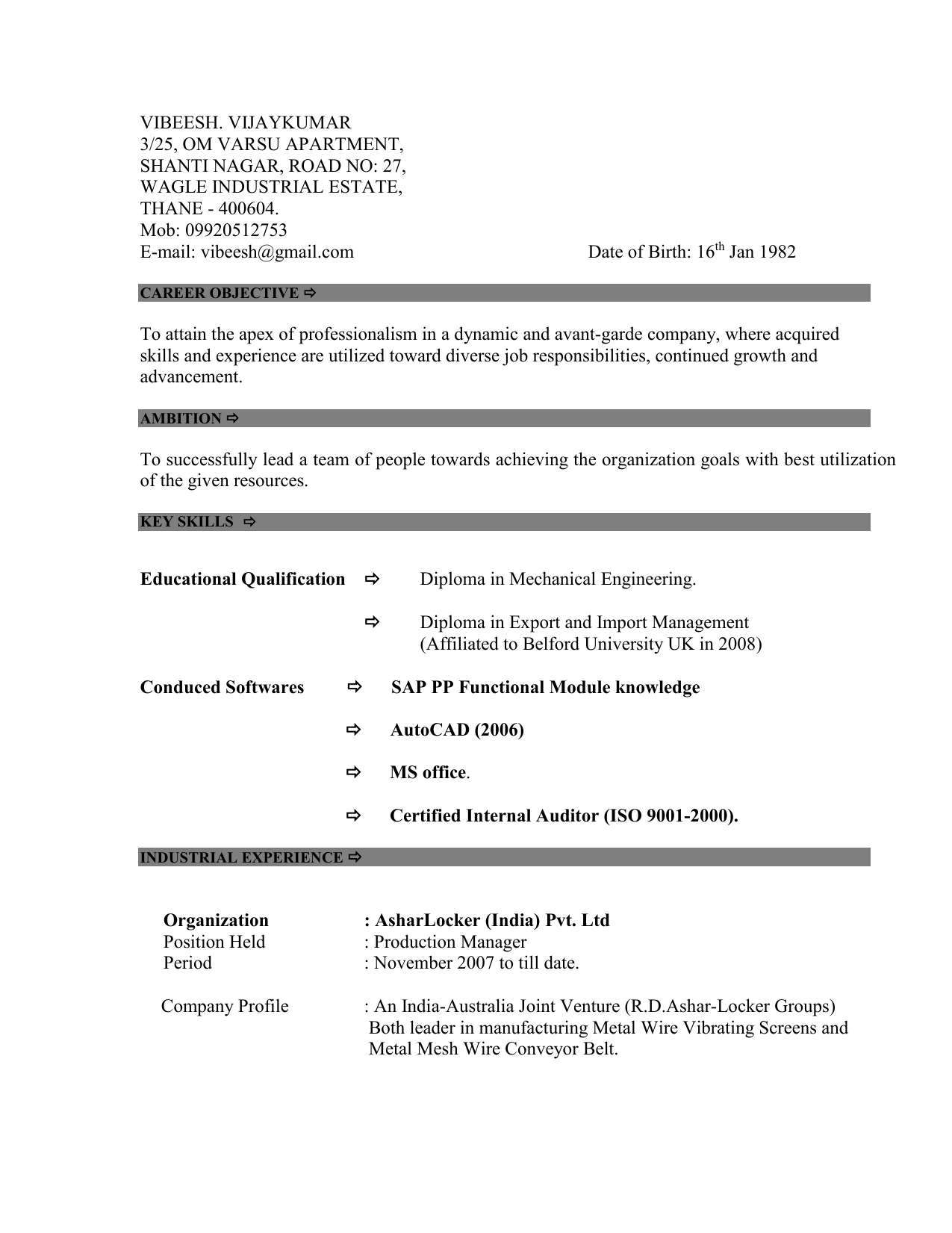 VIBEESH. VIJAYKUMAR
3/25, OM VARSU APARTMENT,
SHANTI NAGAR, ROAD NO: 27,
WAGLE INDUSTRIAL ESTATE,
THANE - 400604.
Mob: 09920512753
E-mail: [email protected]
Date of Birth: 16th Jan 1982
CAREER OBJECTIVE 
To attain the apex of professionalism in a dynamic and avant-garde company, where acquired
skills and experience are utilized toward diverse job responsibilities, continued growth and
advancement.
AMBITION 
To successfully lead a team of people towards achieving the organization goals with best utilization
of the given resources.
KEY SKILLS 
Educational Qualification 

Conduced Softwares
Diploma in Mechanical Engineering.
Diploma in Export and Import Management
(Affiliated to Belford University UK in 2008)

SAP PP Functional Module knowledge

AutoCAD (2006)

MS office.

Certified Internal Auditor (ISO 9001-2000).
INDUSTRIAL EXPERIENCE 
Organization
Position Held
Period
: AsharLocker (India) Pvt. Ltd
: Production Manager
: November 2007 to till date.
Company Profile
: An India-Australia Joint Venture (R.D.Ashar-Locker Groups)
Both leader in manufacturing Metal Wire Vibrating Screens and
Metal Mesh Wire Conveyor Belt.
JOB DESCRIPTION 


• SAP
SAP PP Functional Consultant with 6+months of experience including one full Cycle
Implementation and Support.
Functional Experience: Worked as a production manager in the field of Manufacturing
Industries.
SKILLSET
 Creation and Maintenance of Master data - Material masters, Bill of Material, Work
Center and Routing.
 Production orders creation, release, and confirmation, technically complete and close in
Discrete Manufacturing with Make to Stock planning strategies.
 Knowledge of different Planning Methodology such as MRP, MPS.
 Transfer of Sales and Operations Plan to Demand management and maintain Planned
Independent Requirements
 Capacity planning by evaluation of workload in work centers and capacity leveling using
planning table in graphical and tabular views.
 Reorder based planning and forecast based planning for raw materials.
 Customization of Plant parameters, MRP group, Availability Check, BOM control
parameters, Standard Value key, Control key.
 Familiar with Production versions and Repetitive Manufacturing with different planning
strategies.
 Knowledge of Variant Configuration – Creation of KMAT material, characteristic, class
and super BOM, linking class to KMAT material, define Object Dependencies, Sales
order creation for KMAT items etc.
 LSMW to upload Master Data's from Legacy system to SAP-R/3
Key Responsibilities
• Monitoring and overseeing of each department in the factory – Assembly, Tool Room,
Purchase Department, Stock, Service
• Maintenance of Stock/Inventory levels
• Regular visits to Vendors in coordination with the Purchase Department
• Heads all technical functions and responsible for overseeing quality control, materials
and project management.
• Prepare technical standards, implement quality control, handling product inspections
• Responsible for manufacturing activities (assembly, mass production), which include
production of the existing production of new product lines, meeting production targets,
managing work effectively, and improving product quality
• Responsible for different processes like machining, press working, assembly, metal
cutting, pressing, bending etc.
• Prepare work schedule for service Engineers
• Ensure prompt services against any complaint with in the Warranty period
• Preventive maintenance scheduling & implementation
• Draw MPP for service Engineers & get them approved by Director
• Training/visiting & supporting clients on service related issues on All India basis.
Organization
Position Held
Period
: R.D.Ashar Pvt. Ltd
: Production Manager
: June 2006 to November 2007.
Company Profile
: An ISO 9001-2000 Company and leader in manufacturing of Metal
Mesh Conveyor Belt with customers from around the globe.
JOB DESCRIPTION 
Coordinate and expedite the flow of work and materials within or between departments
of an establishment according to production schedule.
Tasks
Examine documents, materials, and products, and monitor work processes, in order to assess
completeness, accuracy, and conformance to standards and specifications.









Review documents such as production schedules, work orders, and staffing tables to
determine personnel and materials requirements, and material priorities.
Confer with department supervisors and other personnel to assess progress and discuss
needed changes.
Revise production schedules when required due to design changes, labor or material
shortages, backlogs, or other interruptions, collaborating with management, marketing,
sales, production, and engineering.
Confer with establishment personnel, vendors, and customers to coordinate production
and shipping activities, and to resolve complaints or eliminate delays.
Record production data, including volume produced consumption of raw materials, and
quality control measures.
Requisition and maintain inventories of materials and supplies necessary to meet
production demands.
Calculate figures such as required amounts of labor and materials, manufacturing costs,
and wages, using pricing schedules, adding machines, calculators, or computers.
Distribute production schedules and work orders to departments.
Compile information, such as production rates and progress, materials inventories,
materials used, and customer information, so that status reports can be completed.
Factory Administration
Manpower planning
Recruitment Formalities
Training to the workers
Labour Motivation, Assessment, Appraisal,
Recommendation for Promotion etc.
ISO Related matters in Factory (Management Representatives.)
Marketing Department
Assisting Marketing Department in regard to Working-out Quotation.
Technical Discussion with the customer when required.
Coordination for dispatch of goods
To know about the terms of delivery and strictly adhere to the same
Organization
Position Held
Period
: Metropolitan Equipments and Consulting Pvt. Ltd
: Quality Control Engineer
: April 2004 to June 2006.
Company Profile
: An ISO 9001-2000 Company manufacturing of water cooling elements
and equipments used in steel plants.
JOB RESPONSIBILITY 











Prepare weekly quality control planning for all projects.
To ensure the execution of quality control planning on daily basis
Responsible for data collection related to inspection & its presentation
To carry out work supervision & handle shop floor activities.
Inspection of incoming raw materials.
Stage wise internal inspection reports.
Coordinating with Third Party Inspection Agencies.
Documents Preparation for ISO 9001:2000.
Guiding junior Engineers during inspection stages.
Ensuring timely calibration of measuring instruments.
To ensure efficient utilization of man, material & machine.
Organization
Position Held
Period
: R.D.Ashar Pvt. Ltd
: Production Engineer
: June 2002 to March 2004.
JOB RESPONSIBILITY 






Prepare weekly and monthly planning for all departments.
To ensure the execution of production planning on daily basis
Responsible for data collection related to production & its presentation
To carry out work supervision & handle shop floor activities.
Achieving production targets within the given time frame.
To keep a check on production of machining parts to achieve quality and
dimensions as per the client's specifications.
 Proper utilization of manpower and manpower planning for efficient
production.
 Documents Preparation for ISO 9001:2000.
 To ensure efficient utilization of man, material & machine.
PERSONAL PROFILE:
Date of birth
Languages known
Marital Status
Salary drawn
Salary expected
Joining Period
Ready to Re-Locate
Date: 10.06.09.
Place: Thane.
Sign:
: 16th Jan. 1982.
: English, Malayalam,Hindi & Marathi.
: Bachelor.
: 3.00 lacs per annum
: 3.60 – 4.00 lacs per annum
: 2-Weeks.