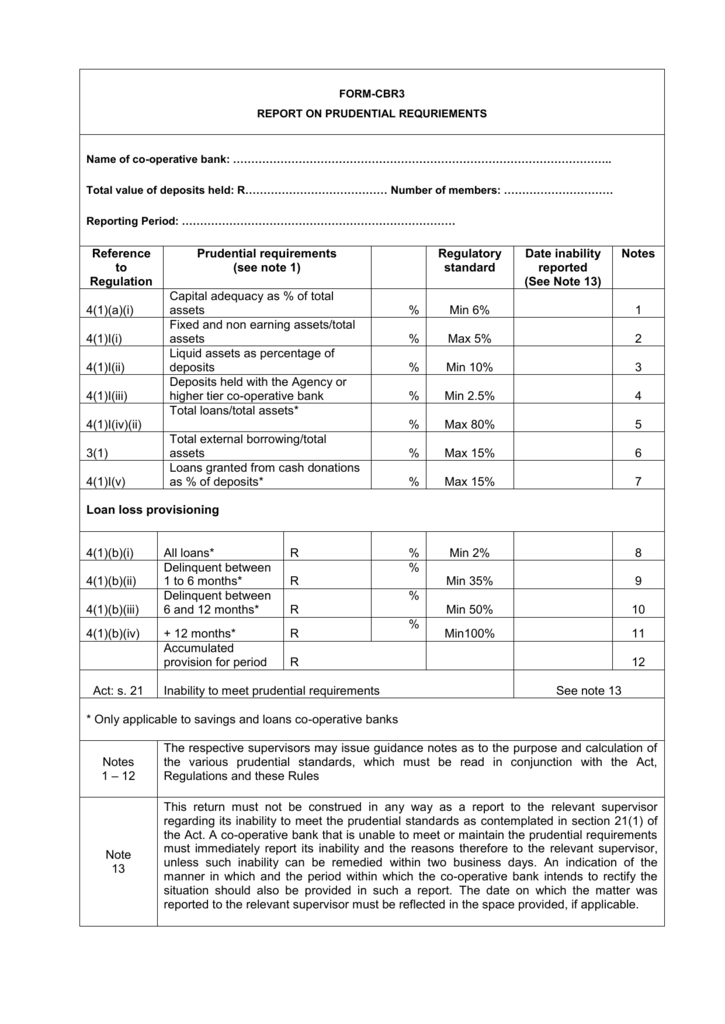 FORM-CBR3
REPORT ON PRUDENTIAL REQURIEMENTS
Name of co-operative bank: …………………………………………………………………………………………..
Total value of deposits held: R………………………………… Number of members: …………………………
Reporting Period: …………………………………………………………………
Reference
to
Regulation
4(1)(a)(i)
4(1)I(i)
4(1)I(ii)
4(1)I(iii)
Prudential requirements
(see note 1)
Capital adequacy as % of total
assets
Fixed and non earning assets/total
assets
Liquid assets as percentage of
deposits
Deposits held with the Agency or
higher tier co-operative bank
Total loans/total assets*
4(1)I(iv)(ii)
3(1)
4(1)I(v)
Total external borrowing/total
assets
Loans granted from cash donations
as % of deposits*
Regulatory
standard
Date inability
reported
(See Note 13)
Notes
%
Min 6%
1
%
Max 5%
2
%
Min 10%
3
%
Min 2.5%
4
%
Max 80%
5
%
Max 15%
6
%
Max 15%
7
%
%
Min 2%
8
Min 35%
9
Min 50%
10
Min100%
11
Loan loss provisioning
4(1)(b)(i)
4(1)(b)(ii)
4(1)(b)(iii)
4(1)(b)(iv)
Act: s. 21
All loans*
Delinquent between
1 to 6 months*
Delinquent between
6 and 12 months*
+ 12 months*
Accumulated
provision for period
R
R
%
R
R
%
R
Inability to meet prudential requirements
12
See note 13
* Only applicable to savings and loans co-operative banks
Notes
1 – 12
Note
13
The respective supervisors may issue guidance notes as to the purpose and calculation of
the various prudential standards, which must be read in conjunction with the Act,
Regulations and these Rules
This return must not be construed in any way as a report to the relevant supervisor
regarding its inability to meet the prudential standards as contemplated in section 21(1) of
the Act. A co-operative bank that is unable to meet or maintain the prudential requirements
must immediately report its inability and the reasons therefore to the relevant supervisor,
unless such inability can be remedied within two business days. An indication of the
manner in which and the period within which the co-operative bank intends to rectify the
situation should also be provided in such a report. The date on which the matter was
reported to the relevant supervisor must be reflected in the space provided, if applicable.