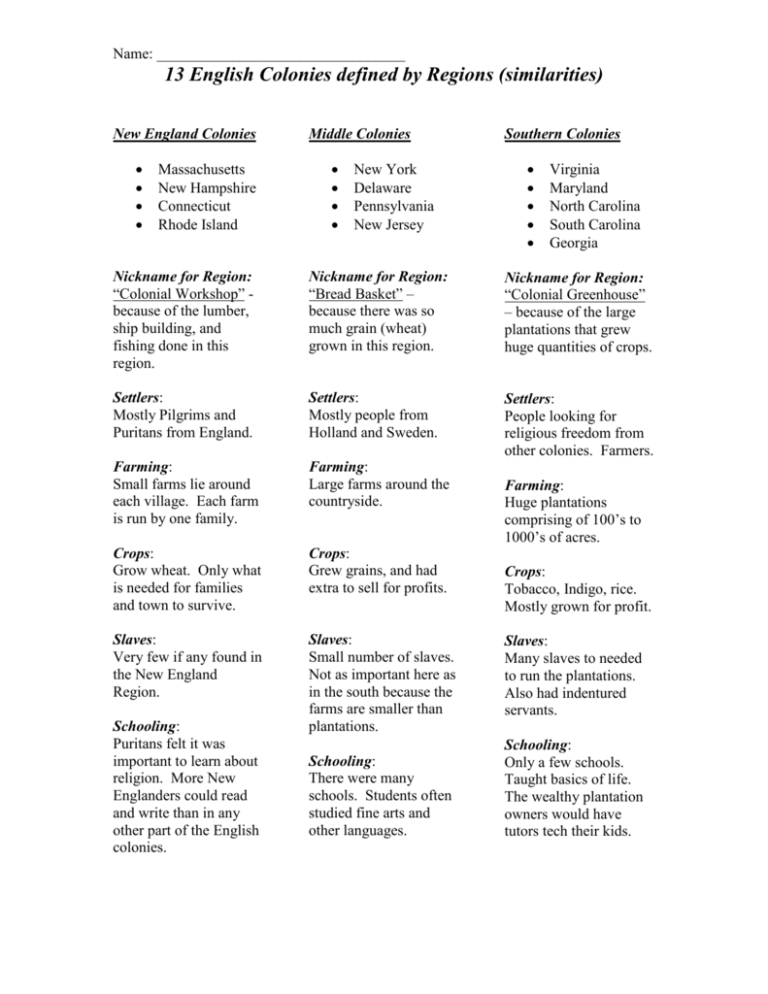 Name: _________________________________
13 English Colonies defined by Regions (similarities)
New England Colonies




Massachusetts
New Hampshire
Connecticut
Rhode Island
Middle Colonies




New York
Delaware
Pennsylvania
New Jersey
Southern Colonies





Virginia
Maryland
North Carolina
South Carolina
Georgia
Nickname for Region:
"Colonial Workshop" because of the lumber,
ship building, and
fishing done in this
region.
Nickname for Region:
"Bread Basket" –
because there was so
much grain (wheat)
grown in this region.
Nickname for Region:
"Colonial Greenhouse"
– because of the large
plantations that grew
huge quantities of crops.
Settlers:
Mostly Pilgrims and
Puritans from England.
Settlers:
Mostly people from
Holland and Sweden.
Settlers:
People looking for
religious freedom from
other colonies. Farmers.
Farming:
Small farms lie around
each village. Each farm
is run by one family.
Farming:
Large farms around the
countryside.
Crops:
Grow wheat. Only what
is needed for families
and town to survive.
Crops:
Grew grains, and had
extra to sell for profits.
Slaves:
Very few if any found in
the New England
Region.
Slaves:
Small number of slaves.
Not as important here as
in the south because the
farms are smaller than
plantations.
Slaves:
Many slaves to needed
to run the plantations.
Also had indentured
servants.
Schooling:
There were many
schools. Students often
studied fine arts and
other languages.
Schooling:
Only a few schools.
Taught basics of life.
The wealthy plantation
owners would have
tutors tech their kids.
Schooling:
Puritans felt it was
important to learn about
religion. More New
Englanders could read
and write than in any
other part of the English
colonies.
Farming:
Huge plantations
comprising of 100's to
1000's of acres.
Crops:
Tobacco, Indigo, rice.
Mostly grown for profit.