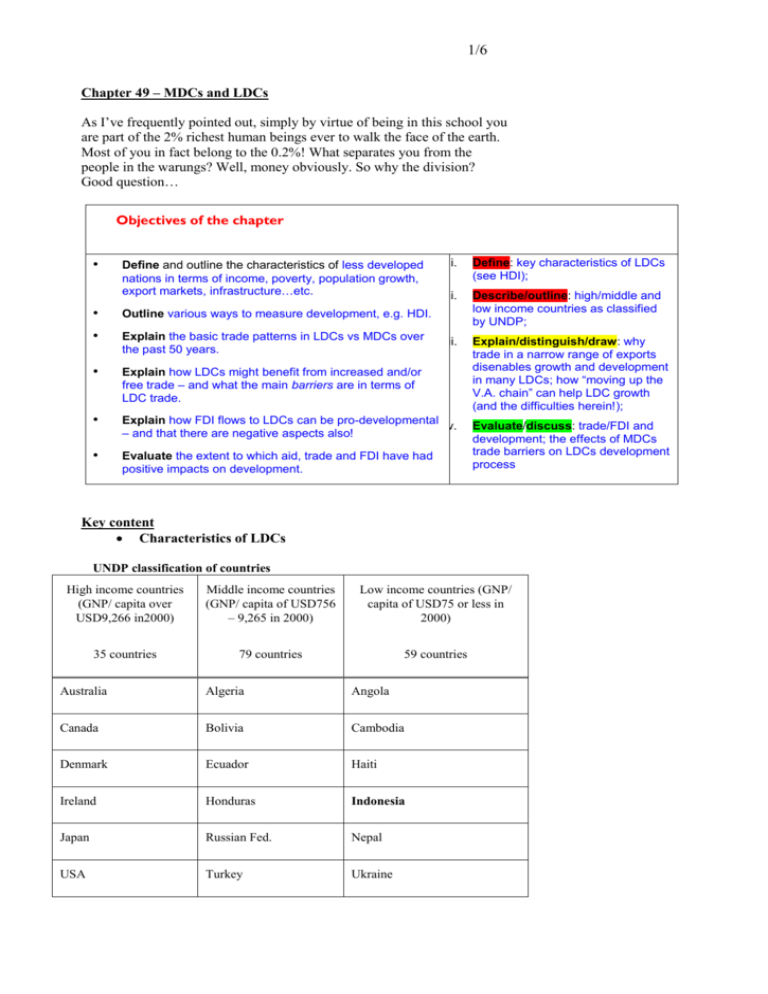 1/6
Chapter 49 – MDCs and LDCs
As I've frequently pointed out, simply by virtue of being in this school you
are part of the 2% richest human beings ever to walk the face of the earth.
Most of you in fact belong to the 0.2%! What separates you from the
people in the warungs? Well, money obviously. So why the division?
Good question…
Objectives of the chapter
•
Define and outline the characteristics of less developed
nations in terms of income, poverty, population growth,
export markets, infrastructure…etc.
i.
Define: key characteristics of LDCs
(see HDI);
ii.
Describe/outline: high/middle and
low income countries as classified
by UNDP;
iii.
Explain/distinguish/draw: why
trade in a narrow range of exports
disenables growth and development
in many LDCs; how "moving up the
V.A. chain" can help LDC growth
(and the difficulties herein!);
Evaluate/discuss: trade/FDI and
development; the effects of MDCs
trade barriers on LDCs development
process
•
Outline various ways to measure development, e.g. HDI.
•
Explain the basic trade patterns in LDCs vs MDCs over
the past 50 years.
•
Explain how LDCs might benefit from increased and/or
free trade – and what the main barriers are in terms of
LDC trade.
•
Explain how FDI flows to LDCs can be pro-developmental iv.
– and that there are negative aspects also!
•
Evaluate the extent to which aid, trade and FDI have had
positive impacts on development.
Key content
 Characteristics of LDCs
UNDP classification of countries
High income countries
(GNP/ capita over
USD9,266 in2000)
Middle income countries
(GNP/ capita of USD756
– 9,265 in 2000)
Low income countries (GNP/
capita of USD75 or less in
2000)
35 countries
79 countries
59 countries
Australia
Algeria
Angola
Canada
Bolivia
Cambodia
Denmark
Ecuador
Haiti
Ireland
Honduras
Indonesia
Japan
Russian Fed.
Nepal
USA
Turkey
Ukraine
2/6
o Low GDP/capita (often put in PPP terms)
Country name
2007 2008
2009 2010
Afghanistan
307
367
425
501
Congo, Dem. Rep.
164
187
175
199
Denmark
57,021 62,157 55,933 55,891
Indonesia
1,859 2,172 2,272 2,946
Korea, Rep.
21,653 19,162 17,110 20,757
Mexico
9,485 9,893 7,852 9,123
Namibia
4,079 4,075 4,096 5,330
o
Low life expectancy
Country name
Afghanistan
Congo, Dem. Rep.
Denmark
Indonesia
Korea, Rep.
Mexico
Namibia
(Data is for females.)
2007
47
49
81
69
83
79
61
2008
48
49
81
70
83
79
62
2009
48
49
81
70
84
79
62
o
Low level of literacy (percentage literate, 15 years
and above)
Country name
2007 2008 2009 2010
Afghanistan
No data
Congo, Dem. Rep.
67
Denmark
No data
Indonesia
92
Korea, Rep.
No data
Mexico
93
93
93
Namibia
89
o High population growth (% growth per year)
Country name
2007 2008 2009 2010
Afghanistan
Congo, Dem. Rep.
Denmark
Indonesia
Korea, Rep.
Mexico
Namibia
o
2.8
2.8
0.4
1.1
0.3
1.3
1.9
2.8
2.8
0.6
1.1
0.3
1.3
1.9
2.8
2.7
0.5
1.0
0.3
1.3
1.9
2.8
2.7
0.4
1.0
0.3
1.2
1.8
Poor infrastructure (consumption of electricity
per capita in kWh)
Country name
Afghanistan
Congo, Dem. Rep.
Denmark
2007 2008 2009
No data
101
98
104
6,668 6,562 6,246
3/6
Indonesia
Korea, Dem. Rep.
Korea, Rep.
Luxembourg
Mexico
Namibia
Iceland
Norway
o
547
572
590
755
810
733
8,502 8,853 8,980
16,350 15,938 14,424
1,974 1,983 1,943
1,491 1,740 1,576
36,853 50,067 51,259
24,855 24,866 23,550
Poor health (percentage of pop infected by HIV)
Country name
Afghanistan
Congo, Dem. Rep.
Denmark
Indonesia
Korea, Rep.
Mexico
Namibia
South Africa
Swaziland
Zimbabwe
2007 2008
No data
No data
0.2
0.2
0.1
0.2
0.1
0.1
0.3
0.3
14.3 13.7
18.0 17.9
25.8 25.9
16.1 15.1
2009
0.2
0.2
0.1
0.3
13.1
17.8
25.9
14.3
Comparisons in human development, selected countries (2006)
Country (HDI
value/rank )
INDIA
(0.609/132)
BOTSWANA
(0.664/126)
Life expectancy (years)
Adult literacy (% of
population)
Real GDP per capita
(PPP$)
1960
2006
1960
2006
1960
2006
44
64.1
34
65.2
617
2,489
45.5
48.9
41
82.1
474
12,744
4/6
INDONESIA
(0.726/109)
41.2
70.1
54
91
490
3,455
CHINA
(0.762/94)
47.1
72.7
..
93
723
4,682

Trade in LDCs
o High level of dependency on a few single export
goods (often primary goods) – narrow range of
exports
o Ever worsening ToT (e.g. LDCs must export more
iron ore to be able to import a refrigerator)
 Px / Pm…e.g. one tonne of coffee equals ten
imported pairs of jeans
 When P commodities (coffee, tea, iron…)
fall…ToT for LDCs falls! (LDCs need to
'pay' more coffee to buy any given Q of
jeans.)
o FDI has increased rampantly in the past 20 years
 Def: increase in physical cap…by foreign
firms
 Good; this stimulates AD and creates jobs,
transfers knowledge and technology
 Bad; dependency on MDCs for capital,
much of the profits are repatriated,
Source: Globalization, growth and poverty; World Bank 2002, page 42
o
o
More and more trade is in secondary goods rather
than primary (LDCs are moving up the value-added
chain)
Debt crisis of 1980s and '90s has abated (18 HIPC
and debt relief
5/6
o

Visible BTT have gone down…but what did you
learn about "sneaky BTT"? E.g. what has happened
to MDC subsidies?!
Benefits of trade for MDCs
o
Increase in export revenue: Increased exports as seen in
the NICs have had an immense impact on the domestic
economy. Exports grew at an average rate of between 8%
and 20% between the 1960s and 2000 in the NICs (Newly
Industrialised Countries), and most of the exports are
manufactures.1 This has been a tremendous boon to the
domestic economies – for example, the proportion of
exports to GDP in Korea went from just 2.4% in 1962 to
42% in 1999.2
o
Benefits of scale: When the size of the market increases
due to open markets, then it becomes possible for small
countries to establish economically viable plant sizes to
compete internationally. Longer production runs, better
use of resources and the spreading of fixed costs are
examples of how the average costs fall for firms
increasing the scale of operation.
o
Increased competition: When a country competes
internationally, there will be far more incentive for
domestic suppliers to increase efficiency and product
quality goods, rendering dynamic gains over time.
o
Additional resources: An outward oriented country stands
to benefit not only from increased exports but from
increased imports, i.e. raw material, components and
intermediary goods needed in production. About two
thirds of all manufacturing output is sold as inputs to
other firms, which means that access to global networks
of suppliers lowers production costs.
o
Technology transfers: In addition to this, there is
technological transfer, both in the form of capital and in
the form of knowledge and experience imparted by
foreign firms' direct investment inflows.
It's pretty clear actually:
1World
Development Indicators, World Bank 2002
2Legrain,
page 69
6/6
It would be wonderful if I could just stop right here, but there is, of course,
another side. A number of issues have been raised in opposition to outward
oriented policies: low wage and environmental policies might be
intentionally set by developing countries in order to attract foreign
investment, leading to exploitation of labour and environmental
degradation; dependency on multinational companies could lead to the
empowerment of foreign businesses over domestic policies; the domestic
economy for a strongly export oriented country would be dependent on
international business cycles; and speculative inflows can have devastating
effects on the economy such as the 1997 Asian Crisis.
Questions:
1. Outline three distinct characteristics of an LDC – use real life
examples in your answer.
2. Why is "moving up the value-added chain" pro-growth and prodevelopmental?
3. Evaluate FDI for an LDC. (Two pros and two cons – then take a
stance!)
4. Explain why an exporting LDC would benefit from MDCs
growing richer.