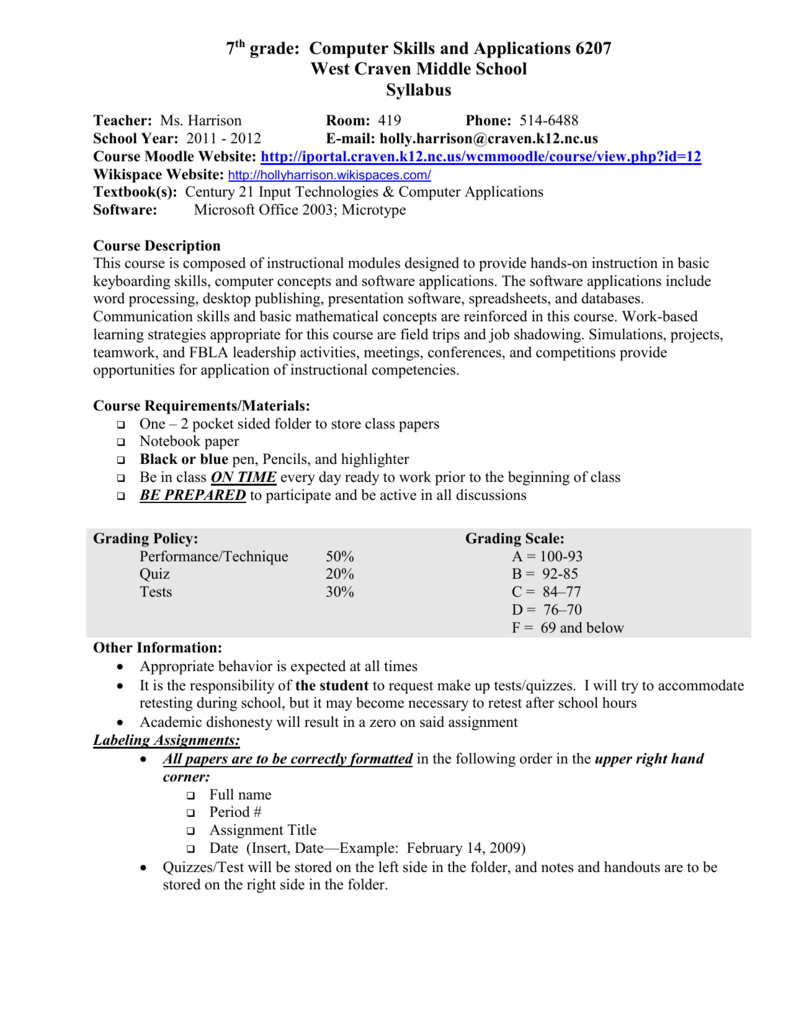 7th grade: Computer Skills and Applications 6207
West Craven Middle School
Syllabus
Teacher: Ms. Harrison
Room: 419
Phone: 514-6488
School Year: 2011 - 2012
E-mail: [email protected]
Course Moodle Website: http://iportal.craven.k12.nc.us/wcmmoodle/course/view.php?id=12
Wikispace Website: http://hollyharrison.wikispaces.com/
Textbook(s): Century 21 Input Technologies & Computer Applications
Software:
Microsoft Office 2003; Microtype
Course Description
This course is composed of instructional modules designed to provide hands-on instruction in basic
keyboarding skills, computer concepts and software applications. The software applications include
word processing, desktop publishing, presentation software, spreadsheets, and databases.
Communication skills and basic mathematical concepts are reinforced in this course. Work-based
learning strategies appropriate for this course are field trips and job shadowing. Simulations, projects,
teamwork, and FBLA leadership activities, meetings, conferences, and competitions provide
opportunities for application of instructional competencies.
Course Requirements/Materials:
 One – 2 pocket sided folder to store class papers
 Notebook paper
 Black or blue pen, Pencils, and highlighter
 Be in class ON TIME every day ready to work prior to the beginning of class
 BE PREPARED to participate and be active in all discussions
Grading Policy:
Performance/Technique
Quiz
Tests
50%
20%
30%
Grading Scale:
A = 100-93
B = 92-85
C = 84–77
D = 76–70
F = 69 and below
Other Information:
 Appropriate behavior is expected at all times
 It is the responsibility of the student to request make up tests/quizzes. I will try to accommodate
retesting during school, but it may become necessary to retest after school hours
 Academic dishonesty will result in a zero on said assignment
Labeling Assignments:
 All papers are to be correctly formatted in the following order in the upper right hand
corner:
 Full name
 Period #
 Assignment Title
 Date (Insert, Date—Example: February 14, 2009)
 Quizzes/Test will be stored on the left side in the folder, and notes and handouts are to be
stored on the right side in the folder.
ADDITIONAL NEEDS FOR OUR CLASSROOM (which will earn a student extra credit if
brought in to class)
 Disinfecting Wipes
 Box of Tissues
 New or Used Tennis Balls
(to be cut to slip on chair legs)
I HAVE READ THE PRECEDING COURSE SYLLABUS AND CLASSROOM RULES AND AGREE TO FOLLOW ALL
REQUIREMENTS FOR THE PRIVILEDGE OF BEING ALLOWED TO TAKE A COMPUTER COURSE AT WCMS
DURING THE 2011-2012 SCHOOL YEAR. I UNDERSTAND THAT THERE WILL BE AN OPEN LINE OF
COMMUNICATION BETWEEN MS.HARRISON AND THE PARENTS/GUARDIANS OF THE ENROLLED STUDENT
LISTED BELOW.
Signature (Legal Name) of Student
_____________________________
Signature of Parent/Guardian
__________________________________
Printed Name of Student
Parent/Guardian Telephone Numbers:
Home: ____________________________
Email address of both parents (if available): _________________________________________________
_________________________________________________
Ms. Holly Harrison, WCMS Career Technical Education- Educator
Telephone: 252-514-6488
Please return this PARENT SIGNED form to Ms. Harrison by Thursday 1/26/12.