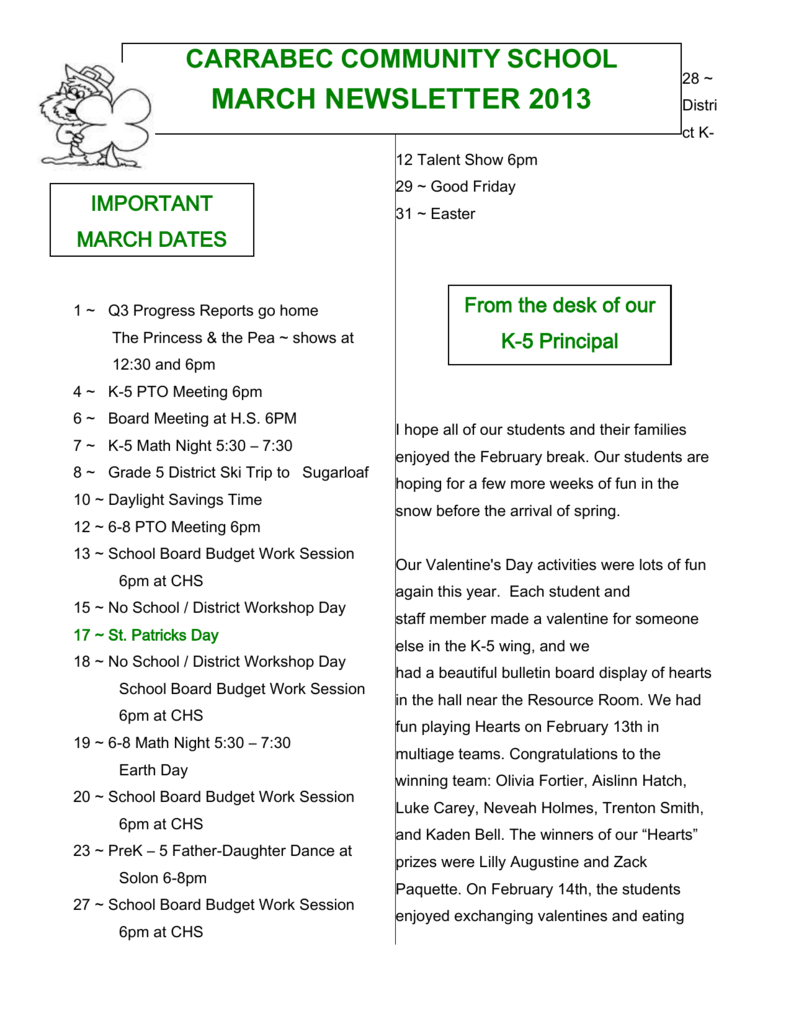 CARRABEC COMMUNITY SCHOOL
MARCH NEWSLETTER 2013
28 ~
Distri
ct K-
12 Talent Show 6pm
IMPORTANT
29 ~ Good Friday
31 ~ Easter
MARCH DATES
1 ~ Q3 Progress Reports go home
The Princess & the Pea ~ shows at
From the desk of our
K-5 Principal
12:30 and 6pm
4 ~ K-5 PTO Meeting 6pm
6 ~ Board Meeting at H.S. 6PM
7 ~ K-5 Math Night 5:30 – 7:30
8 ~ Grade 5 District Ski Trip to Sugarloaf
10 ~ Daylight Savings Time
12 ~ 6-8 PTO Meeting 6pm
13 ~ School Board Budget Work Session
6pm at CHS
15 ~ No School / District Workshop Day
17 ~ St. Patricks Day
18 ~ No School / District Workshop Day
School Board Budget Work Session
6pm at CHS
19 ~ 6-8 Math Night 5:30 – 7:30
Earth Day
20 ~ School Board Budget Work Session
6pm at CHS
23 ~ PreK – 5 Father-Daughter Dance at
Solon 6-8pm
27 ~ School Board Budget Work Session
6pm at CHS
I hope all of our students and their families
enjoyed the February break. Our students are
hoping for a few more weeks of fun in the
snow before the arrival of spring.
Our Valentine's Day activities were lots of fun
again this year. Each student and
staff member made a valentine for someone
else in the K-5 wing, and we
had a beautiful bulletin board display of hearts
in the hall near the Resource Room. We had
fun playing Hearts on February 13th in
multiage teams. Congratulations to the
winning team: Olivia Fortier, Aislinn Hatch,
Luke Carey, Neveah Holmes, Trenton Smith,
and Kaden Bell. The winners of our "Hearts"
prizes were Lilly Augustine and Zack
Paquette. On February 14th, the students
enjoyed exchanging valentines and eating
tasty treats during their classroom parties.
March 7th is our K-5 Math Night from 5:30-7:30
Thanks to all of the parents who sent in
PM. Last year's Math Night was so successful
snacks for the parties.
that we decided to hold another one as part of
our activities in our Continuous Improvement
I met with all of the students in grades 3-5 to
Priority Schools (CIPS) Project. CIPS funds
go over their scores on the New England
will cover the costs of this activity. Students
Common Assessment Program (NECAP) tests and their families will enjoy a pizza dinner and
that they took in October. Your child should
then engage in math games run by our
have brought these scores home the week
teachers and ed techs in the gym. There will
before February vacation. We are pleased that be raffle prizes too. Please put this date on
our Grades 3, 4, and 5 classes all scored
your calendars and plan to join us for a night
above the district average in reading, math,
of fun with math.
and writing, and above the district average in
all but fourth grade math. They exceeded or
Our fifth graders are looking forward to a great
came close to the state targets for the percent day at Sugarloaf Mountain on March 8th for a
of students who reached proficiency. Eighteen day of skiing along with the fifth graders from
of our students reached the level of Proficient the Garret Schenck and Solon Schools. We
with Distinction in one or more subjects; their thank Mrs. Dunphy and Mr. Robinson for
names will be displayed on the bulletin board planning this day of fresh air, exercise, and fun
in the front hall soon. Our students and staff
for our students. We also thank our PTO for
continue to work hard to raise our test scores helping to fund the cost of the bus for this trip.
on the NECAP to demonstrate that our
students meet the Common Core State
Please contact me if you have any questions
Standards.
or concerns about the K-5 program. Think
The week of February 25-March 1 is Children'sSpring!
Stage Adventures Week for our third, fourth,
and fifth graders. Remember that the
performances of "The Princess and the Pea"
From the desk of our
6-8 Principal
are on March 1st at 12:30 and 6:00 PM. We
again thank the PTO for sponsoring this
special activity.
Is winter over yet? No, because we haven't
had our annual March Talent Show! This has
become quite a tradition at the Carrabec
Community School for students, staff and
2013 with their third quarter progress report.
community. We are planning on holding the
Please review them and if you have any
Talent Show on Thursday, March 28, 2013 at questions, contact your child's teacher or me.
6:00 pm. and mandatory rehearsal on
You will be asked to document that you have
Wednesday, March 27, 2013 at 2:30 pm. Sign received a copy of this assessment on the
up and permission slips are available in the
Office. Please encourage your talented
child(ren) to become involved in this fun
activity.
same form that you sign for progress reports.
On March 30, 2013 Emilee Fortier and Bailey
Dunphy will be recognized for receiving the
2nd & 3rd place awards for the Elks Club's
Prior to vacation we held an
(Skowhegan) regional essay contest.
assembly to recognize
This year's topic was "What the
students for their academic
National Anthem means to me". Both
achievement and excellent
girls accompanied by two guests of their
attendance. Students
choosing will receive their awards at a
receiving Honors, High
celebratory dinner.
Honors and Excellent
Attendance also received a ticket to a Portland Mrs. McCluskey's 8th grade students are
Pirates game and a food coupon for
learning about wind power. She has invited
McDonalds. I am proud to say the list of
two people from the Kibby Wind Project
awardees keeps growing longer.
(Transwind) to come in and speak with the
class, a manager and an electrician. To
We have received our NECAP scores and
balance the information, she plans to invite a
they are very good! The 7th and 8th graders
member of the Friends of Highland Plantation,
scored at or above the state average in
an anti-wind group. If you would like more
Reading and Mathematics! Although the 6th
information about this please check with Mrs.
graders didn't quite meet the targets, they did McCluskey.
improve their scores over last year's scores.
Since the NECAP is administered during the
Our Math League continues to make us proud!
month of October, these scores reflect the
Ian McHugh placed first for CCS in grade 6
student's achievement of the previous school and 12th in the league. Katrina Mason placed
year. A copy of your child's NECAP
first at CCS in grade 7 and tied for first in the
assessment will be sent home on March 1,
league. Sara Taylor placed first for CCS in
grade 8 and 5th in the league. The 8th grade
work to build with all those cups!
team came in 2nd out of 6 schools and the 7th
grade team tied for first
Once again thank you for your continued
support. If you have any questions or concerns
please call, email or stop by.
KINDERGARTEN
We celebrated Dr. Seuss' birthday in style. Our
Kindergarten has been busy this past month
getting ready for the 100th day of kindergarten.
Everyone did an awesome job on their 100th
day project. I really enjoyed seeing
everybody's hard work and they made a great
display in the hallway.
This month, we added three members to the
100's club. Congratulations to Gracilyn, Evan
fun Dr. Seuss week included a week full of
wacky dressing, wearing patterns and hats.
Thanks to Mr. Larlee for making green eggs
and ham with us. It was yummy. To end the
exciting week, we got a special visit from the
Cat in the Hat himself!
Kindergarten is looking forward to the arrival of
spring!
and Zakary for counting their way to 100!
We MADE IT to the 100th day of Kindergarten!!
It was a very exciting day. We made 100th day
hats, made fruit loop necklaces, sorted
buttons, and made snack mix. To celebrate
our big day, our friend Zero the Hero came to
visit. To help him make the number 100, he
had a special friend join him, Zeronial!
Our favorite part of the day was building with
100 cups. We learned it takes a lot of team
Kindergarten students making their Friendship
Salad ! Yum!
PRESCHOOL
ENROLLMENT
MSAD 74/RSU 74 (Anson, Embden,
came to visit us. Laurie talked about the
New Portland & Solon) will be holding
"Rainbow Plate" and the five food groups. The
kindergarten screening for all pre-
students learned that one half of their plate
school children entering Kindergarten in
should be filled with colorful fruits and
the fall. Children must be five years of
vegetables, one quarter filled with whole
age on or before October 15, 2013.
grains and the other quarter filled with protein.
Screenings for all district children will be
held by appointment only on Tuesday,
April 2nd at the Carrabec Community
School in North Anson for all incoming
Kindergarten students.
Please call Bonnie Atwood at the
Superintendent's Office 635-2727
Ext #3 for an appointment and/or
any questions you may have.
Screening takes approximately 1
hour per child. More information will
be given at the time of your call.
Laurie then did an activity with the students to
help them identify which kinds of foods fit on
which part of the plate. We finished with
identifying what parts of the body different
foods are good for. After vacation Laurie will
be coming back to help us start some
carrot plants. We are in need of 3 liter
bottles for this activity.
We are midway through the year and it
is time to work on mechanics in writing
such as sentence structure, details and
using punctuation. In class we have
been working together to develop a
If you know of children ready to start
writing rubric tool that we can use to help
school, please share this information
develop good writing skills.
with their parent.
We are now taking applications for the
fall 2013 Head Start Pre-School
Program. Please call Lee Ann Salley at
649-6570 for registration information.
In February we have been celebrating the
100th day of school, Valentine's Day, dental
health and learning about the past and present
Presidents.
On February 8th we had a surprise visit from
GRADE 1
Trooper Crawford. Trooper Crawford talked
with the students about the importance of
We have been extremely busy this month! On being good listeners and learning to read and
January 31, Laurie Magee from Food Corp
write. Thank you Trooper Crawford!
One final note: please check with your child to
see if he/she needs any pencils, erasers or
crayons.
vacation using Literature Circles with books
about Harriet Tubman and Louis Braille. We
will use the nonfiction book box, available
through a grant to the Literacy Committee, to
then study Margaret Chase Smith.
GRADE 2
We have shared our time travel stories which
Valentine's Day has passed and the Second
Grade had a lot of fun at
their party. The week after vacation is Read
Across America Week honoring
Dr. Seuss. We will be reading many of his
books. We will also be
having Green Eggs and Ham for breakfast
during the week. We will be
starting to read together E.B. White's Trumpet
of the Swan.
GRADE 3
were very creative, and we have been working
very hard on editing techniques of conventions
in writing. Our next assignment is a Fractured
Fairy Tale.
In Math, we are learning multiplication and
division and have been playing Quizmo which
is a Bingo type game. The prize is the highly
coveted free homework pass. This heightens
the enthusiasm, as you might imagine.
We are also very excited about Children's
Stage Adventures. Most
of the students are
The third grade has been enjoying finishing
participating.
their science projects on food chains and
webs. They are on display in the classroom.
We are now starting a social studies unit on
world cultures and have been using literacy
GRADE 4
strategies such as Picture This. In this
strategy, students read a section and then
draw a detailed picture with a caption
summarizing what they read. They then share
this with the class. This deepens
comprehension of the topic. We will also be
starting our biography genre studies after
This month, students presented time capsules
they created based on the book LIttle House
on the Prairie by Laura Ingalls Wilder. They
included items that
represented important parts or characters in
the book. It was impressive to see all the ideas difference in kids' lives. She says her parents
and creativity that went into creating these
were her inspiration because they made
projects.
school a priority. Also she had an elementary
Our friend Emilie from the L.C. Bates Museum
has visited a few times and presented on
different topics, such as oceans, mammals,
and rivers. She always brings station activities
where students can get close to the items she
teacher, Mr. James, who made school fun.
The fifth graders are having lots of fun with
Miss Morrison.
6ELA
brings and create something to remember the
topic of the day. We are looking forward to
several more weeks of her visits!
In reading class students recently finished
reading the book, On My Honor. Following
In reading we have spent a lot of time making February vacation, the content, themes, and
inferences or figuring out an author's unstated purposes of Ancient Greek mythology will be
message. This can be a challenging task
explored through the use of
sometimes, so we have explored making them several Greek myths and the
through poetry and picture books.
GRADE 5
Student Teacher
by Caitlin Crawford and Skye Welch
books Absolutely Normal Chaos by
Sharon Creech and The Lightning
Thief by Rick Riordan.
Math students are still working with
fractions, decimals, and percents.
After vacation they will be exposed to some of
The fifth grade has a student teacher, whose
the building blocks of algebra, such as order of
name is Krista Morrison. Miss Morrison went operations, variables, and expressions. In the
days to come students will learn about the
to Calais High School and the University of
Maine at Farmington. She will graduate this
commutative, associative, identity, and
May being certified to teach grades K- 8.
distributive properties. Throughout March and
April solving addition, subtraction,
Miss Morrison said she decided her freshman multiplication, and division equations will be
year of high school that she wanted to become the focus.
a teacher because she wanted to make a
In social studies, the unit on Ancient China is lamb? Let's see.
wrapping up. Israel will be next, followed by
7ELLIS
Ancient Greece.
7MCMANUS
Mrs. Ellis's seventh grade math classes are
currently working with polygons and their
transformations on the coordinate grid. They
On March 30th Emilee Fortier & Bailey
are exploring translations, dilations,
Dunphy will receive the 2nd & 3rd place
reflections, and rotations. After they have
awards at the Elks Club in Skowhegan. This
mastered these concepts, they will revisit
was for a regional contest on " What the
algebra using linear functions and
National Anthem means to me". Both winners investigating inequalities. They have
are allowed to bring two guests to this
progressed very well this year and many will
celebration for a free dinner.
be ready for high school algebra in eighth
grade.
In Exploratory class we are playing
Language arts classes are working on
educational board games and dissecting giant responses to reading, backing up statements
pickerel caught by Mr. McManus at Porter
and opinions with specific parts of the text.
Lake.
They have also had a practice run with
research papers using MLA format; the
The recent topics in science class were
students are proud of the end product because
Fishes/ The First Vertebrates, Amphibians,
it looks so professional.
Reptiles, Birds, and Mammals. Seventh
graders dissected yellow perch, pickerel, and Recently, students had to recite poems in front
squid. The squid were caught by Miss Tolman of the class; they were surprisingly nervous!
this summer. It was a great learning
Guess we'll have to keep working on that...
experience!
8STONE
In Supplemental reading class we are reading
Number the Stars as part of a unit on World
War Two.
Will March come in Like a lion and out like a
The 8th graders will begin to study properties
of exponents, scientific notation, and situations
such as growth and decay that can be
modeled with exponents. The study of powers Students have also been coming up with ideas
and exponents is a first-step for students to
for the "Invention Convention" which will be in
move toward modeling of nonlinear
April. This will take the place of the annual
relationships. Nonlinear relationships are
science fair. The top five students from our
frequently found in economics and in biological school will continue on to a state competition
systems; their graphs are curves. Using the on May 18th.
properties of exponents, the students will
Most of our time in March will be devoted to
multiply and divide powers and find powers of working on the Invention Convention and
products and quotients. Using scientific
learning about climate and climate change.
notation they will perform operations with very
large and very small numbers. This work will
lead us into the quadratic equations world.
8McCLUSKEY
6-8 ATHLETICS
The 2012-13 C.C.S. Varsity boys had one of
the best seasons the program has had in
years, finishing the season at 12-5. This team
The 8th graders have been learning about the also was the runner-up in the Pine Cone
atmosphere, wind, wind power and clouds.
League Championship, losing out to Athens in
We will have a guest from the Kibby Mountain a very close, late night game. The highlight of
wind project join our class after
the tournament had to be their
vacation to help us learn more
high intensity close win over
about how wind power works.
Madison Junior High School.
Students are learning how to
The Girls Varsity Basketball team
recognize bias and how to judge
had many success stories this
the reliability of information
year, including winning nine
found online. Students also
games. This group worked hard
collected airborne particles in
all season and showed
our air outside and inside at
improvement throughout the
CCS. They were encouraged to
year. The team kept their
continue the study at home for extra credit.
composure in many tight games and were led
on the floor by a strong group of 7th and 8th
grandparents and helpers during our
graders.
basketball season. Adults and students alike
helped serve, cook, and clean during these
Our JV girls team developed into a quality
home games. Without all of you, our season
group of basketball players led by many of our would not be possible.
6th graders. They finished their season with a
huge win over Spruce Mountain.
We will be looking for new officers come the
13/14 school year. Anyone interested in
The JV boys team were led by a group of
President, Treasurer or Secretary, please
dedicated 6th grade boys who vastly improved contact Candy LeBeau at 635-2209 or join us
as the season went on. There were many
at our next meeting.
highlights including beating Dirigo at the
buzzer.
Our next meeting will take place at CCS on
March 12, 2013 at 6pm. Hope to see you
A special thanks goes to all our dedicated
there.
cheerleaders especially the 8th graders who
participated over the past three years. There Our PTO also has two new styled
were some wonderful routines performed at
t-shirts, long sleeve and hoodies available.
many of our half times throughout the season. These are in the office. Please check size
Their enthusiastic cheering kept many of our
availability with Candy. We have adult and
fans actively involved in our games.
youth sizes.
I would also like to thank all the coaches,
parents and workers who helped support our
students throughout the long winter basketball
and cheering. A special thanks goes out to
Candy LeBeau and Ann Holzworth who kept
the booster kitchen open all season.
6-8 PTO
I would like to personally thank all the parents,
Our two new shirt styles !!
From the 6-8 Civil
Rights Team
MyPyramid has changed to MyPlate!
As not only a student of CCS but a member of
society, name calling that goes against our
Civil Rights is not accepted. Everyone has a
right not to be called names. Nobody has a
right to call people these names. Names such
as "queer" and "retarded," go against our Civil
Rights.
You need to ask yourself: does this word go
against this person's race, religion, ancestry,
physical or mental disability, gender or sexual
orientation? If so, why use it? Using these
words is against the law, and it hurts people.
Words like this should never used.
CCS 6-8 Civil Rights Team
By:
Sara Taylor, Josh Long,
Cassidy Bailey, and TK Pray
5210
LET'S GO!
Did you know
that
MyPlate is a new icon established in 2010 as
part of the Dietary Guidelines for Americans to
help consumers make better choices and to
remind us to eat healthfully. The symbol
shows that ½ of our plate should be filled with
fruits and vegetables, ¼ with grains, and ¼
with protein. Low fat or no fat dairy should be
consumed at each meal.
This was designed to be an easier way to be
sure to get enough variety of each of the food
groups throughout the day without having to
be as concerned with counting servings.
Portions still matter though, so before you
reach for the oversized plate, try using a
smaller plate and see if you feel satisfied after
finishing your meal. You can visit
www.choosemyplate.gov for more information
on MyPlate and to access handy food and
activity tools.