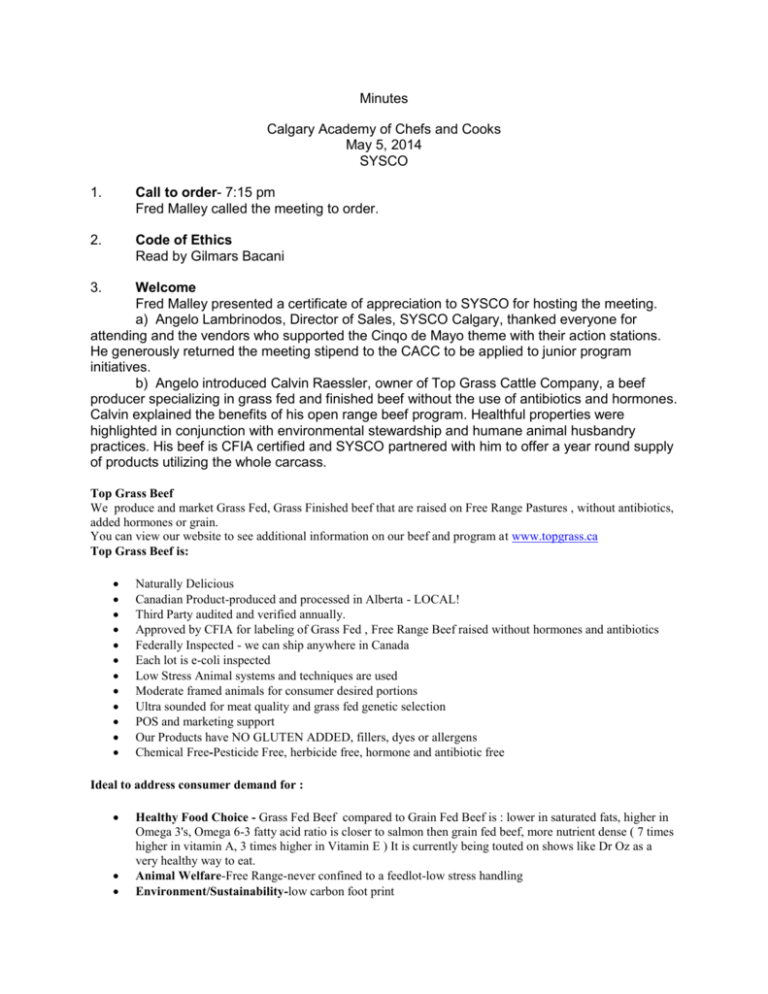 Minutes
Calgary Academy of Chefs and Cooks
May 5, 2014
SYSCO
1.
Call to order- 7:15 pm
Fred Malley called the meeting to order.
2.
Code of Ethics
Read by Gilmars Bacani
3.
Welcome
Fred Malley presented a certificate of appreciation to SYSCO for hosting the meeting.
a) Angelo Lambrinodos, Director of Sales, SYSCO Calgary, thanked everyone for
attending and the vendors who supported the Cinqo de Mayo theme with their action stations.
He generously returned the meeting stipend to the CACC to be applied to junior program
initiatives.
b) Angelo introduced Calvin Raessler, owner of Top Grass Cattle Company, a beef
producer specializing in grass fed and finished beef without the use of antibiotics and hormones.
Calvin explained the benefits of his open range beef program. Healthful properties were
highlighted in conjunction with environmental stewardship and humane animal husbandry
practices. His beef is CFIA certified and SYSCO partnered with him to offer a year round supply
of products utilizing the whole carcass.
Top Grass Beef
We produce and market Grass Fed, Grass Finished beef that are raised on Free Range Pastures , without antibiotics,
added hormones or grain.
You can view our website to see additional information on our beef and program at www.topgrass.ca
Top Grass Beef is:












Naturally Delicious
Canadian Product-produced and processed in Alberta - LOCAL!
Third Party audited and verified annually.
Approved by CFIA for labeling of Grass Fed , Free Range Beef raised without hormones and antibiotics
Federally Inspected - we can ship anywhere in Canada
Each lot is e-coli inspected
Low Stress Animal systems and techniques are used
Moderate framed animals for consumer desired portions
Ultra sounded for meat quality and grass fed genetic selection
POS and marketing support
Our Products have NO GLUTEN ADDED, fillers, dyes or allergens
Chemical Free-Pesticide Free, herbicide free, hormone and antibiotic free
Ideal to address consumer demand for :



Healthy Food Choice - Grass Fed Beef compared to Grain Fed Beef is : lower in saturated fats, higher in
Omega 3's, Omega 6-3 fatty acid ratio is closer to salmon then grain fed beef, more nutrient dense ( 7 times
higher in vitamin A, 3 times higher in Vitamin E ) It is currently being touted on shows like Dr Oz as a
very healthy way to eat.
Animal Welfare-Free Range-never confined to a feedlot-low stress handling
Environment/Sustainability-low carbon foot print
4.
Motion to approve the minutes of the April meeting as circulated
Moved by Chris Niddrie; seconded by Andy Waters
5.
Guests
Alan Marles from Okotoks and Marietta Pangan-Dutkoski, editor of the Diaryo Filipino
magazine. She invited members and interested parties to attend an information session on May
19 in High River to discuss the Temporary Foreign Workers program and the impact of its
recent suspension by the federal government.
6.
Education
Simon Dunn commented on the Temporary Foreign Workers program and its recent
suspension and impact on local businesses and some of our members.
He introduced Carlos Vongala to speak on his 1st year apprentice experiences at Sait
and the value of apprentice training.
Simon advised everyone of an upcoming sous vide and VarioSmoker demonstration
hosted by Rationale at Crown Food Equipment (5307 – 4th St. SE) on Saturday June 14 from 10
am to 2 pm. Registration required. [email protected] or contact Simon.
He also advised of upcoming course offerings in the fall for charcuterie and artisan
breads.
7.
Serge Dufour Memorial Golf Tournament
-Tuesday, June 17, 2014 at Springbank Links
-Registration is open and full payment confirms your spot.
-Breakfast followed by shotgun start
-Proceeds to support a stage placement for a junior member
-We are looking for a few hole sponsors and prize packages
8.
New member profiles
Fred commented on a concern regarding the background of new members. New
members are working in the industry. The board will endeavour to group new members
by category for swearing in. Also note that workers who immigrate to Canada are
encouraged to join professional organizations.
9.
Dress for meetings
Please dress appropriately. Torn jeans and t-shirts are best for gardening. It is common
courtesy to remove a hat when indoors. Business and business casual dress please; a
clean chef's jacket is always appropriate.
10.
Meeting RSVP
We want to try an experiment for the June meeting and if you know you will attend,
respond on the branch Facebook account. This will allow us to give the host chef a
head's up on numbers. Fort Calgary got slammed last month and the attendance tonight
is outstanding.
President's Gala
Excellent room rate at Hotel Arts for Friday night May 23.
We must advise numbers on Tuesday May 20. The menu represents outstanding value at $100
+ GST as it is worth $150 thanks to the generous support of suppliers.
11.
12.
Honour Society
Fred reported that Calgary continues to garner nominees each year for this prestigious
membership based on a lifetime of contributing to the associations and the profession.
Two inductees this year; Blake Chapman and Fred Malley.
13.
National Convention in Ottawa May 29 to June 2
Fred and Blake are going. It is election year for National President and Secretary.
Budget will be a timely topic.
14.
Easter Seals Dinner
Andy Waters presented certificates of appreciation to members who worked on this
event and provided guidance to 40 high school students and teachers who worked the
function in the kitchen. This event is a major fund raiser for the branch.
15.
Website
Helmut Schoderbock, our webmaster, reported that he is ready to train his successor.
Thank you to Beat Hegnauer for volunteering to assume this important responsibility.
16.
Board Nominations for June election
Blake Chapman is election chair and called for nominations.
The following positions are open this coming year for a 2 year term –
Vice President, Treasurer, Education, Chef Social, Associate Social, Associate Director, Junior
Director
Vice President- Christopher Sprentz: acclaimed
Treasurer- Dean Mitchell: acclaimed
Education- Michael Dekker and David Swanson-Reinhard nominated; Election at June Meeting
Chef Social- Mars Bacani: acclaimed
Associate Social- David Crowfoot: acclaimed
Associate Director- Al Kennedy: acclaimed
Junior Director- Arvie Obafial: acclaimed
17.
50/50 draw
A big thank you to Saputo's Lorna Edwards, who supplied a deluxe artisanal cheese and
wine gift basket, which was won by Will Wentz. All proceeds to be applied to junior initiatives.
18.
Adjournment
Moved by Beat Hegnauer; seconded by Chris Niddrie
19.
Notices
a) Next meeting – June 2, 2014- High School Awards presentations and Election of
board position; Education chair.
- Glenmore Inn, please RSVP to facebook so the proper preparations can
be made
- 235 tickets are currently available for this and the event is always a sellout; however the Glenmore Inn has more capacity than was available in
previous years.