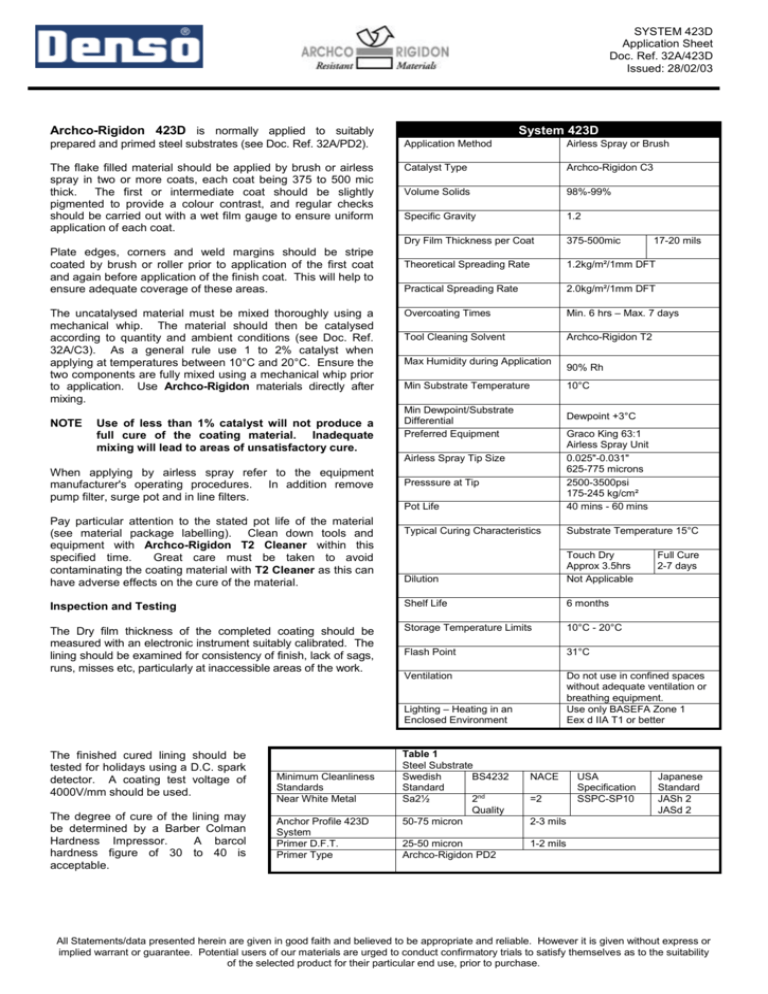 SYSTEM 423D
Application Sheet
Doc. Ref. 32A/423D
Issued: 28/02/03
Archco-Rigidon 423D is normally applied to suitably
System 423D
prepared and primed steel substrates (see Doc. Ref. 32A/PD2).
Application Method
Airless Spray or Brush
The flake filled material should be applied by brush or airless
spray in two or more coats, each coat being 375 to 500 mic
thick.
The first or intermediate coat should be slightly
pigmented to provide a colour contrast, and regular checks
should be carried out with a wet film gauge to ensure uniform
application of each coat.
Catalyst Type
Archco-Rigidon C3
Volume Solids
98%-99%
Specific Gravity
1.2
Dry Film Thickness per Coat
375-500mic
Theoretical Spreading Rate
1.2kg/m²/1mm DFT
Practical Spreading Rate
2.0kg/m²/1mm DFT
Overcoating Times
Min. 6 hrs – Max. 7 days
Tool Cleaning Solvent
Archco-Rigidon T2
Plate edges, corners and weld margins should be stripe
coated by brush or roller prior to application of the first coat
and again before application of the finish coat. This will help to
ensure adequate coverage of these areas.
The uncatalysed material must be mixed thoroughly using a
mechanical whip. The material should then be catalysed
according to quantity and ambient conditions (see Doc. Ref.
32A/C3). As a general rule use 1 to 2% catalyst when
applying at temperatures between 10°C and 20°C. Ensure the
two components are fully mixed using a mechanical whip prior
to application. Use Archco-Rigidon materials directly after
mixing.
NOTE
Use of less than 1% catalyst will not produce a
full cure of the coating material. Inadequate
mixing will lead to areas of unsatisfactory cure.
Max Humidity during Application
Min Substrate Temperature
17-20 mils
90% Rh
10°C
Min Dewpoint/Substrate
Differential
Preferred Equipment
Dewpoint +3°C
Pot Life
Graco King 63:1
Airless Spray Unit
0.025"-0.031"
625-775 microns
2500-3500psi
175-245 kg/cm²
40 mins - 60 mins
Typical Curing Characteristics
Substrate Temperature 15°C
Dilution
Touch Dry
Approx 3.5hrs
Not Applicable
Inspection and Testing
Shelf Life
6 months
The Dry film thickness of the completed coating should be
measured with an electronic instrument suitably calibrated. The
lining should be examined for consistency of finish, lack of sags,
runs, misses etc, particularly at inaccessible areas of the work.
Storage Temperature Limits
10°C - 20°C
Flash Point
31°C
Ventilation
Do not use in confined spaces
without adequate ventilation or
breathing equipment.
Use only BASEFA Zone 1
Eex d IIA T1 or better
Airless Spray Tip Size
When applying by airless spray refer to the equipment
manufacturer's operating procedures. In addition remove
pump filter, surge pot and in line filters.
Pay particular attention to the stated pot life of the material
(see material package labelling). Clean down tools and
equipment with Archco-Rigidon T2 Cleaner within this
specified time.
Great care must be taken to avoid
contaminating the coating material with T2 Cleaner as this can
have adverse effects on the cure of the material.
Presssure at Tip
Lighting – Heating in an
Enclosed Environment
The finished cured lining should be
tested for holidays using a D.C. spark
detector. A coating test voltage of
4000V/mm should be used.
The degree of cure of the lining may
be determined by a Barber Colman
Hardness Impressor.
A barcol
hardness figure of 30 to 40 is
acceptable.
Minimum Cleanliness
Standards
Near White Metal
Anchor Profile 423D
System
Primer D.F.T.
Primer Type
Table 1
Steel Substrate
Swedish
BS4232
Standard
Sa2½
2nd
Quality
50-75 micron
25-50 micron
Archco-Rigidon PD2
NACE
=2
USA
Specification
SSPC-SP10
Full Cure
2-7 days
Japanese
Standard
JASh 2
JASd 2
2-3 mils
1-2 mils
All Statements/data presented herein are given in good faith and believed to be appropriate and reliable. However it is given without express or
implied warrant or guarantee. Potential users of our materials are urged to conduct confirmatory trials to satisfy themselves as to the suitability
of the selected product for their particular end use, prior to purchase.