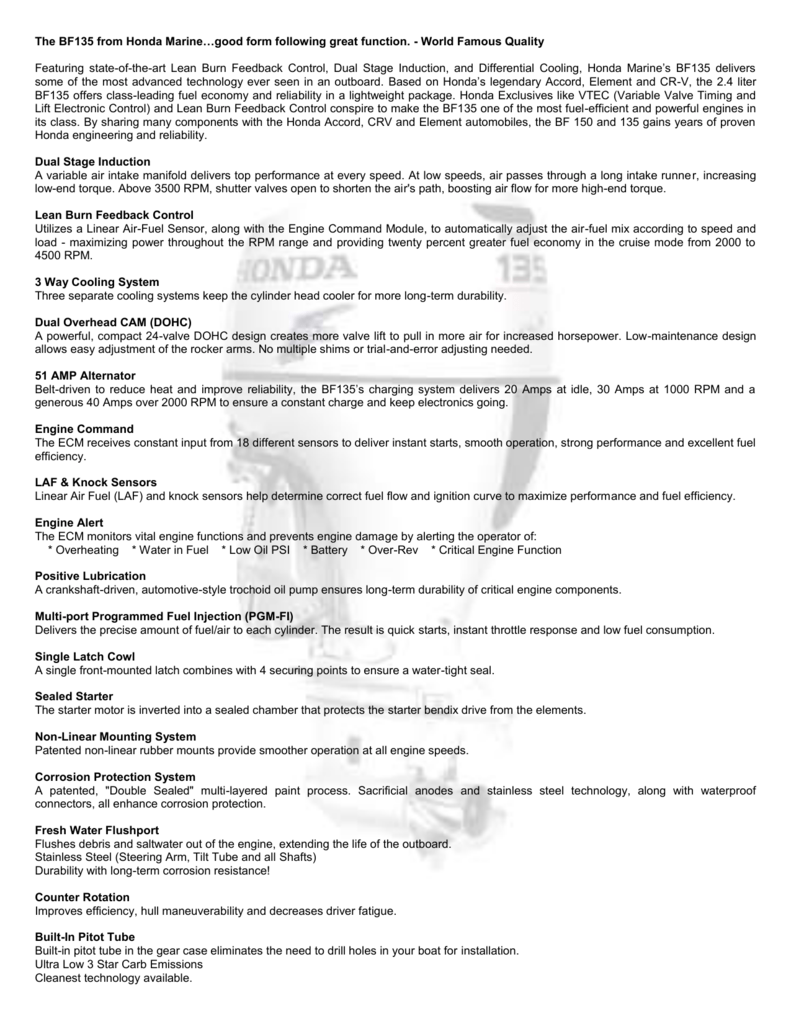 The BF135 from Honda Marine…good form following great function. - World Famous Quality
Featuring state-of-the-art Lean Burn Feedback Control, Dual Stage Induction, and Differential Cooling, Honda Marine's BF135 delivers
some of the most advanced technology ever seen in an outboard. Based on Honda's legendary Accord, Element and CR-V, the 2.4 liter
BF135 offers class-leading fuel economy and reliability in a lightweight package. Honda Exclusives like VTEC (Variable Valve Timing and
Lift Electronic Control) and Lean Burn Feedback Control conspire to make the BF135 one of the most fuel-efficient and powerful engines in
its class. By sharing many components with the Honda Accord, CRV and Element automobiles, the BF 150 and 135 gains years of proven
Honda engineering and reliability.
Dual Stage Induction
A variable air intake manifold delivers top performance at every speed. At low speeds, air passes through a long intake runne r, increasing
low-end torque. Above 3500 RPM, shutter valves open to shorten the air's path, boosting air flow for more high-end torque.
Lean Burn Feedback Control
Utilizes a Linear Air-Fuel Sensor, along with the Engine Command Module, to automatically adjust the air-fuel mix according to speed and
load - maximizing power throughout the RPM range and providing twenty percent greater fuel economy in the cruise mode from 2000 to
4500 RPM.
3 Way Cooling System
Three separate cooling systems keep the cylinder head cooler for more long-term durability.
Dual Overhead CAM (DOHC)
A powerful, compact 24-valve DOHC design creates more valve lift to pull in more air for increased horsepower. Low-maintenance design
allows easy adjustment of the rocker arms. No multiple shims or trial-and-error adjusting needed.
51 AMP Alternator
Belt-driven to reduce heat and improve reliability, the BF135's charging system delivers 20 Amps at idle, 30 Amps at 1000 RPM and a
generous 40 Amps over 2000 RPM to ensure a constant charge and keep electronics going.
Engine Command
The ECM receives constant input from 18 different sensors to deliver instant starts, smooth operation, strong performance and excellent fuel
efficiency.
LAF & Knock Sensors
Linear Air Fuel (LAF) and knock sensors help determine correct fuel flow and ignition curve to maximize performance and fuel efficiency.
Engine Alert
The ECM monitors vital engine functions and prevents engine damage by alerting the operator of:
* Overheating * Water in Fuel * Low Oil PSI * Battery * Over-Rev * Critical Engine Function
Positive Lubrication
A crankshaft-driven, automotive-style trochoid oil pump ensures long-term durability of critical engine components.
Multi-port Programmed Fuel Injection (PGM-FI)
Delivers the precise amount of fuel/air to each cylinder. The result is quick starts, instant throttle response and low fuel consumption.
Single Latch Cowl
A single front-mounted latch combines with 4 securing points to ensure a water-tight seal.
Sealed Starter
The starter motor is inverted into a sealed chamber that protects the starter bendix drive from the elements.
Non-Linear Mounting System
Patented non-linear rubber mounts provide smoother operation at all engine speeds.
Corrosion Protection System
A patented, "Double Sealed" multi-layered paint process. Sacrificial anodes and stainless steel technology, along with waterproof
connectors, all enhance corrosion protection.
Fresh Water Flushport
Flushes debris and saltwater out of the engine, extending the life of the outboard.
Stainless Steel (Steering Arm, Tilt Tube and all Shafts)
Durability with long-term corrosion resistance!
Counter Rotation
Improves efficiency, hull maneuverability and decreases driver fatigue.
Built-In Pitot Tube
Built-in pitot tube in the gear case eliminates the need to drill holes in your boat for installation.
Ultra Low 3 Star Carb Emissions
Cleanest technology available.