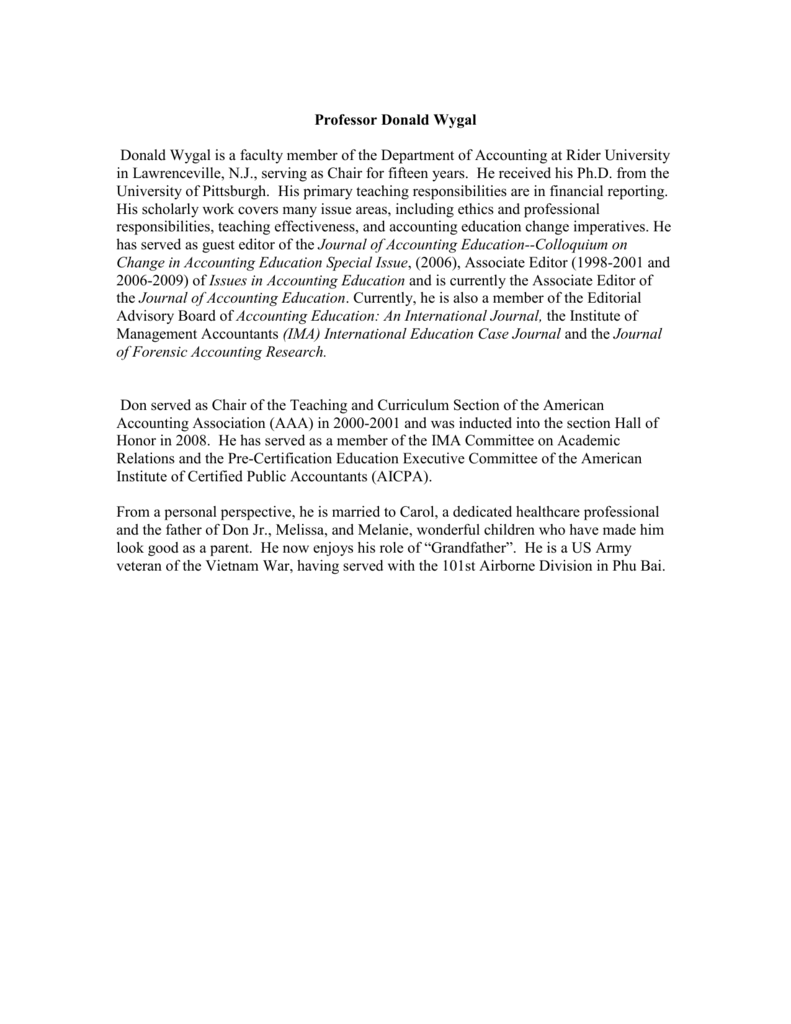 Professor Donald Wygal
Donald Wygal is a faculty member of the Department of Accounting at Rider University
in Lawrenceville, N.J., serving as Chair for fifteen years. He received his Ph.D. from the
University of Pittsburgh. His primary teaching responsibilities are in financial reporting.
His scholarly work covers many issue areas, including ethics and professional
responsibilities, teaching effectiveness, and accounting education change imperatives. He
has served as guest editor of the Journal of Accounting Education--Colloquium on
Change in Accounting Education Special Issue, (2006), Associate Editor (1998-2001 and
2006-2009) of Issues in Accounting Education and is currently the Associate Editor of
the Journal of Accounting Education. Currently, he is also a member of the Editorial
Advisory Board of Accounting Education: An International Journal, the Institute of
Management Accountants (IMA) International Education Case Journal and the Journal
of Forensic Accounting Research.
Don served as Chair of the Teaching and Curriculum Section of the American
Accounting Association (AAA) in 2000-2001 and was inducted into the section Hall of
Honor in 2008. He has served as a member of the IMA Committee on Academic
Relations and the Pre-Certification Education Executive Committee of the American
Institute of Certified Public Accountants (AICPA).
From a personal perspective, he is married to Carol, a dedicated healthcare professional
and the father of Don Jr., Melissa, and Melanie, wonderful children who have made him
look good as a parent. He now enjoys his role of "Grandfather". He is a US Army
veteran of the Vietnam War, having served with the 101st Airborne Division in Phu Bai.