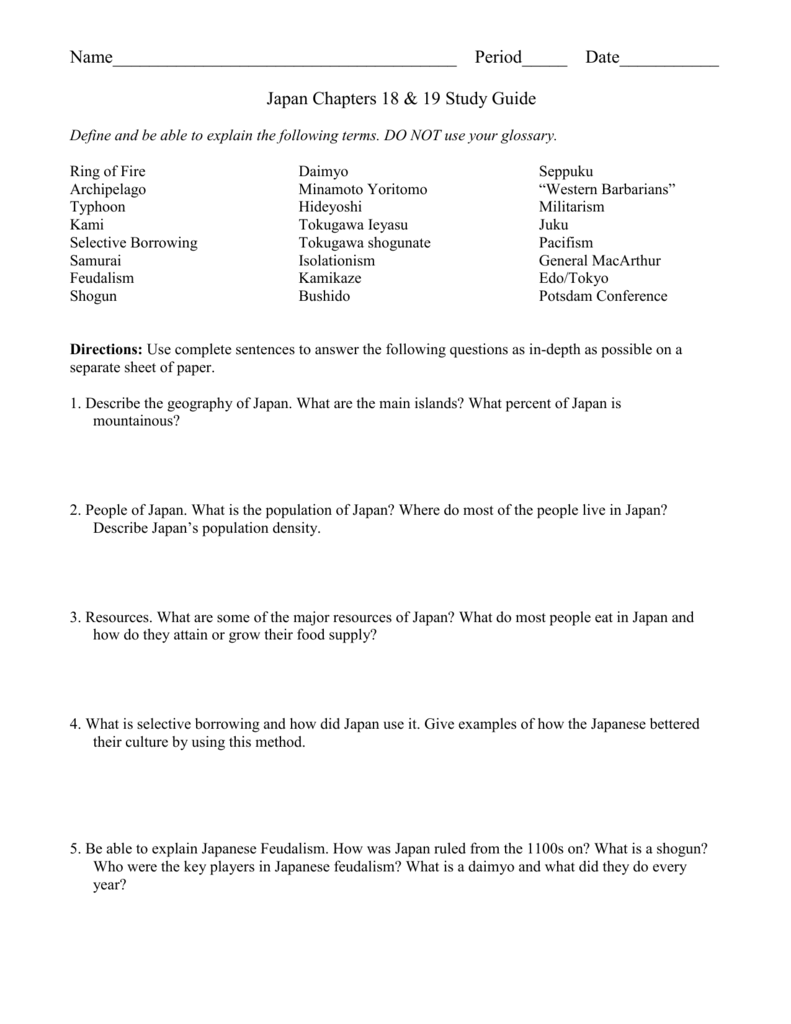 Name______________________________________ Period_____ Date___________
Japan Chapters 18 & 19 Study Guide
Define and be able to explain the following terms. DO NOT use your glossary.
Ring of Fire
Archipelago
Typhoon
Kami
Selective Borrowing
Samurai
Feudalism
Shogun
Daimyo
Minamoto Yoritomo
Hideyoshi
Tokugawa Ieyasu
Tokugawa shogunate
Isolationism
Kamikaze
Bushido
Seppuku
"Western Barbarians"
Militarism
Juku
Pacifism
General MacArthur
Edo/Tokyo
Potsdam Conference
Directions: Use complete sentences to answer the following questions as in-depth as possible on a
separate sheet of paper.
1. Describe the geography of Japan. What are the main islands? What percent of Japan is
mountainous?
2. People of Japan. What is the population of Japan? Where do most of the people live in Japan?
Describe Japan's population density.
3. Resources. What are some of the major resources of Japan? What do most people eat in Japan and
how do they attain or grow their food supply?
4. What is selective borrowing and how did Japan use it. Give examples of how the Japanese bettered
their culture by using this method.
5. Be able to explain Japanese Feudalism. How was Japan ruled from the 1100s on? What is a shogun?
Who were the key players in Japanese feudalism? What is a daimyo and what did they do every
year?
6. Describe Japan's isolationism. Who closed Japan in the 1600s and why?
7. What were the results of WWII for Japan?
8. After the war, why did the US and Japan become allies? What stimulated Japan's economy in
1950? Why did Japan have better factories than the US?
9. Describe Japan's trading policies with foreign countries.
You are responsible for all of the content in chapters 18 and 19.1-3, all the notes we took in class, your
guided readings, and your daily geography.