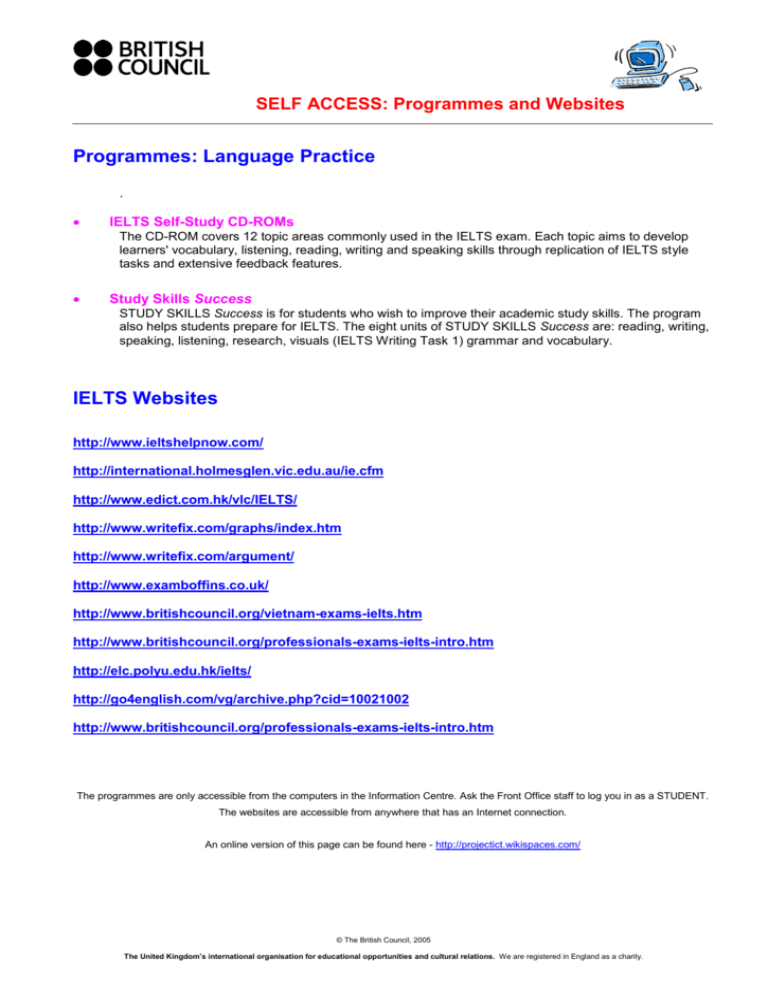 SELF ACCESS: Programmes and Websites
Programmes: Language Practice
.

IELTS Self-Study CD-ROMs
The CD-ROM covers 12 topic areas commonly used in the IELTS exam. Each topic aims to develop
learners' vocabulary, listening, reading, writing and speaking skills through replication of IELTS style
tasks and extensive feedback features.

Study Skills Success
STUDY SKILLS Success is for students who wish to improve their academic study skills. The program
also helps students prepare for IELTS. The eight units of STUDY SKILLS Success are: reading, writing,
speaking, listening, research, visuals (IELTS Writing Task 1) grammar and vocabulary.
IELTS Websites
http://www.ieltshelpnow.com/
http://international.holmesglen.vic.edu.au/ie.cfm
http://www.edict.com.hk/vlc/IELTS/
http://www.writefix.com/graphs/index.htm
http://www.writefix.com/argument/
http://www.examboffins.co.uk/
http://www.britishcouncil.org/vietnam-exams-ielts.htm
http://www.britishcouncil.org/professionals-exams-ielts-intro.htm
http://elc.polyu.edu.hk/ielts/
http://go4english.com/vg/archive.php?cid=10021002
http://www.britishcouncil.org/professionals-exams-ielts-intro.htm
The programmes are only accessible from the computers in the Information Centre. Ask the Front Office staff to log you in as a STUDENT.
The websites are accessible from anywhere that has an Internet connection.
An online version of this page can be found here - http://projectict.wikispaces.com/
© The British Council, 2005
The United Kingdom's international organisation for educational opportunities and cultural relations. We are registered in England as a charity.