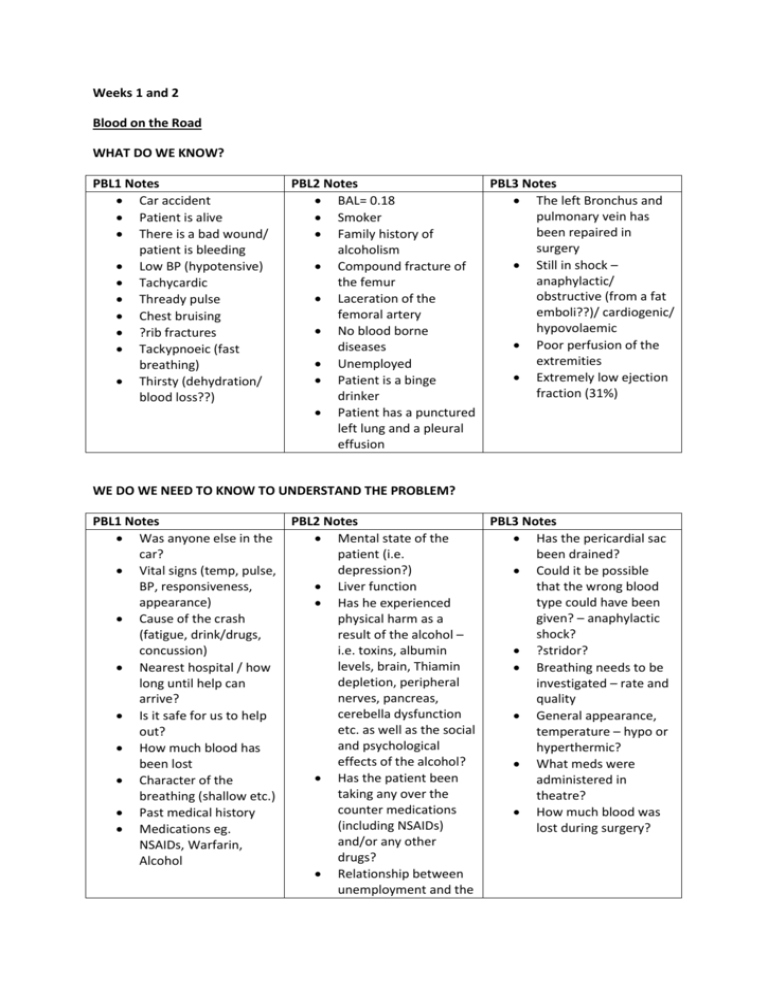 Weeks 1 and 2
Blood on the Road
WHAT DO WE KNOW?
PBL1 Notes
 Car accident
 Patient is alive
 There is a bad wound/
patient is bleeding
 Low BP (hypotensive)
 Tachycardic
 Thready pulse
 Chest bruising
 ?rib fractures
 Tackypnoeic (fast
breathing)
 Thirsty (dehydration/
blood loss??)
PBL2 Notes
 BAL= 0.18
 Smoker
 Family history of
alcoholism
 Compound fracture of
the femur
 Laceration of the
femoral artery
 No blood borne
diseases
 Unemployed
 Patient is a binge
drinker
 Patient has a punctured
left lung and a pleural
effusion
PBL3 Notes
 The left Bronchus and
pulmonary vein has
been repaired in
surgery
 Still in shock –
anaphylactic/
obstructive (from a fat
emboli??)/ cardiogenic/
hypovolaemic
 Poor perfusion of the
extremities
 Extremely low ejection
fraction (31%)
WE DO WE NEED TO KNOW TO UNDERSTAND THE PROBLEM?
PBL1 Notes
 Was anyone else in the
car?
 Vital signs (temp, pulse,
BP, responsiveness,
appearance)
 Cause of the crash
(fatigue, drink/drugs,
concussion)
 Nearest hospital / how
long until help can
arrive?
 Is it safe for us to help
out?
 How much blood has
been lost
 Character of the
breathing (shallow etc.)
 Past medical history
 Medications eg.
NSAIDs, Warfarin,
Alcohol
PBL2 Notes
 Mental state of the
patient (i.e.
depression?)
 Liver function
 Has he experienced
physical harm as a
result of the alcohol –
i.e. toxins, albumin
levels, brain, Thiamin
depletion, peripheral
nerves, pancreas,
cerebella dysfunction
etc. as well as the social
and psychological
effects of the alcohol?
 Has the patient been
taking any over the
counter medications
(including NSAIDs)
and/or any other
drugs?
 Relationship between
unemployment and the
PBL3 Notes
 Has the pericardial sac
been drained?
 Could it be possible
that the wrong blood
type could have been
given? – anaphylactic
shock?
 ?stridor?
 Breathing needs to be
investigated – rate and
quality
 General appearance,
temperature – hypo or
hyperthermic?
 What meds were
administered in
theatre?
 How much blood was
lost during surgery?
alcohol
MECHANISM UNDERLYING THE PROBLEM (HYPOTHESIS)
PBL1 Notes
 Crashed due to an
impairment of sorts
 Leg injury is the result
of the crash
 Lacerated leg artery
(femoral)
 Patient suffering from
shock
PBL2 Notes
 There could be another
possible rupture in the
body
 The heart is under
pressure
PBL3 Notes
None
WHAT INFORMATION DO WE NEED TO SOLVE THE PROBLEM?
PBL1 Notes
 Necessary
investigations: chest Xray, blood tests (WBCs,
RBC count,
alcohol/drugs,
platelets, liver function,
renal function (want to
check urea and
Creatinine levels for an
indication for renal
function), blood type,
pulse oximetry,
temperature – is he
hypothermic?)
PBL2 Notes
 The consequences of
alcohol, including the
social, psychological
and physical
PBL3 Notes
 What compensatory
mechanisms does the
body utilise?