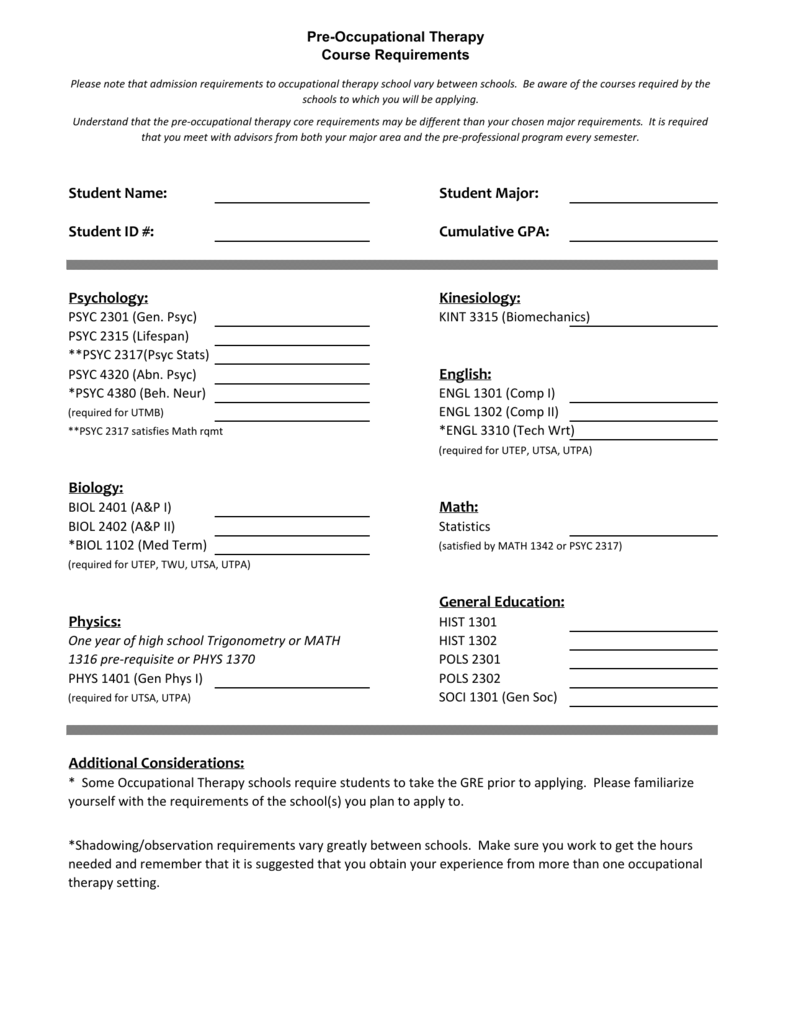 Pre-Occupational Therapy
Course Requirements
Please note that admission requirements to occupational therapy school vary between schools. Be aware of the courses required by the
schools to which you will be applying.
Understand that the pre-occupational therapy core requirements may be different than your chosen major requirements. It is required
that you meet with advisors from both your major area and the pre-professional program every semester.
Student Name:
Student Major:
Student ID #:
Cumulative GPA:
Psychology:
Kinesiology:
PSYC 2301 (Gen. Psyc)
PSYC 2315 (Lifespan)
**PSYC 2317(Psyc Stats)
PSYC 4320 (Abn. Psyc)
*PSYC 4380 (Beh. Neur)
KINT 3315 (Biomechanics)
(required for UTMB)
**PSYC 2317 satisfies Math rqmt
English:
ENGL 1301 (Comp I)
ENGL 1302 (Comp II)
*ENGL 3310 (Tech Wrt)
(required for UTEP, UTSA, UTPA)
Biology:
BIOL 2401 (A&P I)
BIOL 2402 (A&P II)
*BIOL 1102 (Med Term)
Math:
Statistics
(satisfied by MATH 1342 or PSYC 2317)
(required for UTEP, TWU, UTSA, UTPA)
General Education:
Physics:
One year of high school Trigonometry or MATH
1316 pre-requisite or PHYS 1370
PHYS 1401 (Gen Phys I)
(required for UTSA, UTPA)
HIST 1301
HIST 1302
POLS 2301
POLS 2302
SOCI 1301 (Gen Soc)
Additional Considerations:
* Some Occupational Therapy schools require students to take the GRE prior to applying. Please familiarize
yourself with the requirements of the school(s) you plan to apply to.
*Shadowing/observation requirements vary greatly between schools. Make sure you work to get the hours
needed and remember that it is suggested that you obtain your experience from more than one occupational
therapy setting.