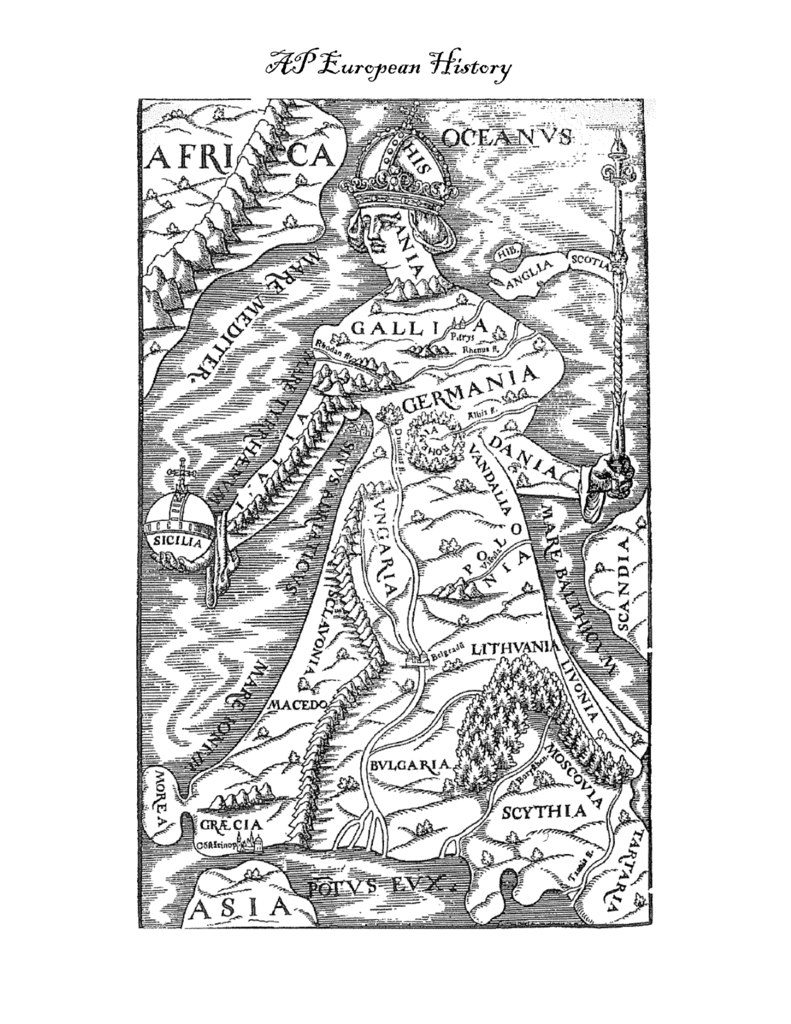 AP European History
AP EURO
SUMMER ASSIGNMENT PACKET
SUMMER ASSIGNMENT:
The summer assignment is to read Chapter 12 of our textbook, A History of Western Society by John P.
McKay, and complete the ten "Reading Questions" that accompany the reading.
DUE DATE:
All work in this packet and all assigned summer readings are due when you walk into class on the second day of
the 2014-2015 school year. If your work is turned in on the third day of school, you will receive seventy
percent credit. After the first week, you will receive a zero.
PACKET CONTENT:
Be sure to check the packet for the following items:


Map of Europe
"Crisis of the Later Middle Ages" Reading Questions
INSTRUCTIONS FOR READING QUESTIONS:
Complete sentences are ALWAYS expected in AP Euro unless otherwise specified. If your answer is more
than a few sentences you should write in paragraph form and indent. Most of your answers will be 2-3
sentences in length. Since you have excessive time to complete these questions, your product must be typed.
Have all stapling and organizing completed before you come to class.
CONTACT INFORMATION:
If you have any questions about the summer packet, please contact me via email ([email protected]).
Follow AP Euro on Twitter for summer help and announcements - @APEuroGNHS & @APEuroTravel.
LASTLY, A FEW SUGGESTIONS:
DO NOT wait until the last week of summer to begin these assignments! College-level courses work best
when you become invested in the work and demonstrate pride in your finished assignments.
McKAY – CHAPTER 12 READING QUESTIONS
OVERVIEW AND INSTRUCTIONS:
Your responses must be typed in 12 point, Times New Roman font, and double-spaced. Always write in
complete sentences.
1.
Explain the arrival of the Plague in Europe.
2.
How did the effects of the plague differ in northern Europe as opposed to southern Europe?
3.
Provide all the causes of the Hundred Years' War (you may use bulleted points for this
answer).
4.
Chart the progress of the war, making an annotated timeline. Be certain to indicate all the
major battles and turning points on your timeline.
5.
What were the outcomes of the Hundred Years' War for France and how was the outcome
different for Britain?
6.
What role did Joan of Arc play in the Hundred Years' War?
7.
What was the Babylonian Captivity and how did it result in the Great Schism? In answering,
make sure you mention all the major players.
8.
How did the Conciliar Movement threaten the medieval church and what reforms were
mentioned? Who are the major players of the Conciliar Movement?
9.
Write a brief biography on Jan Hus (no more than six sentences) making sure you capture his
real importance to church history.
10. How did vernacular literature affect the development of modern Europe and provide some
examples of vernacular writers and their works.