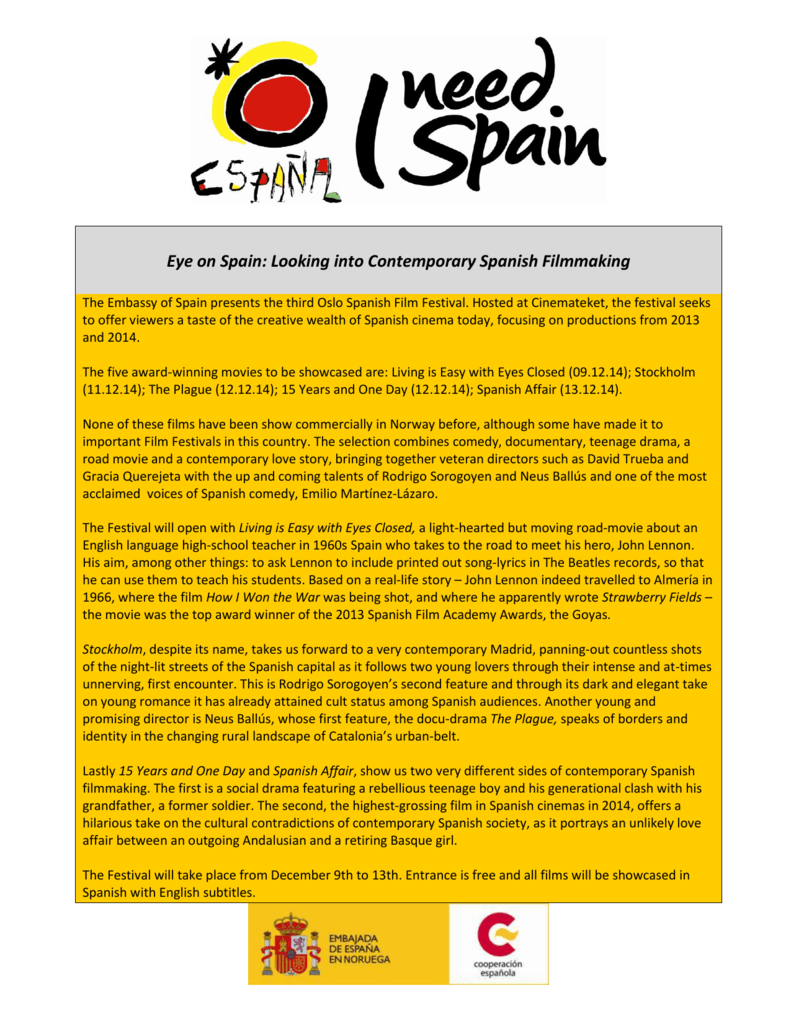 Eye on Spain: Looking into Contemporary Spanish Filmmaking
The Embassy of Spain presents the third Oslo Spanish Film Festival. Hosted at Cinemateket, the festival seeks
to offer viewers a taste of the creative wealth of Spanish cinema today, focusing on productions from 2013
and 2014.
The five award-winning movies to be showcased are: Living is Easy with Eyes Closed (09.12.14); Stockholm
(11.12.14); The Plague (12.12.14); 15 Years and One Day (12.12.14); Spanish Affair (13.12.14).
None of these films have been show commercially in Norway before, although some have made it to
important Film Festivals in this country. The selection combines comedy, documentary, teenage drama, a
road movie and a contemporary love story, bringing together veteran directors such as David Trueba and
Gracia Querejeta with the up and coming talents of Rodrigo Sorogoyen and Neus Ballús and one of the most
acclaimed voices of Spanish comedy, Emilio Martínez-Lázaro.
The Festival will open with Living is Easy with Eyes Closed, a light-hearted but moving road-movie about an
English language high-school teacher in 1960s Spain who takes to the road to meet his hero, John Lennon.
His aim, among other things: to ask Lennon to include printed out song-lyrics in The Beatles records, so that
he can use them to teach his students. Based on a real-life story – John Lennon indeed travelled to Almería in
1966, where the film How I Won the War was being shot, and where he apparently wrote Strawberry Fields –
the movie was the top award winner of the 2013 Spanish Film Academy Awards, the Goyas.
Stockholm, despite its name, takes us forward to a very contemporary Madrid, panning-out countless shots
of the night-lit streets of the Spanish capital as it follows two young lovers through their intense and at-times
unnerving, first encounter. This is Rodrigo Sorogoyen's second feature and through its dark and elegant take
on young romance it has already attained cult status among Spanish audiences. Another young and
promising director is Neus Ballús, whose first feature, the docu-drama The Plague, speaks of borders and
identity in the changing rural landscape of Catalonia's urban-belt.
Lastly 15 Years and One Day and Spanish Affair, show us two very different sides of contemporary Spanish
filmmaking. The first is a social drama featuring a rebellious teenage boy and his generational clash with his
grandfather, a former soldier. The second, the highest-grossing film in Spanish cinemas in 2014, offers a
hilarious take on the cultural contradictions of contemporary Spanish society, as it portrays an unlikely love
affair between an outgoing Andalusian and a retiring Basque girl.
The Festival will take place from December 9th to 13th. Entrance is free and all films will be showcased in
Spanish with English subtitles.
ROAD MOVIE
Living is Easy with Eyes Closed, (2013) by David Trueba
108 minutes
(rated 12)
Showcased: December 9th (18:30h).
By invitation only
In 1960s Spain a high-school teacher embarks on an unlikely trip to meet his
hero, John Lennon, who is meant to be in Southern Spain shooting a film. Along
the way Antonio, played by Javier Cámara, picks up to young runaways who
liven up his trip and speak mounds of how youth coped under the socially
conservative Franco regime. This is a fun-filled, feel-good movie that combines
drama, humor and depth of character. It was the big winner in the 2013 Goya
Awards ceremony – the Spanish academy awards – taking the two top prizes,
for best film and best director, plus four others.
6 Goya awards, including best film and best actor. Won cine Latino Award at the
Palm Springs Film Festival and Audience Award at Mill Valley Film Festival.
Nominated for Best Film at the 2013 San Sebastián Film Festival.
Variety
Spain's Oscar submission is this leisurely, pleasing seriocomedy (...) Trueba's latest feature nonetheless
throws most of its narrative weight behind a conventional if appealing fiction
DARK ROMANCE
Stockholm, 2013, by Rodrigo Sorogoyen
88 minutes
Rated 16
Showcased: December 11th (18:30h)
Set out during a single night, along the streets and party scene of Madrid,
Stockholm provides an unsettling glimpse into a standard one-night romance
that turns awry in the morning. This is the second feature film by Sorogoyen
and, starting from the director, is full of up-and-coming talents of the Spanish
movie scene. Filmed on a shoe-string budget and partially financed through
crowd-funding, Stockholm is an elegant, carefully crafted production that
enthrals audiences with its dark take on human relationships.
Won Goya for Best New Supporting Actor and the Biznaga de Plata of the
Málaga Film Festival for Best Actress, Best Director and Best New Screenplay.
Hollywood Reporter
Rodrigo Sorogoyen's thoughtful, carefully-worked second feature, Stockholm,
what at first looks like a dialogue-heavy standard teen romance becomes
something far more chilling and interesting.
DOCUMENTARY
The Plague, 2013, by Neus Ballús
82 minutes
Showcased: December 12th (16:30h)
Raul, a farmer who tries to grow organic food, hires Iurie to help him in the
fields. Iure is a Moldavian wrestling fighter, but in order to earn a living he has
to work in whatever it comes. Slowly, their personal histories intertwine with
those of three solitary women: Maria, an elder that has to leave the country
house where she has always lived to join a retirement home; Rose, a nurse
from Philippines who just arrived into the country; and Maribel, a prostitute
that has less and less clients. The destinies of all these characters become
entwined as the summer goes on.
The Plague is a film of intertwining stories, that offers a moving portrait of life
in the outskirts of Barcelona. The main characters are not actors. They play as
themselves after four years of working with the director. This long process has
permitted Ballús to reveal the uncertainty and the rebel spirit that underlies
contemporary crisis-hit Spain. It is acted out in Catalan, Russian and Spanish.
The Plague was nominated for European Discovery of the Year at the European Film Academy Awards of
2013 and won four Gaudí awards and the Interferdi Award at the Torino Festival for young cinema.
EL PAÍS
The Plague finds itself in that increasingly fertile territory that straddles fiction and non-fiction. There it
speaks of frontiers, of the last reasons for the rural life to resist in Gallecs, a locality halfway between the
Vallés Oriental y el Vallés Occidental, in Catalonia's urban belt.
TEENAGE DRAMA
15 Years and One Day, 2013, by Gracia Querejeta
100 minutes
Rated 12
Showcased: December 12th (18:30h)
Jon, a tempestuous kid who is kicked out of school for his bad behaviour, is sent
to spend a short period of time with his grandfather, a retired army man who
has little understanding for his grandson's teenage antics. The generational
clash is played out splendidly by Tito Valverde and Arón Piper.
Veteran helmer Gracia Querejeta is known for her eye for detail and her ability
to render human emotion almost palpable on screen. In this generational
drama, her sixth feature film, she intelligently dissects the miseries and pain of
family life, deftfuly combining tragedy with comic irony.
Winner of four awards at the Málaga Film Festival, including Best Film.
Variety
The standout in a strong cast, Piper has a naturalistic grasp of the more undemonstrative aspects of teenage
rebellion, and in an early argument with his mother, Margo (the always welcome Maribel Verdu), Jon seems a
decent kid working through typical adolescent ennui and still grieving the recent death of his father.
COMEDY
Spanish Affair, 2014, by Emilio Martínez Lázaro
98 minutes
Showcased: December 13th (18:30h)
A hilarious take on the cultural diversity of contemporary Spain, this block-busting comedy
follows a young Sevilian in his quest for love to the Basque Country. Despite its unabashed
use of the cultural stereotypes of the boisterous, outspoken but conservative southerner and
the emotionally-restrained, shy yet progressive northerners, this film hit a raw nerve among
Spanish audiences through its ability to make comedy out of territorial tensions. The film's
original title in Spanish, 8 apellidos vascos can be roughly translated as 8 Basque Surnames.
Not surprisingly Spanish Affair is one of the highest grossing films in Spanish history and the top block-buster
of 2014. Its success has led its promoters to film a sequel, but this time set in Catalonia – 8 apellidos
catalanes – that is now showing on Spanish screens.
Hollywood Reporter
Spanish Affair has struck a chord with Spanish audiences and is already a must-see, on its way to becoming
the second biggest Spanish-made box-office hit of all time behind Juan Antonio Bayona's The Impossible.
As a comedy, this tale of a young southerner seeking to win the heart of a Basque girl is indeed a very
Spanish affair.