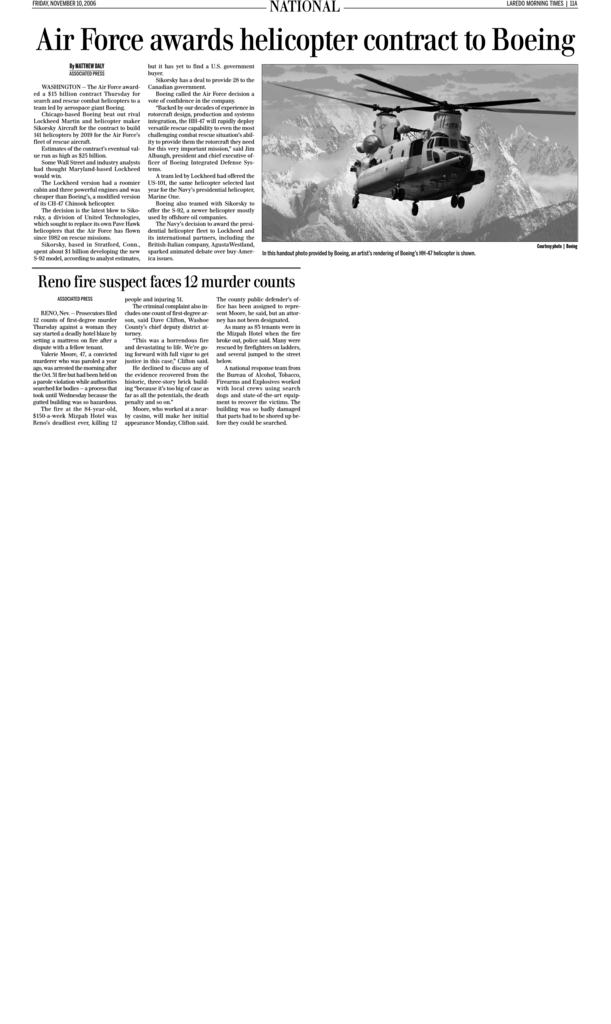 NATIONAL
FRIDAY, NOVEMBER 10, 2006
LAREDO MORNING TIMES | 11A
Air Force awards helicopter contract to Boeing
By MATTHEW DALY
ASSOCIATED PRESS
WASHINGTON — The Air Force awarded a $13 billion contract Thursday for
search and rescue combat helicopters to a
team led by aerospace giant Boeing.
Chicago-based Boeing beat out rival
Lockheed Martin and helicopter maker
Sikorsky Aircraft for the contract to build
141 helicopters by 2019 for the Air Force's
fleet of rescue aircraft.
Estimates of the contract's eventual value run as high as $25 billion.
Some Wall Street and industry analysts
had thought Maryland-based Lockheed
would win.
The Lockheed version had a roomier
cabin and three powerful engines and was
cheaper than Boeing's, a modified version
of its CH-47 Chinook helicopter.
The decision is the latest blow to Sikorsky, a division of United Technologies,
which sought to replace its own Pave Hawk
helicopters that the Air Force has flown
since 1982 on rescue missions.
Sikorsky, based in Stratford, Conn.,
spent about $1 billion developing the new
S-92 model, according to analyst estimates,
but it has yet to find a U.S. government
buyer.
Sikorsky has a deal to provide 28 to the
Canadian government.
Boeing called the Air Force decision a
vote of confidence in the company.
"Backed by our decades of experience in
rotorcraft design, production and systems
integration, the HH-47 will rapidly deploy
versatile rescue capability to even the most
challenging combat rescue situation's ability to provide them the rotorcraft they need
for this very important mission," said Jim
Albaugh, president and chief executive officer of Boeing Integrated Defense Systems.
A team led by Lockheed had offered the
US-101, the same helicopter selected last
year for the Navy's presidential helicopter,
Marine One.
Boeing also teamed with Sikorsky to
offer the S-92, a newer helicopter mostly
used by offshore oil companies.
The Navy's decision to award the presidential helicopter fleet to Lockheed and
its international partners, including the
British-Italian company, AgustaWestland,
sparked animated debate over buy-America issues.
Courtesy photo | Boeing
In this handout photo provided by Boeing, an artist's rendering of Boeing's HH-47 helicopter is shown.
Reno fire suspect faces 12 murder counts
ASSOCIATED PRESS
RENO, Nev. — Prosecutors filed
12 counts of first-degree murder
Thursday against a woman they
say started a deadly hotel blaze by
setting a mattress on fire after a
dispute with a fellow tenant.
Valerie Moore, 47, a convicted
murderer who was paroled a year
ago, was arrested the morning after
the Oct. 31 fire but had been held on
a parole violation while authorities
searched for bodies — a process that
took until Wednesday because the
gutted building was so hazardous.
The fire at the 84-year-old,
$150-a-week Mizpah Hotel was
Reno's deadliest ever, killing 12
people and injuring 31.
The criminal complaint also includes one count of first-degree arson, said Dave Clifton, Washoe
County's chief deputy district attorney.
"This was a horrendous fire
and devastating to life. We're going forward with full vigor to get
justice in this case," Clifton said.
He declined to discuss any of
the evidence recovered from the
historic, three-story brick building "because it's too big of case as
far as all the potentials, the death
penalty and so on."
Moore, who worked at a nearby casino, will make her initial
appearance Monday, Clifton said.
The county public defender's office has been assigned to represent Moore, he said, but an attorney has not been designated.
As many as 83 tenants were in
the Mizpah Hotel when the fire
broke out, police said. Many were
rescued by firefighters on ladders,
and several jumped to the street
below.
A national response team from
the Bureau of Alcohol, Tobacco,
Firearms and Explosives worked
with local crews using search
dogs and state-of-the-art equipment to recover the victims. The
building was so badly damaged
that parts had to be shored up before they could be searched.