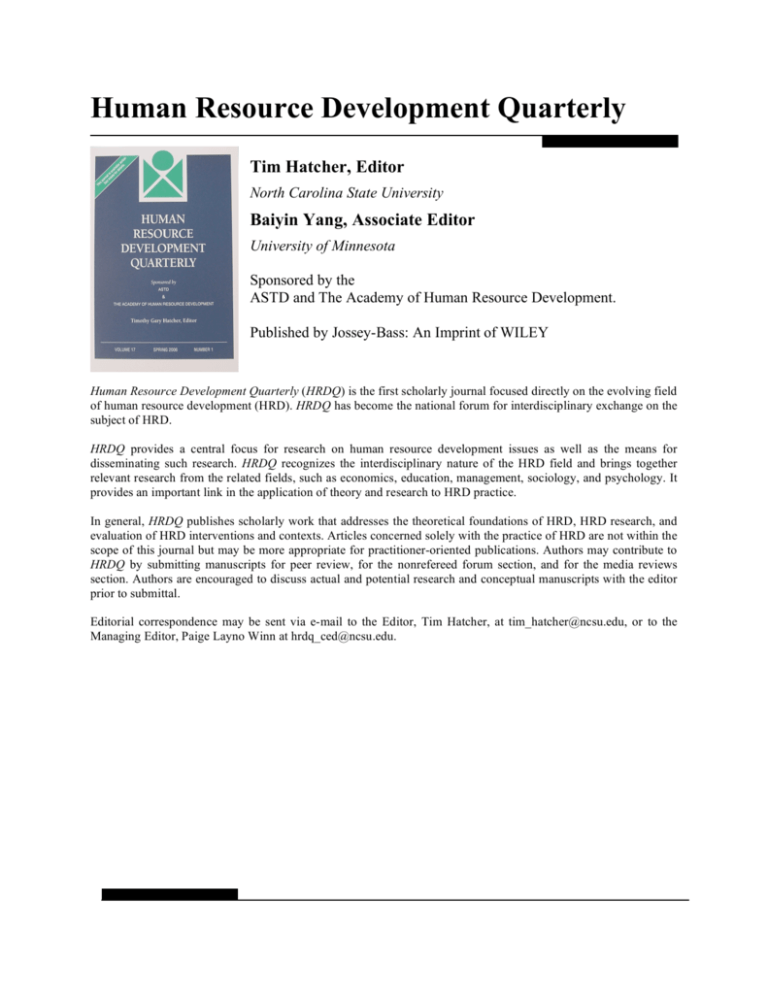 Human Resource Development Quarterly
Tim Hatcher, Editor
North Carolina State University
Baiyin Yang, Associate Editor
University of Minnesota
Sponsored by the
ASTD and The Academy of Human Resource Development.
Published by Jossey-Bass: An Imprint of WILEY
Human Resource Development Quarterly (HRDQ) is the first scholarly journal focused directly on the evolving field
of human resource development (HRD). HRDQ has become the national forum for interdisciplinary exchange on the
subject of HRD.
HRDQ provides a central focus for research on human resource development issues as well as the means for
disseminating such research. HRDQ recognizes the interdisciplinary nature of the HRD field and brings together
relevant research from the related fields, such as economics, education, management, sociology, and psychology. It
provides an important link in the application of theory and research to HRD practice.
In general, HRDQ publishes scholarly work that addresses the theoretical foundations of HRD, HRD research, and
evaluation of HRD interventions and contexts. Articles concerned solely with the practice of HRD are not within the
scope of this journal but may be more appropriate for practitioner-oriented publications. Authors may contribute to
HRDQ by submitting manuscripts for peer review, for the nonrefereed forum section, and for the media reviews
section. Authors are encouraged to discuss actual and potential research and conceptual manuscripts with the editor
prior to submittal.
Editorial correspondence may be sent via e-mail to the Editor, Tim Hatcher, at tim_hatcher@ncsu.edu, or to the
Managing Editor, Paige Layno Winn at hrdq_ced@ncsu.edu.