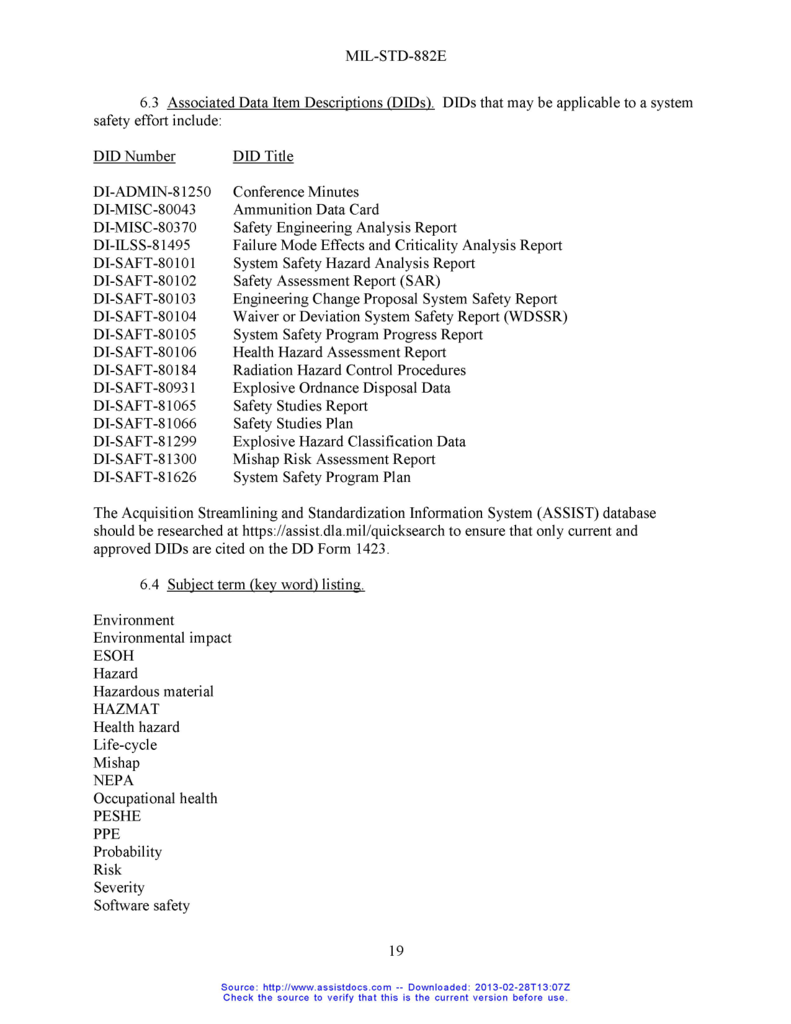 MIL-STD-882E
6.3 Associated Data Item Descriptions (DIDs). DIDs that may be applicable to a system
safety effort include:
DID Number
DID Title
DI-ADMIN-81250
DI-MISC-80043
DI-MISC-80370
DI-ILSS-81495
DI-SAFT-80101
DI-SAFT-80102
DI-SAFT-80103
DI-SAFT-80104
DI-SAFT-80105
DI-SAFT-80106
DI-SAFT-80184
DI-SAFT-80931
DI-SAFT-81065
DI-SAFT-81066
DI-SAFT-81299
DI-SAFT-81300
DI-SAFT-81626
Conference Minutes
Ammunition Data Card
Safety Engineering Analysis Report
Failure Mode Effects and Criticality Analysis Report
System Safety Hazard Analysis Report
Safety Assessment Report (SAR)
Engineering Change Proposal System Safety Report
Waiver or Deviation System Safety Report (WDSSR)
System Safety Program Progress Report
Health Hazard Assessment Report
Radiation Hazard Control Procedures
Explosive Ordnance Disposal Data
Safety Studies Report
Safety Studies Plan
Explosive Hazard Classification Data
Mishap Risk Assessment Report
System Safety Program Plan
The Acquisition Streamlining and Standardization Information System (ASSIST) database
should be researched at https://assist.dla.mil/quicksearch to ensure that only current and
approved DIDs are cited on the DD Form 1423.
6.4 Subject term (key word) listing.
Environment
Environmental impact
ESOH
Hazard
Hazardous material
HAZMAT
Health hazard
Life-cycle
Mishap
NEPA
Occupational health
PESHE
PPE
Probability
Risk
Severity
Software safety
19
S o u r c e : h t t p : / / w w w . a s s i s t d o c s . c o m -- D o w n l o a d e d : 2 0 1 3 - 0 2 - 2 8 T 1 3 : 0 7 Z
C h e c k t h e s o u r c e to v e r i f y t h a t this is t h e c u r r e n t v e r s i o n b e f o r e u s e .