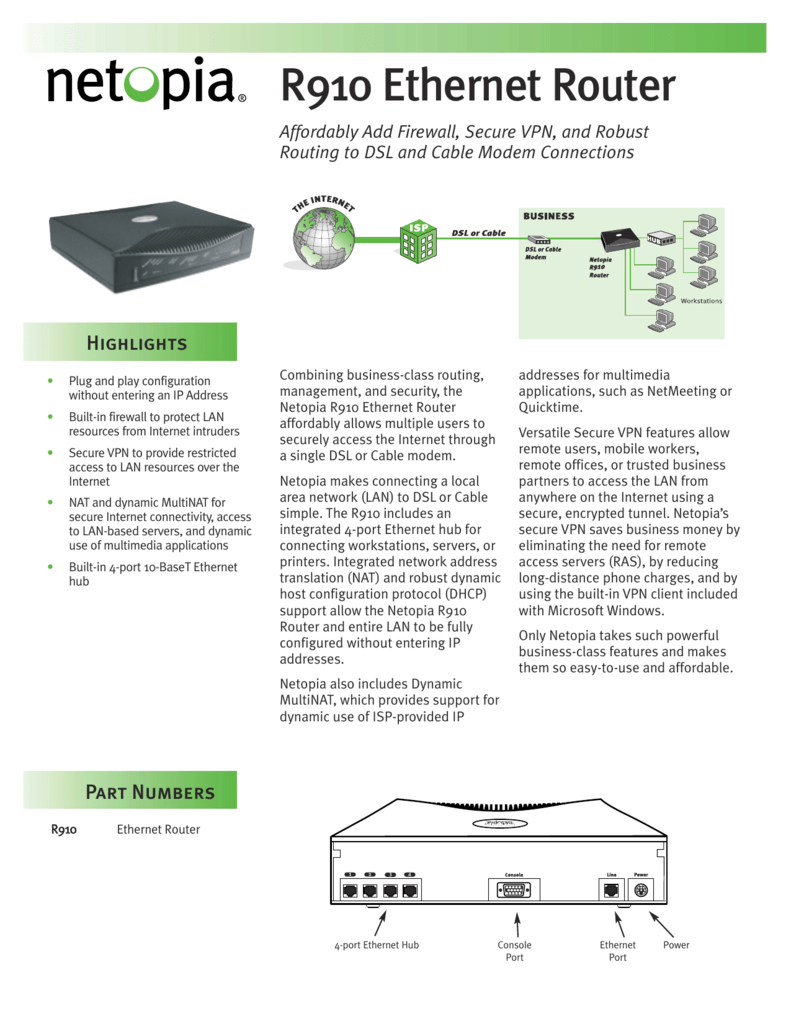 R910 Ethernet Router
Affordably Add Firewall, Secure VPN, and Robust
Routing to DSL and Cable Modem Connections
Highlights
•
Plug and play configuration
without entering an IP Address
•
Built-in firewall to protect LAN
resources from Internet intruders
•
Secure VPN to provide restricted
access to LAN resources over the
Internet
•
NAT and dynamic MultiNAT for
secure Internet connectivity, access
to LAN-based servers, and dynamic
use of multimedia applications
•
Built-in 4-port 10-BaseT Ethernet
hub
addresses for multimedia
applications, such as NetMeeting or
Quicktime.
Combining business-class routing,
management, and security, the
Netopia R910 Ethernet Router
affordably allows multiple users to
securely access the Internet through
a single DSL or Cable modem.
Netopia makes connecting a local
area network (LAN) to DSL or Cable
simple. The R910 includes an
integrated 4-port Ethernet hub for
connecting workstations, servers, or
printers. Integrated network address
translation (NAT) and robust dynamic
host configuration protocol (DHCP)
support allow the Netopia R910
Router and entire LAN to be fully
configured without entering IP
addresses.
Versatile Secure VPN features allow
remote users, mobile workers,
remote offices, or trusted business
partners to access the LAN from
anywhere on the Internet using a
secure, encrypted tunnel. Netopia's
secure VPN saves business money by
eliminating the need for remote
access servers (RAS), by reducing
long-distance phone charges, and by
using the built-in VPN client included
with Microsoft Windows.
Only Netopia takes such powerful
business-class features and makes
them so easy-to-use and affordable.
Netopia also includes Dynamic
MultiNAT, which provides support for
dynamic use of ISP-provided IP
Part Numbers
R910
Ethernet Router
4-port Ethernet Hub
Console
Port
Ethernet
Port
Power
Technical Specifications
configuration across power failures.
Physical Interfaces
WAN Interface
• 10-BaseT Ethernet port to connect to any
broadband modem, such as DSL or Cable.
LAN Interface
• 4-port 10BaseT Ethernet hub with cross-over
cable
Management Interface
• Serial Console Management port for direct
console connections, cable included.
Security
• ICMP Ping: Tests IP connectivity from router to
local or remote site.
• Trace Route: Determines routing path to
•
•
•
• Packet filtering firewall allows filtering on per
•
•
•
•
•
connection or VPN, and allows filtering on IP
basis, source/destination address, service and
protocol; supports up to 255 rules in up to 8
filter sets; pre-configured filter sets allow setup
of basic firewall with a keystroke.
Virtual Private Networking (VPN) supporting
PPTP, ATMP, and IPSec configurable for up to 15
tunnels of any type; tunnels can be configured
open, only during scheduled times (see
scheduled connections) and firewalls can be
applied to tunnels to allow only selective traffic
(see packet filtering).
PPTP Client (PAC) and server (PNS) (RFC 2637)
with 40-bit and 128-bit MPPE encryption
interoperable with Microsoft Windows client
software (Dial-Up Networking) and NT Server
VPN configurations. PAP, CHAP and MSCHAP
authentication supported.
ATMP (Ascend Tunneling Management Protocol,
RFC 2107) client and server support provides fast
tunneling to Ascend routers and Netopia
extensions provide 56-bit DES encryption.
IPSec tunnel mode (RFC 2401), MD5 and SHA-1
authentication algorithms, Manual key
exchange, 56-bit DES encryption.
Management Security: Password-protected with
up to 4 user names and passwords.
•
•
•
•
•
•
Routing
•
•
• Easy Setup: Menu-driven console screens step
Corporate Headquarters
2470 Mariner Square Loop
Alameda, CA 94501-1010
(510) 814-5100
Fax (510) 814-5020
Package Includes
•
•
•
•
•
Netopia Router
RJ-45 cable for Ethernet WAN connection
PC Console cable
Ethernet cable
Netopia CD containing User Reference Guide and
other support materials, latest Internet
browsers, and valuable applications
Hardware Specifications
• Memory: 4 MB DRAM memory
• Environmental Requirements: Operating: 0 to
•
•
•
•
+40 C. Storage: 0 to +70 C (20 to 80% noncondensing)
Power Requirements: AC 100-240 V; 50/60 Hz;
1.2A
Dimensions: 9.45" (240 mm) wide X 2.25" (57.2
mm) high X 7.95" (202 mm) long
Weight: 1lb, 14 oz (851 g) (unit carton)
Agency Approvals: UL Listed, CSA Approved, and
FCC part 15, Class B
• IP Routing: Transmit and receive RIPv1 and RIPv2
Management
through required configuration of basic
parameters.
• Dynamic Host Configuration Protocol (DHCP)
Server, (RFC 2131), DHCP Client, (RFC 2131), and
DHCP Relay Agent (RFC 1542); as DHCP server,
supports up to 8 different pools of IP addresses
(one per subnet) with a maximum of 512
addresses.
• LEDs: Diagnostic lights for at-a-glance
management of Ethernet, WAN, and power
connections.
• Firmware: Upgrade firmware in flash memory via
TFTP or XModem transfer using modem or direct
cable connection; configuration retained with
upgrades; battery backup to protect
particular host name or IP address, includes DNS
lookup.
Trivial File Transfer Protocol (TFTP) Client (RFC
1350): Modem allows remote upload and
download of firmware and configuration files
directly to the router.
Telnet Client: Provides remote management
access to Telnet hosts on the LAN or WAN.
Syslog Client: Records ongoing activity log to a
remote syslog server.
Event Logging: Maintains ongoing log of up to
128 WAN and device events, date and time
stamped, saved across reboot.
LAN Statistics: Collects statistics for transmit
and receive packets, bytes, and errors.
SNMP v1: (RFC 1157) and MIB II (RFC 1213),
Ethernet MIB and enterprise MIB for remote
management using console applications.
Command Line Interface (CLI): For automated
configuration of basic connectivity parameters.
Text-based Configuration: Enables configuration
files to be uploaded remotely via TFTP.
Two-user License of Timbuktu Pro software for
remote desktop support included with
equipment registration.
be scheduled including blackout periods and ondemand connection.
• Compression: Compression Control Protocol
(RFC 1974). IP Control Protocol (RFC1332), PPP
Stac LZS Compression Protocol, Ascend LZS
Compression Protocol, Van Jacobson Header
Compression.
• PPP over Ethernet: (RFC 2516)
•
•
(RFC 2453) and RIPv1 compatibility mode, up to
32 static routes with default route and the
option to not advertise routes, configurable with
up to 8 subnets on LAN with DHCP pool
associated with each subnet.
WAN IP Interface: Supports numbered or
unnumbered interfaces.
Network Address Translation (NAT), (RFC 1631):
Provides enhanced security and flexibility by
"hiding" all IP addresses on the LAN behind a
single statically or dynamically assigned IP
address on the Internet.
Server Lists (Port Address Translation, PAT):
Allows Web, mail, and other hosts on the LAN to
be accessible to clients on the Internet when NAT
is enabled.
Dynamic and static MultiNAT: Sophisticated NAT
extension (RFC 1631) that provides flexible
implementation of NAT, including dynamic use of
all ISP-provided addresses and support for
multimedia applications.
• Scheduled Connections: Connection profiles (ISP
connections or VPN tunnels) can be initiated on a
schedule to define full-time, on-demand, or
periodic connections. Up to 16 connections can
Europe
2, rue du Docteur Lombard
92130 Issy-Les-Moulineaux
France
Internet
www.netopia.com/equipment
Customer Services
(510) 814-5000
S-R910 v1100 ©2000 Netopia Inc.