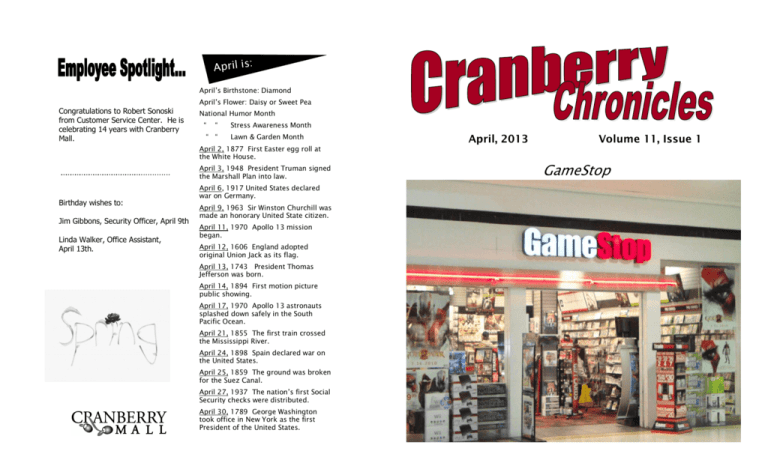 April is:
April's Birthstone: Diamond
Congratulations to Robert Sonoski
from Customer Service Center. He is
celebrating 14 years with Cranberry
Mall.
April's Flower: Daisy or Sweet Pea
National Humor Month
"
"
" "
Stress Awareness Month
Lawn & Garden Month
April 2, 1877 First Easter egg roll at
the White House.
April 3, 1948 President Truman signed
the Marshall Plan into law.
Birthday wishes to:
Jim Gibbons, Security Officer, April 9th
Linda Walker, Office Assistant,
April 13th.
April 6, 1917 United States declared
war on Germany.
April 9, 1963 Sir Winston Churchill was
made an honorary United State citizen.
April 11, 1970 Apollo 13 mission
began.
April 12, 1606 England adopted
original Union Jack as its flag.
April 13, 1743 President Thomas
Jefferson was born.
April 14, 1894 First motion picture
public showing.
April 17, 1970 Apollo 13 astronauts
splashed down safely in the South
Pacific Ocean.
April 21, 1855 The first train crossed
the Mississippi River.
April 24, 1898 Spain declared war on
the United States.
April 25, 1859 The ground was broken
for the Suez Canal.
April 27, 1937 The nation's first Social
Security checks were distributed.
April 30, 1789 George Washington
took office in New York as the first
President of the United States.
April, 2013
Volume 11, Issue 1
GameStop
From cover...
S
ENT
MALL EV
GameStop a Premium Retailer opened in
Cranberry Mall on April 15, 1995. The Store
Manager is Crissy Davis, Assistant Store Manager
is Chris Moore and Senior Game Advisor is Ethan
Graham. The corporate office is located in
Grapevine, Texas. Their sister store is located in
Clarion, PA.
GameStop is committed to delivering great
games to customers, regardless of how and
where they play. Whether you game on the go
with a mobile device or spend hours gaming with
your guild, GameStop is the number one
multichannel video game choice. GameStop's
retail network and family of brands include 6650
company-operated stores in 15 countries
worldwide and online. Stop by the store today
and sign up for the power up rewards card. Bring
in your games to trade. Ask us about upcoming
releases and any other gaming needs. Not a
power up rewards member? Stop by and sign up!
It's FREE! Get points towards rewards with every
dollar spent. Exclusive access to news, offers
and events. Go Pro! Get More! Welcome
coupon: buy 2 get 1 free on pre-owned games,
10% bonus trade in credit, 10% off strategy
guides and one year of game informer.
Power up members can get on the playstation4
"First To Know List". Exclusive for power up
members! With only a glance at the Playstation4.
Gamers are excited and eager to know more.
Trade in your stuff and get cash or store credit.
We take current Platform Systems, games, IPods,
IPhones and IPads. Stop by the store or call us
for the current trade promotions.
GameStop can be reached at (814)677-0556.
Store hours are Monday—Saturday 10am to 9pm
and Sunday 12pm—5pm.
Power to the players!!
April 6 4H Day
See what 4H is all about! Displays, projects,
information, activities & animals! Sponsored
by Venango County 4H Development
Committee.
April 7 Children's Day
A busy and fun day for children of all ages!
A huge show with displays, activities, local
agencies & so much more! Sponsored by
Venango Kid Connection.
April 13 Brain Safety Fair 1PM-3PM
Stop by Center Court for information and
demonstrations on brain safety. Activities will
include egg safety drop, simulations of the
effects of brain injury on all of the senses,
bicycle safety education and fitting and
distribution of free, quality bike helmets.
April 16 Family Time Tuesday 6PM-8PM
Get fit, take a chance on winning dinner and
a movie, and spend time with the family. This
month's entertainment is Juggler Geoff. Come
join in on the fun!
April 20 Red Cross Blood Drive 10AM-3PM
Walk-ins welcomed, you can also schedule an
appointment by going to
www.redcrossblood.org. Located next to
Bath & Body.
April 27 Relay Day
Come out and support the local Relay for Life
Teams. Bake sale, Chinese auction and more.
STORE S
TUFF
April 1 God's Little Garden
Super Shopper Cards go on sale for $10.00 to
receive 10% off all year long!
April 5 Cranberry Wellness Center
Pilates starts every Friday at noon and on
Wednesday's evenings. Buy 10 Pilates
classes and receive 1 class free!
April 16: Kings Jewelry
One Day Only—Diamond Restyling Event
make your old jewelry new again—while you
wait.
April 1 -30: Pretzels Plus
New Pretzel Wraps for only $2.95 each. You
have three choices: a wrap with ham and
Cooper cheese, sausage and Cooper
cheese or pepperoni and mozzarella
cheese.
April 1-30:
Smoothies Polar Creams, and Blended Iced
coffee only $3.75 for 16oz. or $4.75 for 24 oz.
April 1-30: Curves
Curves has "0" joining fee so jump into spring
with a great workout for summer! Stop in or
call today 814-677-0891.
Leasing Opportunities Available
Short & Long Term
Competitive Rates
Call 814.676.3406, x.101 or
Email to dara@cranberrymall.com
Community Booth
April 5: Cranberry Girl's Softball Sign-ups
5-8PM Located by Bath & Body
April 13: Rakin Chapel Bake Sale
Stop by and purchase some of your favorite
bake goods.
April 20: Salvation Army Bake Sale 10Am Stop
by and purchase your favorite goodies and
help out the Salvation Army. They are located
by Bath & Body.
April 20: Lions Club
10AM-5PM
The Lions Club will be located at Center Court.
Stop by and talk to the members and learn
more about the Lions Club. Hand crafted
brooms will be on sale.
Message from the Manager
We met with the contractor regarding the potholes and work
will commence when weather
permits.