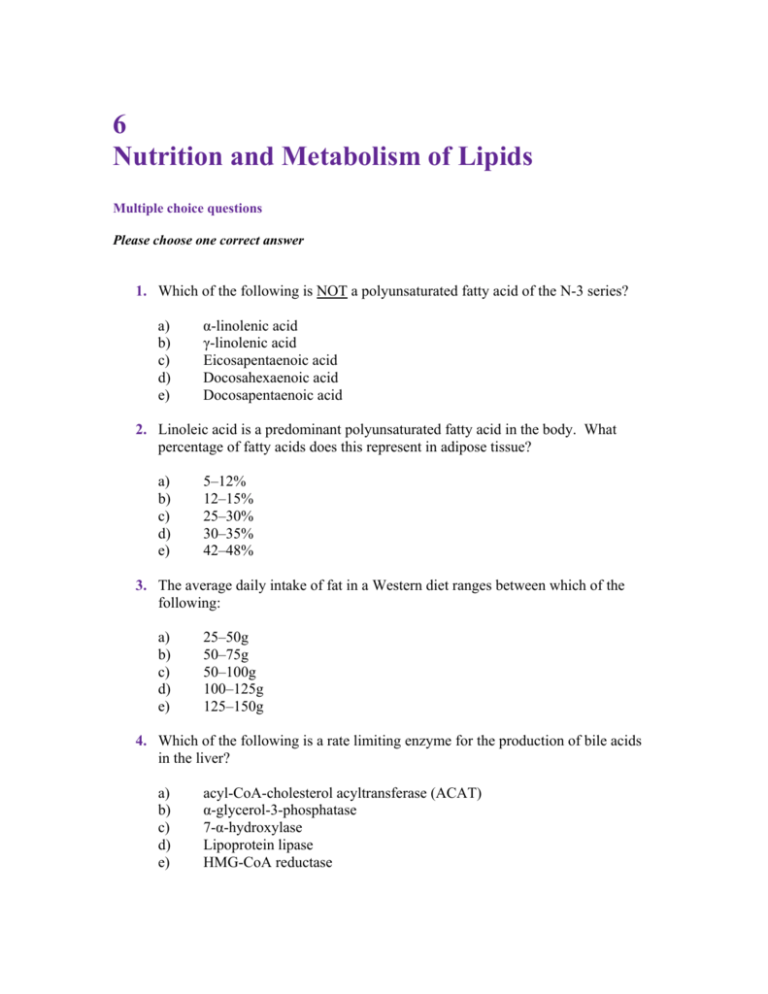 6
Nutrition and Metabolism of Lipids
Multiple choice questions
Please choose one correct answer
1. Which of the following is NOT a polyunsaturated fatty acid of the N-3 series?
a)
b)
c)
d)
e)
α-linolenic acid
γ-linolenic acid
Eicosapentaenoic acid
Docosahexaenoic acid
Docosapentaenoic acid
2. Linoleic acid is a predominant polyunsaturated fatty acid in the body. What
percentage of fatty acids does this represent in adipose tissue?
a)
b)
c)
d)
e)
5–12%
12–15%
25–30%
30–35%
42–48%
3. The average daily intake of fat in a Western diet ranges between which of the
following:
a)
b)
c)
d)
e)
25–50g
50–75g
50–100g
100–125g
125–150g
4. Which of the following is a rate limiting enzyme for the production of bile acids
in the liver?
a)
b)
c)
d)
e)
acyl-CoA-cholesterol acyltransferase (ACAT)
α-glycerol-3-phosphatase
7-α-hydroxylase
Lipoprotein lipase
HMG-CoA reductase
5. It has been suggested that atherosclerosis is a postprandial phenomenon.
Which of the following provides the best explanation to support this statement?
a)
b)
c)
d)
e)
The relationship between dietary saturated and blood cholesterol.
The presence of an atherogenic lipoprotein phenotype in CHD patients.
The common finding of enhanced postprandial lipaemia in CHD patients.
The efficient clearance of chylomicron remnant lipoproteins in CHD
patients.
Because acute myocardial infarctions occur mainly in the postprandial
phase.
6. Which of the following statements is False?
a)
b)
c)
d)
e)
β-oxidation of fatty acids involves the repeated dehydrogenation, at
sequential two carbon steps, and reduction of the associated flavoproteins.
Peroxidation is the non-enzyme-catalysed reaction of molecular oxygen
with organic compounds to form peroxides and related breakdown
products.
Eicosanoids are 18-carbon oxygen-substituted cyclised metabolites of
membrane phospholipid fatty acids.
Short chain fatty acids (1-6 carbons) are mostly derived from
carbohydrate fermentation in the large bowel.
A dietary source of n-6 and n-3 polyunsaturated fatty acids is essential for
normal growth and development.
7. Dietary long chain n-3 polyunsaturated fatty acids may protect against
cardiovascular disease by which of the following processes?
a)
b)
c)
d)
e)
Preventing coronary thrombosis
Producing favourable effects on blood lipids
By preventing cardiac arrhythmia
Via anti-inflammatory mechanisms
All of the above
8. Which of the following best describes the apoprotein E4 genotype?
a)
b)
c)
d)
e)
An example of a rare genetic polymorphism associated with a reduced risk of
CHD.
An example of a common genetic polymorphism associated with low serum
cholesterol.
An example of a gene, the expression of which is increased in response to
saturated fat.
An example of a common genetic polymorphism that influences dietary
responsiveness.
None of the above.
The Nutrition Society Textbook Series, Introduction to Human Nutrition, Second Edition
© 2009, 2002 by The Nutrition Society.
Answers
1. B.
2. B.
3. C.
4. C.
5. C.
6. C.
7. E.
8. D.