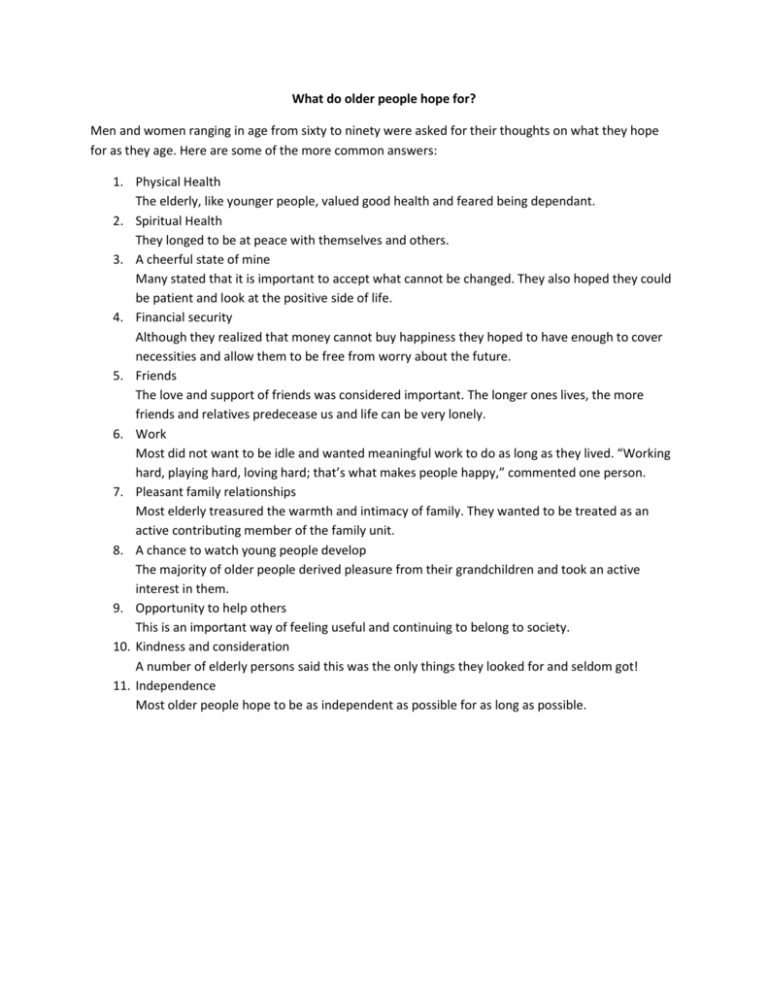 What do older people hope for?
Men and women ranging in age from sixty to ninety were asked for their thoughts on what they hope
for as they age. Here are some of the more common answers:
1. Physical Health
The elderly, like younger people, valued good health and feared being dependant.
2. Spiritual Health
They longed to be at peace with themselves and others.
3. A cheerful state of mine
Many stated that it is important to accept what cannot be changed. They also hoped they could
be patient and look at the positive side of life.
4. Financial security
Although they realized that money cannot buy happiness they hoped to have enough to cover
necessities and allow them to be free from worry about the future.
5. Friends
The love and support of friends was considered important. The longer ones lives, the more
friends and relatives predecease us and life can be very lonely.
6. Work
Most did not want to be idle and wanted meaningful work to do as long as they lived. "Working
hard, playing hard, loving hard; that's what makes people happy," commented one person.
7. Pleasant family relationships
Most elderly treasured the warmth and intimacy of family. They wanted to be treated as an
active contributing member of the family unit.
8. A chance to watch young people develop
The majority of older people derived pleasure from their grandchildren and took an active
interest in them.
9. Opportunity to help others
This is an important way of feeling useful and continuing to belong to society.
10. Kindness and consideration
A number of elderly persons said this was the only things they looked for and seldom got!
11. Independence
Most older people hope to be as independent as possible for as long as possible.