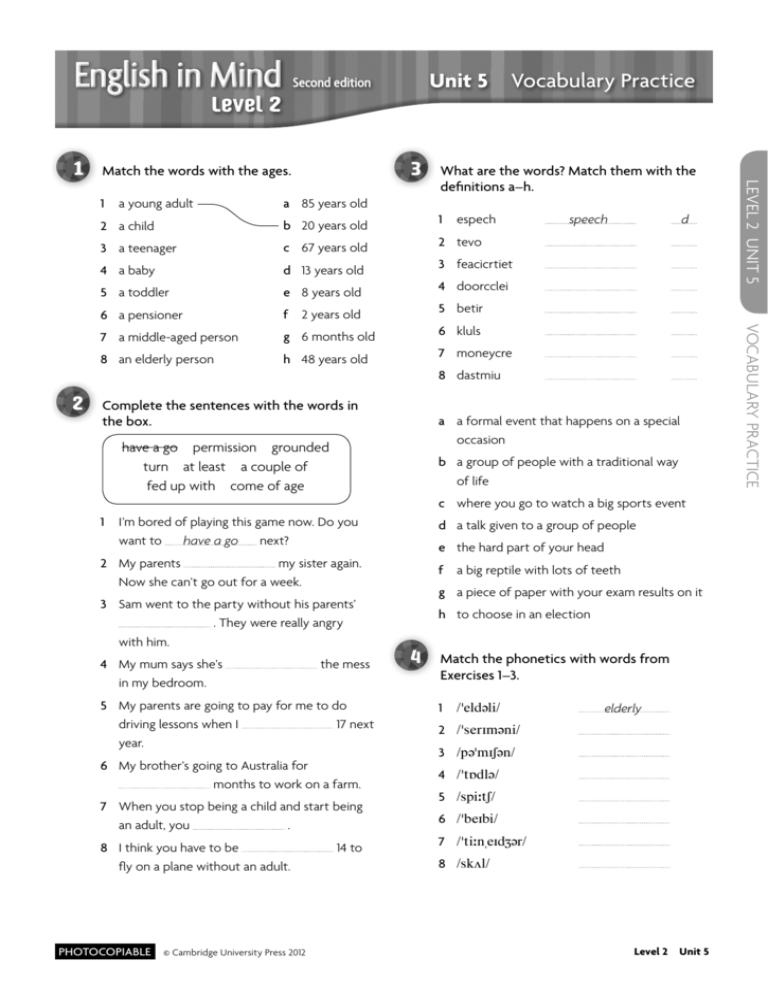 Unit 5
Second edition
Vocabulary Practice
Level 2
3
Match the words with the ages.
a young adult
a 85 years old
b 20 years old
1
espech
3 a teenager
c 67 years old
2 tevo
4 a baby
d 13 years old
3 feacicrtiet
5 a toddler
e 8 years old
4 doorcclei
6 a pensioner
f 2 years old
5 betir
7 a middle-aged person
g 6 months old
6 kluls
8 an elderly person
h 48 years old
7 moneycre
speech
d
8 dastmiu
2
Complete the sentences with the words in
the box.
a a formal event that happens on a special
occasion
have a go permission grounded
turn at least a couple of
fed up with come of age
b a group of people with a traditional way
of life
c where you go to watch a big sports event
1
I'm bored of playing this game now. Do you
have a go
want to
next?
d a talk given to a group of people
e the hard part of your head
2 My parents
my sister again.
Now she can't go out for a week.
f a big reptile with lots of teeth
g a piece of paper with your exam results on it
3 Sam went to the party without his parents'
. They were really angry
with him.
4 My mum says she's
in my bedroom.
the mess
5 My parents are going to pay for me to do
driving lessons when I
17 next
year.
6 My brother's going to Australia for
months to work on a farm.
7 When you stop being a child and start being
an adult, you
.
8 I think you have to be
fly on a plane without an adult.
PHOTOCOPIABLE
© Cambridge University Press 2012
14 to
h to choose in an election
4
Match the phonetics with words from
Exercises 1–3.
1
/eldəli/
elderly
2 /seriməni/
3 /pəmiʃən/
4 /tɒdlə/
5 /spitʃ/
6 /beibi/
7 /tineidər/
8 /skl/
Level 2
Unit 5
VOCABULARY PRACTICE
2 a child
LEVEL 2 UNIT 5
1
What are the words? Match them with the
definitions a–h.