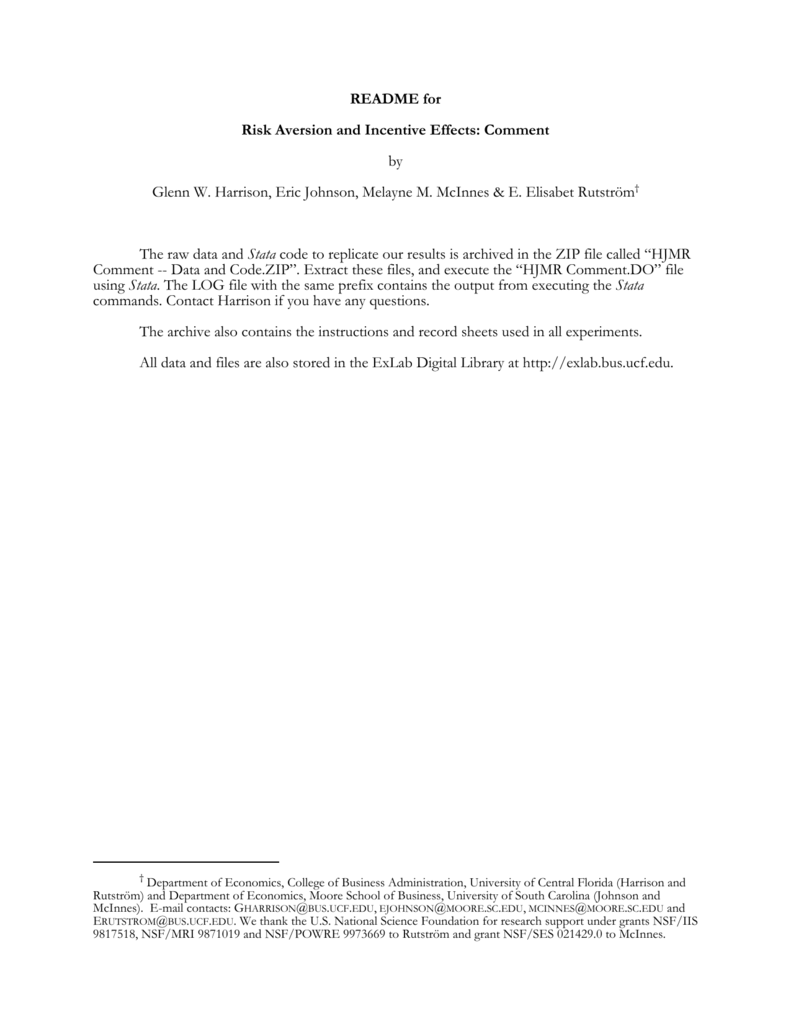 README for
Risk Aversion and Incentive Effects: Comment
by
Glenn W. Harrison, Eric Johnson, Melayne M. McInnes & E. Elisabet Rutström†
The raw data and Stata code to replicate our results is archived in the ZIP file called "HJMR
Comment -- Data and Code.ZIP". Extract these files, and execute the "HJMR Comment.DO" file
using Stata. The LOG file with the same prefix contains the output from executing the Stata
commands. Contact Harrison if you have any questions.
The archive also contains the instructions and record sheets used in all experiments.
All data and files are also stored in the ExLab Digital Library at http://exlab.bus.ucf.edu.
†
Department of Economics, College of Business Administration, University of Central Florida (Harrison and
Rutström) and Department of Economics, Moore School of Business, University of South Carolina (Johnson and
McInnes). E-mail contacts: [email protected], [email protected], [email protected] and
[email protected] We thank the U.S. National Science Foundation for research support under grants NSF/IIS
9817518, NSF/MRI 9871019 and NSF/POWRE 9973669 to Rutström and grant NSF/SES 021429.0 to McInnes.