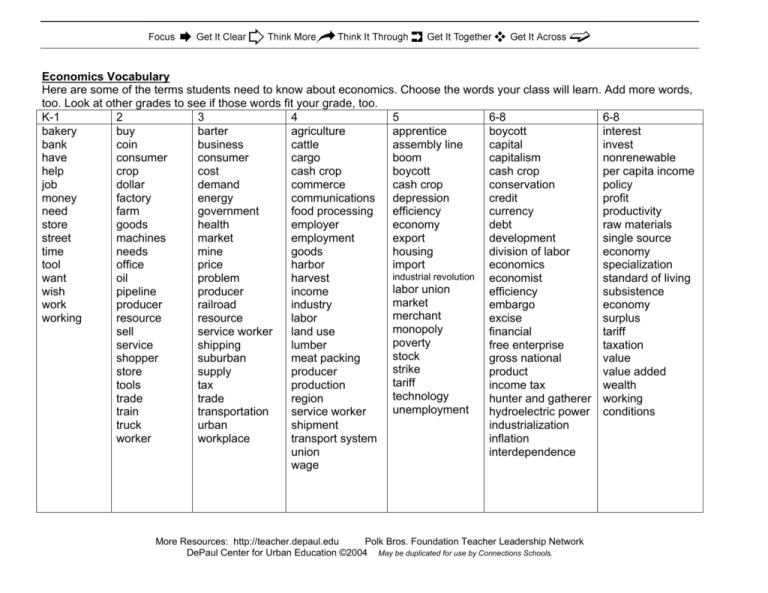 Economics Vocabulary
Here are some of the terms students need to know about economics. Choose the words your class will learn. Add more words,
too. Look at other grades to see if those words fit your grade, too.
K-1
2
3
4
5
6-8
6-8
bakery
buy
barter
agriculture
apprentice
boycott
interest
bank
coin
business
cattle
assembly line
capital
invest
have
consumer
consumer
cargo
boom
capitalism
nonrenewable
help
crop
cost
cash crop
boycott
cash crop
per capita income
job
dollar
demand
commerce
cash crop
conservation
policy
money
factory
energy
communications depression
credit
profit
need
farm
government
food processing
efficiency
currency
productivity
store
goods
health
employer
economy
debt
raw materials
street
machines
market
employment
export
development
single source
time
needs
mine
goods
housing
division of labor
economy
tool
office
price
harbor
import
economics
specialization
industrial revolution
want
oil
problem
harvest
economist
standard of living
labor
union
wish
pipeline
producer
income
efficiency
subsistence
market
work
producer
railroad
industry
embargo
economy
merchant
working
resource
resource
labor
excise
surplus
monopoly
sell
service worker
land use
financial
tariff
poverty
service
shipping
lumber
free enterprise
taxation
stock
shopper
suburban
meat packing
gross national
value
strike
store
supply
producer
product
value added
tariff
tools
tax
production
income tax
wealth
technology
trade
trade
region
hunter and gatherer working
unemployment
train
transportation
service worker
hydroelectric power conditions
truck
urban
shipment
industrialization
worker
workplace
transport system
inflation
union
interdependence
wage
More Resources: http://teacher.depaul.edu
Polk Bros. Foundation Teacher Leadership Network
DePaul Center for Urban Education ©2004 May be duplicated for use by Connections Schools.