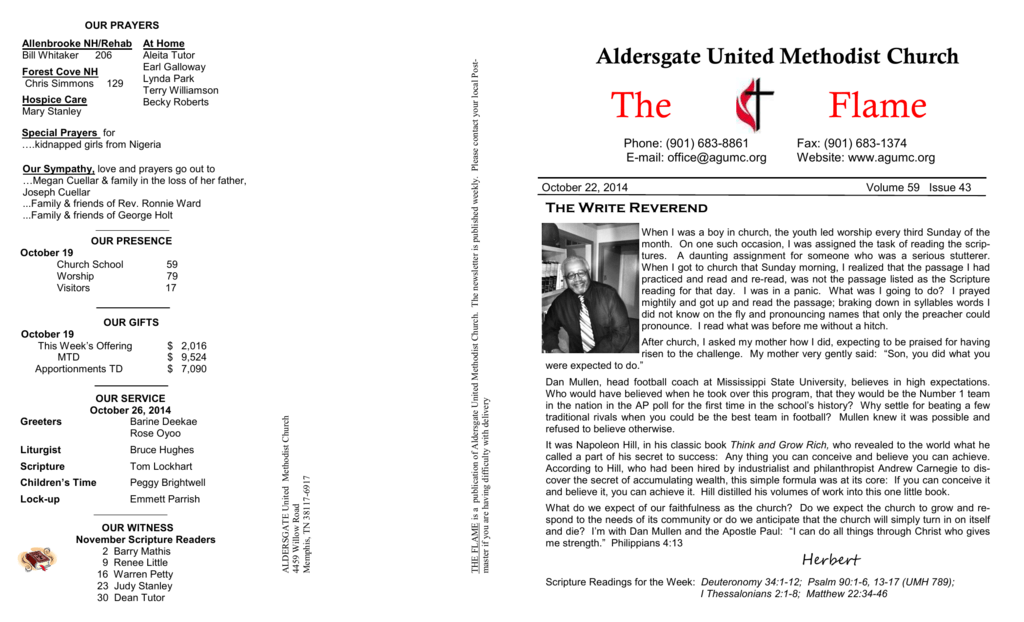 Allenbrooke NH/Rehab
Bill Whitaker
206
Forest Cove NH
Chris Simmons 129
Hospice Care
Mary Stanley
At Home
Aleita Tutor
Earl Galloway
Lynda Park
Terry Williamson
Becky Roberts
Special Prayers for
F.kidnapped girls from Nigeria
Our Sympathy, love and prayers go out to
FMegan Cuellar & family in the loss of her father,
Joseph Cuellar
...Family & friends of Rev. Ronnie Ward
...Family & friends of George Holt
OUR PRESENCE
October 19
Church School
Worship
Visitors
59
79
17
Greeters
OUR SERVICE
October 26, 2014
Barine Deekae
Rose Oyoo
Liturgist
Bruce Hughes
Scripture
Tom Lockhart
Children's Time
Peggy Brightwell
Lock-up
Emmett Parrish
OUR WITNESS
November Scripture Readers
2 Barry Mathis
9 Renee Little
16 Warren Petty
23 Judy Stanley
30 Dean Tutor
ALDERSGATE United Methodist Church
4459 Willow Road
Memphis, TN 38117-6917
OUR GIFTS
October 19
This Week's Offering
$ 2,016
MTD
$ 9,524
Apportionments TD
$ 7,090
THE FLAME is a publication of Aldersgate United Methodist Church. The newsletter is published weekly. Please contact your local Postmaster if you are having difficulty with delivery
OUR PRAYERS
Aldersgate United Methodist Church
The
Phone: (901) 683-8861
E-mail: [email protected]
Flame
Fax: (901) 683-1374
Website: www.agumc.org
October 22, 2014
Volume 59 Issue 43
The Write Reverend
When I was a boy in church, the youth led worship every third Sunday of the
month. On one such occasion, I was assigned the task of reading the scriptures. A daunting assignment for someone who was a serious stutterer.
When I got to church that Sunday morning, I realized that the passage I had
practiced and read and re-read, was not the passage listed as the Scripture
reading for that day. I was in a panic. What was I going to do? I prayed
mightily and got up and read the passage; braking down in syllables words I
did not know on the fly and pronouncing names that only the preacher could
pronounce. I read what was before me without a hitch.
After church, I asked my mother how I did, expecting to be praised for having
risen to the challenge. My mother very gently said: "Son, you did what you
were expected to do."
Dan Mullen, head football coach at Mississippi State University, believes in high expectations.
Who would have believed when he took over this program, that they would be the Number 1 team
in the nation in the AP poll for the first time in the school's history? Why settle for beating a few
traditional rivals when you could be the best team in football? Mullen knew it was possible and
refused to believe otherwise.
It was Napoleon Hill, in his classic book Think and Grow Rich, who revealed to the world what he
called a part of his secret to success: Any thing you can conceive and believe you can achieve.
According to Hill, who had been hired by industrialist and philanthropist Andrew Carnegie to discover the secret of accumulating wealth, this simple formula was at its core: If you can conceive it
and believe it, you can achieve it. Hill distilled his volumes of work into this one little book.
What do we expect of our faithfulness as the church? Do we expect the church to grow and respond to the needs of its community or do we anticipate that the church will simply turn in on itself
and die? I'm with Dan Mullen and the Apostle Paul: "I can do all things through Christ who gives
me strength." Philippians 4:13
Herbert
Scripture Readings for the Week: Deuteronomy 34:1-12; Psalm 90:1-6, 13-17 (UMH 789);
I Thessalonians 2:1-8; Matthew 22:34-46
LööKING AHEAD
Sun. 10/26
9:00a Finance Committee Mtg.
9:45a Sunday School
11:00a Worship
12:30p Sip & See Mary Bierbrodt
Deadline for Shoes for Lakeshore
Mon. 10/27
Noon News Deadline
Tue. 10/28
6:00p Cub Scouts
Wed. 10/29
10:00a Bible Study at Aldersgate
6:00p Fellowship & Study
7:30p Choir Rehearsal
Thu. 10/30
9a-12p Food Pantry Open
at Asbury
Fri. 10/31
Offices Closed
Sat. 11/1
9:00a AFLS
Set clocks BACK one hour tonight
Sun. 11/2
All Saints' Sunday
9:45a Sunday School
11:00a Worship
12:15p Hispanic Board Mtg.
REMINDER
The Finance Committee, Sun., Oct. 26, at 9 a.m.
HARVEST DINNER IS NOVEMBER 16
We always look forward to our traditional Thanksgiving Dinner, catered by Mary Proctor. Don't forget to make reservations. They are a must, to
provide us with the number of mouths we will feed.
The sign-up sheet is on the office window or you
may call the office, 683-8861.
Please join us for lunch to welcome
Mary Wilson Bierbrodt
Sunday, October 26, 2014
12:30 p.m.
Aldersgate United Methodist Church
4459 Willow Road
Courtney is registered at Target, Babies "R" US,
Cotton Tails and RSVP Baby
FOOD PANTRY FOR OCTOBER
Green Beans, Corn, Cake Mix, Frosting
THOUGHT FOR THE WEEK
Getting people to like you is simply
the other side of liking other people.
Norman Vincent Peale
KOFFEE IN THE KITCHEN
Please join us in the kitchen on Sunday mornings,
help yourself to a cup of coffee then join your
friends in the Fellowship Hall. All are welcome!
ADVENT STUDY
Student books for our special Advent study, "Not a
Silent Night"—Mary Looks Back to Bethlehem, are
now available for $11 each. Sessions will begin
on November 30. Stop by or call the church office
to reserve or pick up your copy.
UMW NEWS
Mission Outreach Retreat
Registration Deadline - October 25
Nov. 8-9 at Lakeshore will again see MOR in full
swing. There will be both inside and outside activities this year. Bring your crochet/knitting/sewing
projects, sewing machines and materials for
school bags, sundresses and shorts. Our UMCOR
project is sewing kits. If you plan to work on an
outside project, please bring black plastic bags,
gloves, clippers, etc., and wear tennis shoes.
Bring the usual comfortable clothing and linens,
money for the canteen and Bookroom and a bottle
for water (Lakeshore does not carry bottled water).
A love offering will be collected at the end of the
retreat.
Forms are available in the church office or on the
tables outside the Sanctuary.
For more information and details, please contact
Melba Mitchell, [email protected] or 731780-0873 or Carol Lord, [email protected] or
901-388-0541.
REMEMBER YOUR
"SHOES FOR LAKESHORE"
The deadline is October 26. Let's put our best
'feet' forward and give Lakeshore our shoes! The
more the better. Lakeshore will be paid for every
pair of new or gently used shoes donated.
CONGRATS TO THE WINNERS
...of our 35th Annual Golf Tournament:
Jimmy Bedwell, David Forney, Matt Bedwell, and John Richey. John Richey also
took the prizes for Closest to the Pin and
Longest Drive.
THANKSGIVING BASKETS
Starting November 1, we will be collecting for the
Thanksgiving food baskets for Asbury's Food Pantry. Please bring only the items listed below. If
you wish to make a monetary donation, please
make it out to Aldersgate and note "food pantry" in
the memo line. Kroger gift cards in the amount of
$15 are also welcome. Thank you for your faithfulness to this project.
Sharon Lockhart
2 Boxes Stuffing Mix
2 Cans Cranberry Sauce
2 Cans Green Beans 2 Cans Corn
40 oz. Sweet Potatoes 4-5 lbs. flour
4-5 lbs. sugar
40 oz. biscuit mix
24 oz. Oil
Box of Powered Milk
1 Cake Mix
1 Can Frosting
1 Jar of Instant Coffee 26 oz. Instant Potatoes
1 Box Family-size Tea Bags 1 Kroger Gift Card
This is a complete basket. You may do all or any
part, as you prefer. Please have all items/baskets
at the church by November 19.
MULLINS UMW'S
37th ANNUAL CRAFTS FAIR
November 8 — 9 am to 4 pm
All are invited to the Mullins UMW's Annual Crafts
Fair. There will be over 100 exhibitors offering
handcrafted items. All activities are inside. Baked
goods and food concessions will be on site. You
may find just what you want for that special someone for Christmas!
LA PALOMA TREATMENT CENTER PRESENTS
6K RUN/WALK TO BENEFIT 'THE WAY'
'The Way', a recovery ministry of St. John's UMC
and the Church Health Center, will receive the proceeds of the Heroes in Action 6K Run/Walk, on
Nov. 8th. Kick-off will be at 8 a.m. at Court Square
on Main St.
A recovery service is held at St. John's every Friday at 6 p.m. All are invited to attend.
Log on to: heroes6k.com to register for the event.
THE UPPER ROOM
...for November/December are now available on
the tables outside the Sanctuary.
LINDENWOOD OFFERS
"THE CHRISTMAS SPECTACULAR"
Tickets are now on sale for Lindenwood Christian
Church's "Christmas Spectacular". General Admission is $18. The performance will be Sunday,
December 7, at 7:30 p.m. Doors will open at 6:30.
Please reserve your tickets by phone at 901-4581652 or email at [email protected]
Last year sold out, so reserve soon! The Chancel
Choir, orchestra, soloists and organist, Chris Nemec, will present many favorites such as "O Holy
Night", "Away in a Manger" and "Still, Still, Still".
Its sure to be a great evening!