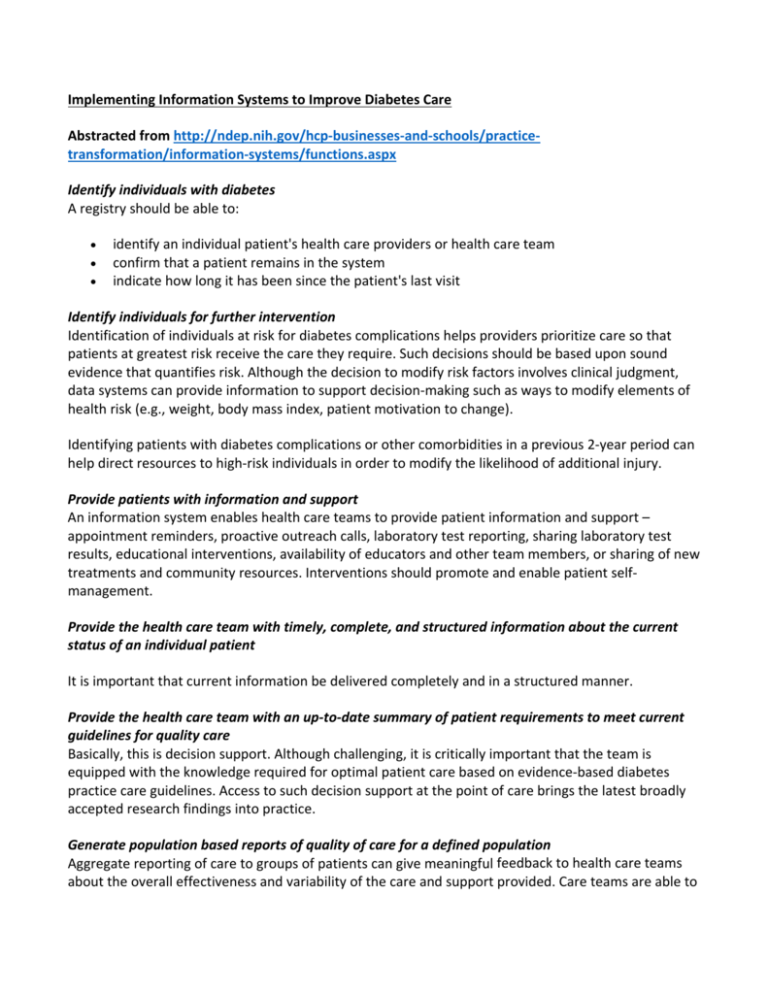 Implementing Information Systems to Improve Diabetes Care Abstracted from http://ndep.nih.gov/hcp‐businesses‐and‐schools/practice‐
transformation/information‐systems/functions.aspx Identify individuals with diabetes A registry should be able to: 


identify an individual patient's health care providers or health care team confirm that a patient remains in the system indicate how long it has been since the patient's last visit Identify individuals for further intervention Identification of individuals at risk for diabetes complications helps providers prioritize care so that patients at greatest risk receive the care they require. Such decisions should be based upon sound evidence that quantifies risk. Although the decision to modify risk factors involves clinical judgment, data systems can provide information to support decision‐making such as ways to modify elements of health risk (e.g., weight, body mass index, patient motivation to change). Identifying patients with diabetes complications or other comorbidities in a previous 2‐year period can help direct resources to high‐risk individuals in order to modify the likelihood of additional injury. Provide patients with information and support An information system enables health care teams to provide patient information and support – appointment reminders, proactive outreach calls, laboratory test reporting, sharing laboratory test results, educational interventions, availability of educators and other team members, or sharing of new treatments and community resources. Interventions should promote and enable patient self‐
management. Provide the health care team with timely, complete, and structured information about the current status of an individual patient It is important that current information be delivered completely and in a structured manner. Provide the health care team with an up‐to‐date summary of patient requirements to meet current guidelines for quality care Basically, this is decision support. Although challenging, it is critically important that the team is equipped with the knowledge required for optimal patient care based on evidence‐based diabetes practice care guidelines. Access to such decision support at the point of care brings the latest broadly accepted research findings into practice. Generate population based reports of quality of care for a defined population Aggregate reporting of care to groups of patients can give meaningful feedback to health care teams about the overall effectiveness and variability of the care and support provided. Care teams are able to identify areas of priority for improvement. Aggregate reporting can help practices set performance goals, create benchmarks and compare data against practice standards such as NCQA standards for recognition, meaningful use, or healthcare effectiveness data and information set (HEDIS) measures. Facilitate communication between all team members and team access to important information Prepared proactive provider teams are critical to the implementation of optimal care. Timely access to information, consistent documentation and sharing of information, and creating a "patient care trail" are fundamental to bridging the various team members and care settings. Extended care team members can include the primary care provider, endocrinologist, nurse, diabetes educator, dietitian, mental health provider, exercise physiologist, other team members and specialists, as well as hospital‐
based providers. Enable patient‐centered care Tailor the delivery of care around the unique and disparate needs of your patients by providing patient‐centered care that is "respectful of and responsive to individual patient preferences, needs, and values and ensuring that patient values guide all clinical decisions."[2] The patient feels listened to, respected, and cared for and may become more involved in team decision‐making and self‐care. [3] Access to and use of information and resources helps individual patients in their self‐management efforts; support patients and their families in dealing with disease‐related concerns; and optimize the patient's chances for living a vital life with as few physical and emotional limitations as possible. Enhanced patient‐provider interaction Information systems should be designed to optimize the professional‐patient interaction in terms of timeliness, efficiency, and effectiveness of care and process. Data input during a patient visit should not diminish the value of patient‐professional time. A good system can be expected to: 



deliver information promptly be clearly organized provide additional information benefit rather than burden the patient‐professional interaction Registries can support professional‐patient interactions from four different aspects: 



the health system – to support clinical performance and quality between clinics, a clinic – to compare providers and evaluate patterns and gaps in the provision of care, a provider – to give providers a perspective on their performance and access to their roster of individual patients, and a patient – to support education and individual goal‐setting.