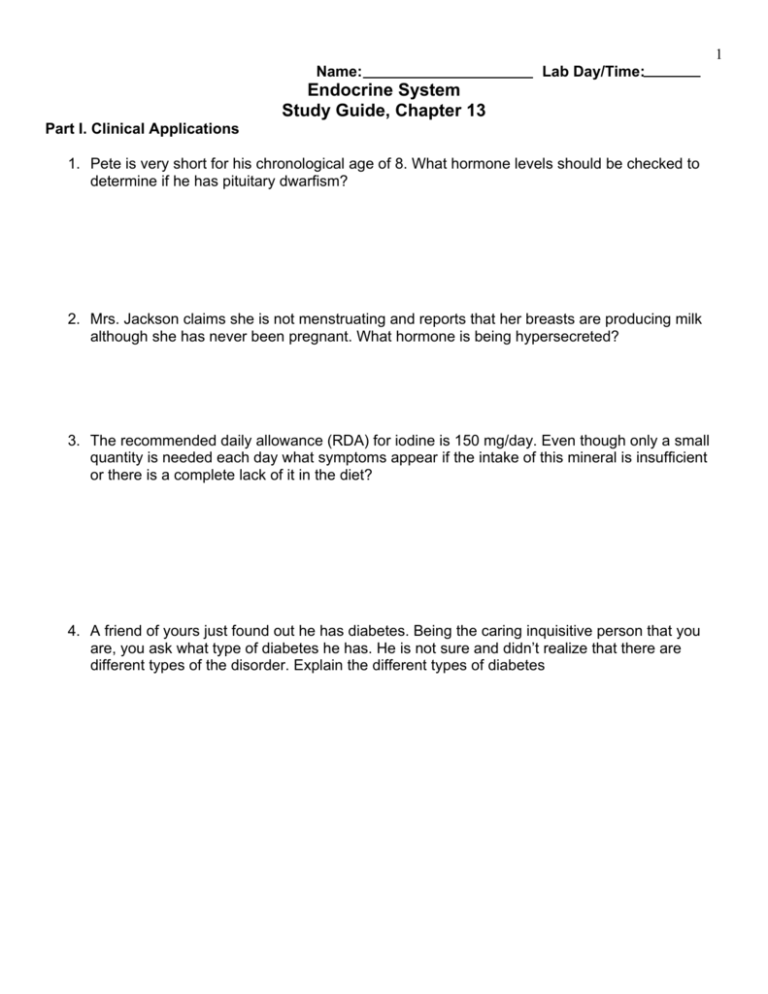 1
Name:
Lab Day/Time:
Endocrine System
Study Guide, Chapter 13
Part I. Clinical Applications
1. Pete is very short for his chronological age of 8. What hormone levels should be checked to
determine if he has pituitary dwarfism?
2. Mrs. Jackson claims she is not menstruating and reports that her breasts are producing milk
although she has never been pregnant. What hormone is being hypersecreted?
3. The recommended daily allowance (RDA) for iodine is 150 mg/day. Even though only a small
quantity is needed each day what symptoms appear if the intake of this mineral is insufficient
or there is a complete lack of it in the diet?
4. A friend of yours just found out he has diabetes. Being the caring inquisitive person that you
are, you ask what type of diabetes he has. He is not sure and didn't realize that there are
different types of the disorder. Explain the different types of diabetes
2
3
Part V
4
5
Part VI
10.
11.
6
7
12.
13.
14.
15.
16.
8
Part VII
1.
9
10
2.
3.
11
4.
12
5.
13
14
6.
15
7.
16
8.