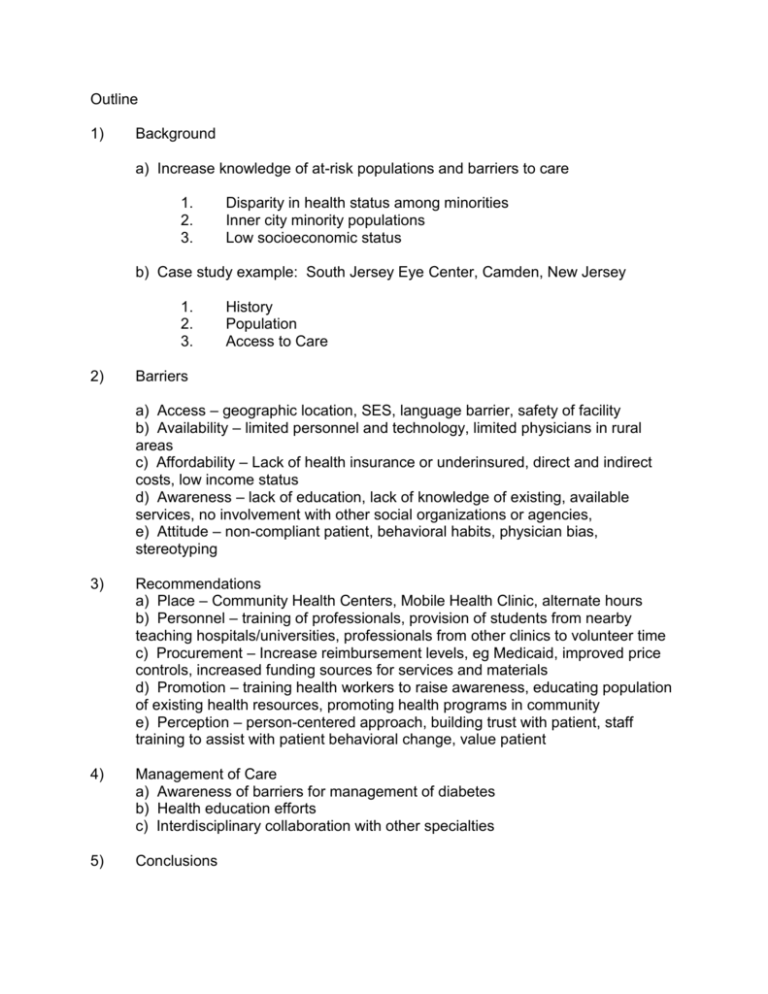 Outline
1)
Background
a) Increase knowledge of at-risk populations and barriers to care
1.
2.
3.
Disparity in health status among minorities
Inner city minority populations
Low socioeconomic status
b) Case study example: South Jersey Eye Center, Camden, New Jersey
1.
2.
3.
2)
History
Population
Access to Care
Barriers
a) Access – geographic location, SES, language barrier, safety of facility
b) Availability – limited personnel and technology, limited physicians in rural
areas
c) Affordability – Lack of health insurance or underinsured, direct and indirect
costs, low income status
d) Awareness – lack of education, lack of knowledge of existing, available
services, no involvement with other social organizations or agencies,
e) Attitude – non-compliant patient, behavioral habits, physician bias,
stereotyping
3)
Recommendations
a) Place – Community Health Centers, Mobile Health Clinic, alternate hours
b) Personnel – training of professionals, provision of students from nearby
teaching hospitals/universities, professionals from other clinics to volunteer time
c) Procurement – Increase reimbursement levels, eg Medicaid, improved price
controls, increased funding sources for services and materials
d) Promotion – training health workers to raise awareness, educating population
of existing health resources, promoting health programs in community
e) Perception – person-centered approach, building trust with patient, staff
training to assist with patient behavioral change, value patient
4)
Management of Care
a) Awareness of barriers for management of diabetes
b) Health education efforts
c) Interdisciplinary collaboration with other specialties
5)
Conclusions
6)
References
Chin MH, Cook S, Jin L, Drum J, Harriston JF, et al. Barriers to providing diabetes care
in community health centers. Diabetes Care. 2001;24(2):268-174.
Marmot M. Social determinants of health inequalities. The Lancet.
2005;365.9464:1099-1104.
Tripp-Reimer T, Choi E, Kelley S, Enstein. Cultural barriers to care: inverting the
problem. Diabetes Spectrum. 2001;14(1):13-22.