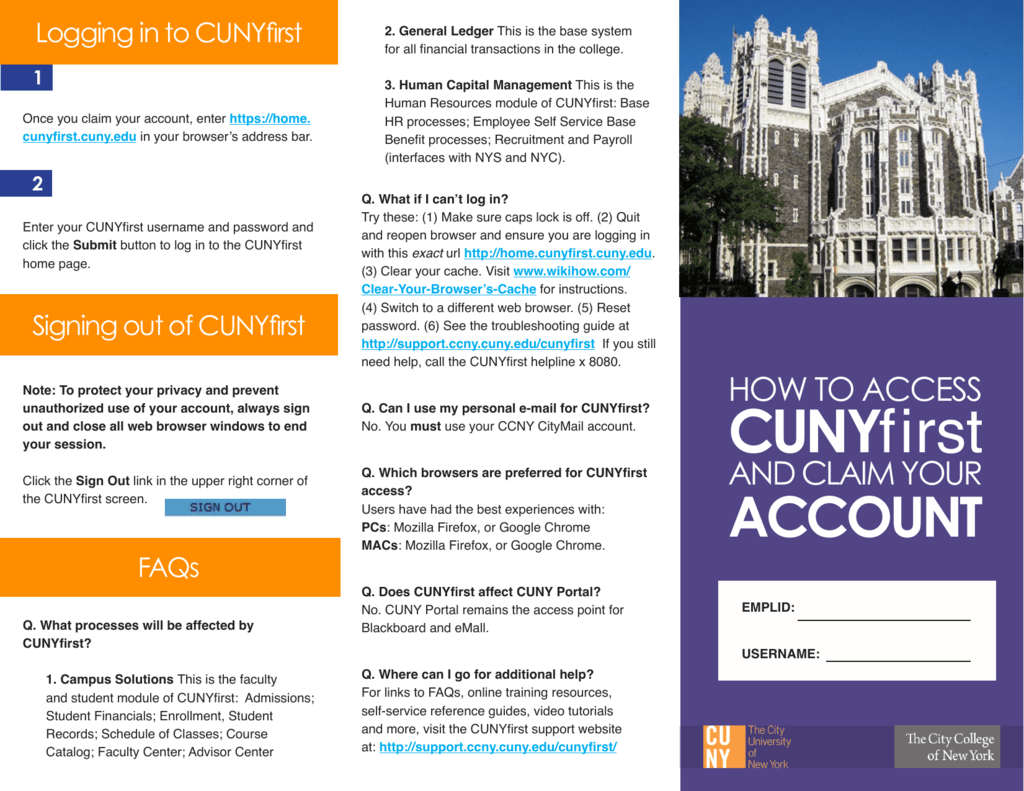 Logging in to CUNYfirst
1 Acepero vel ecipsam aut
Once you claim your account, enter https://home.
cunyfirst.cuny.edu in your browser's address bar.
2 Olorepudis cum escipsam
Enter your CUNYfirst username and password and
click the Submit button to log in to the CUNYfirst
home page.
Signing out of CUNYfirst
Note: To protect your privacy and prevent
unauthorized use of your account, always sign
out and close all web browser windows to end
your session.
Click the Sign Out link in the upper right corner of
the CUNYfirst screen.
FAQs
Q. What processes will be affected by
CUNYfirst?
1. Campus Solutions This is the faculty
and student module of CUNYfirst: Admissions;
Student Financials; Enrollment, Student
Records; Schedule of Classes; Course
Catalog; Faculty Center; Advisor Center
2. General Ledger This is the base system
for all financial transactions in the college.
3. Human Capital Management This is the
Human Resources module of CUNYfirst: Base
HR processes; Employee Self Service Base
Benefit processes; Recruitment and Payroll
(interfaces with NYS and NYC).
Q. What if I can't log in?
Try these: (1) Make sure caps lock is off. (2) Quit
and reopen browser and ensure you are logging in
with this exact url http://home.cunyfirst.cuny.edu.
(3) Clear your cache. Visit www.wikihow.com/
Clear-Your-Browser's-Cache for instructions.
(4) Switch to a different web browser. (5) Reset
password. (6) See the troubleshooting guide at
http://support.ccny.cuny.edu/cunyfirst If you still
need help, call the CUNYfirst helpline x 8080.
Q. Can I use my personal e-mail for CUNYfirst?
No. You must use your CCNY CityMail account.
Q. Which browsers are preferred for CUNYfirst
access?
Users have had the best experiences with:
PCs: Mozilla Firefox, or Google Chrome
MACs: Mozilla Firefox, or Google Chrome.
Q. Does CUNYfirst affect CUNY Portal?
No. CUNY Portal remains the access point for
Blackboard and eMall.
Q. Where can I go for additional help?
For links to FAQs, online training resources,
self-service reference guides, video tutorials
and more, visit the CUNYfirst support website
at: http://support.ccny.cuny.edu/cunyfirst/
HOW TO ACCESS
CUNYfirst
AND CLAIM YOUR
ACCOUNT
EMPLID:
USERNAME:
CLAIM YOUR ACCOUNT
3 Bis aut modisit quam que
5
This will bring you to Account Activation.
1 Acepero vel ecipsam
Visit: https://home.cunyfirst.cuny.edu Note:
Faculty, staff and students transferring from
a CUNYfirst school (see list below) already
have an account and should just log in. New
students can claim their accounts after April 7.
●● Refresh
●● Audio
●● Help
Borough of Manhattan Community College
Passwords must:
Bronx Community College
●● be at least 8 -13 characters long
Brooklyn College
College of Staten Island
CUNY Graduate School of Journalism
CUNY School of Law
CUNY School of Professional Studies
CUNY School of Public Health
Hostos Community College
Hunter College
Kingsborough Community College
LaGuardia Community College
●● contain at least one uppercase
Note: Your date of birth must include forward
slashes, i.e., 09/31/1975.
Type the words you see in the CAPTCHA,
including the space. Click Refresh to choose a
different CAPTCHA text, or click Audio to hear
an aural alternative CAPTCHA. Click OK to
proceed to the next step.
Lehman College
Macaulay Honors College
New York City College of Technology
Queensborough Community College
Queens College
Stella and Charles Guttman Community College
York College
2
Click on First Time Users link.
4
Select your five challenge questions and type in
answers for each question. You will need to
remember your answers in order to reset a
forgotten password, so select questions and
answers that are memorable. Click OK.
letter
●● must have at least one numeric
character (1,2,3,etc.) or one
special character (&, %, ?, etc.)
Click the OK button once. It may take a few
minutes to process your CUNYfirst account
information, so be patient.
Note: Your password will expire every 90
days, at which point you will be prompted
to create a new password.
6 Gitatus rem dolorro
You have successfully claimed your CUNYfirst
account. Make a note of your user name and
EMPLID.
Note: Your EMPLID, which is your
unique eight digit personal ID number, is
sometimes referred to as your User ID.