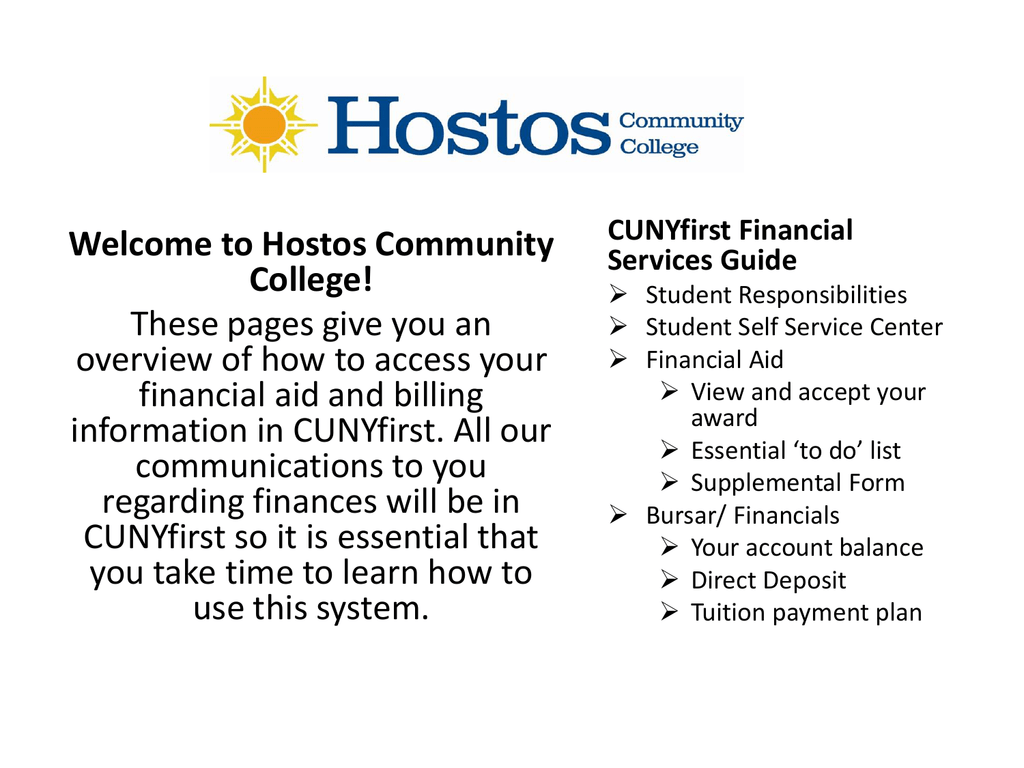 Welcome to Hostos Community
College!
These pages give you an
overview of how to access your
financial aid and billing
information in CUNYfirst. All our
communications to you
regarding finances will be in
CUNYfirst so it is essential that
you take time to learn how to
use this system.
CUNYfirst Financial
Services Guide
 Student Responsibilities
 Student Self Service Center
 Financial Aid
 View and accept your
award
 Essential 'to do' list
 Supplemental Form
 Bursar/ Financials
 Your account balance
 Direct Deposit
 Tuition payment plan
Student's Responsibilities
• The student is responsible for the tuition amount that is
not covered by Financial Aid.
• Students should view the deadline for full tuition
payment to avoid their classes being dropped.
• Students should adhere to the academic calendar
deadlines and be aware of the refund policy
• NOTE: During "Change of Program Week" all changes
must be done with "SWAP" function. A Drop/Add will
incur a financial liability.
• Student MUST DROP any classes that they no longer
wish to attend before the first day of class to avoid
incurring any financial liability.
Student Center Self Service Home Screen
Available Options from Home Screen
•
•
•
•
•
•
•
Class Listing
Holds (top right)
To Do List (middle right)
Account Activity
Pending Financial Aid
Link to Sallie Mae Payment Plan (bottom right)
Direct Deposit
Checking my Financial Aid status
online in CUNYfirst
• Log on to your CUNYfirst account
(www.hostos.cuny.edu/first) click on:
 Self Service
 Student Center
 (Box on the right) View your "To Do List" box.
The "to do list" will show you if there are any other required
items/steps needed to complete your Financial Aid process.
• If you have any items listed on your "to do list", click on
 "details".
 Each "to do" item will have its own link. Click to see further
instructions.
Viewing Your Award
• If you do not have any items on your "to do list", scroll down to the
"Finances" section:
 View financial aid.
 Select 2014 to view awards for the Fall 2013 – Spring 2014
academic year.
• NOTE: The awards shown represent full-time enrollment. If you
change your enrollment from Full to Part-time, your financial aid
will be recalculated. You will be able to view the changes by the
following day.
If you wish to view what the new awards will be, locate your Expected
Family Contribution (EFC) # by using the web address below:
èhttp://www.hostos.cuny.edu/ofa/print/msc/PellSchedule_1314.pdf
to view the 2013 -2014 PELL award chart.
Accepting Your Award
• Federal Work study and Perkin Loans must be
manually accepted to be received. To accept the
awards (on the student center page):
 Accept/Decline Awards
 Select Aid Year 2014 (Financial Aid Year 2013-2014)
On the Award Package page:
 ACCEPT FEDERAL WORK STUDY FALL/SPRING
Submit
Confirm
Complete a "Supplement Form"
Student Self Service Center Page
 Student Center
 (In the "Finances" section) Supplement Form
• For Institution: Click on the magnifying glass
 Under "search results" select the Academic institution you will
attend. You may also enter "HOS01" in the box.
• For Aid Year: Click on the magnifying glass
 Under "search results" select the Academic Year you will attend
(2014 represents the Fall 2013 - Spring 2014 academic year).
 Ok, Complete the displayed online form, do not leave any questions
blank/unanswered
 Click on "submit".
View Your Bill in Account
Activity/Summary
Set up Direct Deposit to Receive your Award Payments
– if you have remaining funds after tuition is paid
Set up a Payment Plan
Tuition Payment Plan for Fall and Spring Semester
Pay tuition a little at a time!
The TuitionPay™ Plan
The TuitionPay Plan from Sallie Mae breaks your tuition bill into
smaller, more manageable installments.
–
–
–
–
–
Interest-free payments
More time to pay
Convenient, easy online enrollment
Endorsed by CUNY
Enroll today to get the most out of your Plan!
Visit www.tuitionpay.com/CUNY to enroll online.
If you would like assistance or have any questions, please call (866)
267-CUNY or contact the Hostos bursar's Office.
Itemized Detail by term
• in Finances section, click down arrow next to
"other financial". Choose account activity.
• On next screen, down arrow next to all terms,
choose the term and press go.