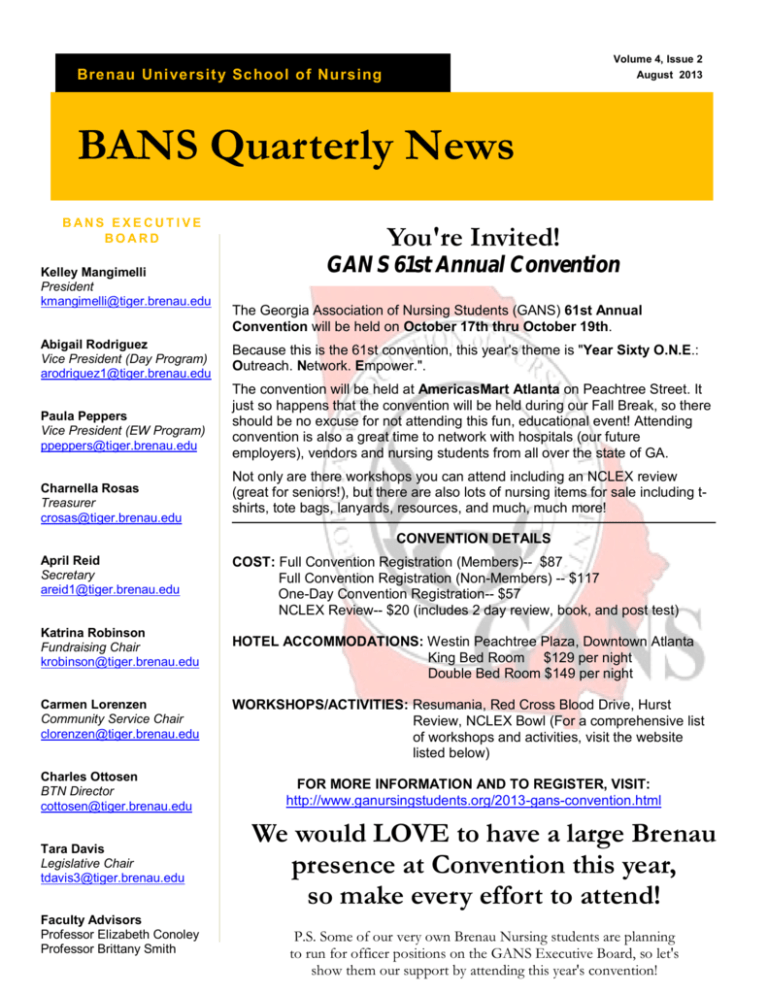 Volume 4, Issue 2
Bre nau Uni ve rsit y Sc hool of Nursing
August 2013
h
BANS Quarterly News
B ANS EXE CUT IVE
BOARD
Kelley Mangimelli
President
kmangimelli@tiger.brenau.edu
Abigail Rodriguez
Vice President (Day Program)
arodriguez1@tiger.brenau.edu
Paula Peppers
Vice President (EW Program)
ppeppers@tiger.brenau.edu
Charnella Rosas
Treasurer
crosas@tiger.brenau.edu
You're Invited!
GANS 61st Annual Convention
The Georgia Association of Nursing Students (GANS) 61st Annual
Convention will be held on October 17th thru October 19th.
Because this is the 61st convention, this year's theme is "Year Sixty O.N.E.:
Outreach. Network. Empower.".
The convention will be held at AmericasMart Atlanta on Peachtree Street. It
just so happens that the convention will be held during our Fall Break, so there
should be no excuse for not attending this fun, educational event! Attending
convention is also a great time to network with hospitals (our future
employers), vendors and nursing students from all over the state of GA.
Not only are there workshops you can attend including an NCLEX review
(great for seniors!), but there are also lots of nursing items for sale including tshirts, tote bags, lanyards, resources, and much, much more!
CONVENTION DETAILS
April Reid
Secretary
areid1@tiger.brenau.edu
Katrina Robinson
Fundraising Chair
krobinson@tiger.brenau.edu
Carmen Lorenzen
Community Service Chair
clorenzen@tiger.brenau.edu
Charles Ottosen
BTN Director
cottosen@tiger.brenau.edu
Tara Davis
Legislative Chair
tdavis3@tiger.brenau.edu
Faculty Advisors
Professor Elizabeth Conoley
Professor Brittany Smith
COST: Full Convention Registration (Members)-- $87
Full Convention Registration (Non-Members) -- $117
One-Day Convention Registration-- $57
NCLEX Review-- $20 (includes 2 day review, book, and post test)
HOTEL ACCOMMODATIONS: Westin Peachtree Plaza, Downtown Atlanta
King Bed Room $129 per night
Double Bed Room $149 per night
WORKSHOPS/ACTIVITIES: Resumania, Red Cross Blood Drive, Hurst
Review, NCLEX Bowl (For a comprehensive list
of workshops and activities, visit the website
listed below)
FOR MORE INFORMATION AND TO REGISTER, VISIT:
http://www.ganursingstudents.org/2013-gans-convention.html
We would LOVE to have a large Brenau
presence at Convention this year,
so make every effort to attend!
P.S. Some of our very own Brenau Nursing students are planning
to run for officer positions on the GANS Executive Board, so let's
show them our support by attending this year's convention!
BANS Q ua rterl y News
Page 2
You and NCLEX Reviews
ATTENTION: ALL NURSING STUDENTS WHO
WOULD LIKE TO PASS NCLEX!
As we know, we are provided a Kaplan NCLEX Review at the end of our
senior year through the yearly dues we are required to pay. However, we
don't want to settle for only one review! Below is some information about
review courses that are available, including benefits you can gain from each
type of review.
Kaplan NCLEX Review is more than just content review! It focuses on critical
thinking skills needed to answer questions. Online resources are available for
us, as students, simply by using your login information at
https://kaplanlwwtesting.kaplan.com/S_Login.aspx. Kaplan's proven system
guarantees that you will pass boards!
At this year's GANS Convention, Kaplan will be hosting an NCLEX review for
only $20! This includes 2- 2 hr. review sessions, a practice test on the last
day, as well as review materials to take home. You can sign up when you
register for convention. Hurry, because spaces fill up fast! Don't miss this
great and inexpensive opportunity!
Below are the dates and locations
for Hurst Live Reviews. If 20-25
people sign up from our
school, a live review can be
scheduled especially for us! If
you are interested, email
Abigail Rodriguez at
arodriguez1@tiger.brenau.edu.
Augusta Technical College
Augusta, GA
December 9-11, 2013
Armstrong Atlantic University
Savannah, GA
December 11-13, 2013
Georgia Southern University
Statesboro, GA
December 16-18, 2013
Hilton Garden Inn Atlanta
NW/Kennesaw Town Center
Kennesaw, GA
December 18-20, 2013
Hurst Review Services is another NCLEX review company that guarantees
your success on the NCLEX. Hurst Review focuses more on core content, as
well as demonstrates testing strategies. Hurst offers both live and online
reviews.
Hurst's Enhanced Live Review Package ($350) includes:
 3-Days of live lectures focusing MUST KNOW core content along with
student book
 1-Year access to specialty area lectures and Resource
materials including pharmacology & infection control.
 14-Days unlimited online access to all Hurst Review lectures
 "Q-Review" question bank providing NCLEX® style practice exams (6
attempts, 125 Questions each)
 "NurseCoach" online tutor and technical support
 Pay once and attend unlimited live review events within one year
of your graduation date or start date of your first live review,
whichever is longer
 Payment plan is available* - Reserve your seat with as little as $50
non-refundable deposit.
P.S. Hurst will be hosting a FREE one-hour focus session at Convention!
BANS Q ua rterl y News
Page 3
BANS and March of Dimes
Did you know that March of Dimes
has been walking for babies since 1970?
BANS is excited to be partnering with March of Dimes this year! We will be raising money
to help fulfill March of Dimes' Mission to "help moms have full term pregnancies and
research the problems that threaten the health of babies".
At the end of the year we will participate in a March of Dimes Walk to show our support.
Fundraising Activities to Come!
"Caring is
the essence of
nursing."
- Jean
Watson
If you have any fundraising ideas or are interested in becoming part of the team, contact
Paula Peppers, Team Leader, at ppeppers@tiger.breanu.edu.
BANS Store
The BANS Store is open for business! We have
t-shirts (new designs to come!), electrolyte value
cards, pens, pencils, drinks, and more!
If you would like to visit the BANS Store, let one of
the officers know! Also, if you there are any items you
would like to see in the store, email Charnella Rosas
(crosas@tiger.brenau.edu) and she can do her best
to supply what you need.
Want to Join BANS?
When you join Brenau's
Association of Nursing
Students (BANS), you also
become a member of Georgia
Association of Nursing
Students (GANS) AND
National Student Nurses
Association (NSNA)--3
memberships in one!
There are endless benefits
of joining BANS, GANS, and
NSNA aside from getting a
head start in your
involvement in professional
organizations as a future
nurse.
The fee to join is $35 for a
one-year membership or
$70 for a two-year
membership. You can get
more information and join
by visiting nsna.org.
Once you have signed up,
simply email Kelley Mangimelli,
BANS President, with your name
and membership number to let
her know you've joined! If you
have any questions, feel free to
email any of the BANS officers.
Check out the BANS Bulletin
Board located around the
corner of the restrooms for
event information and
updates!