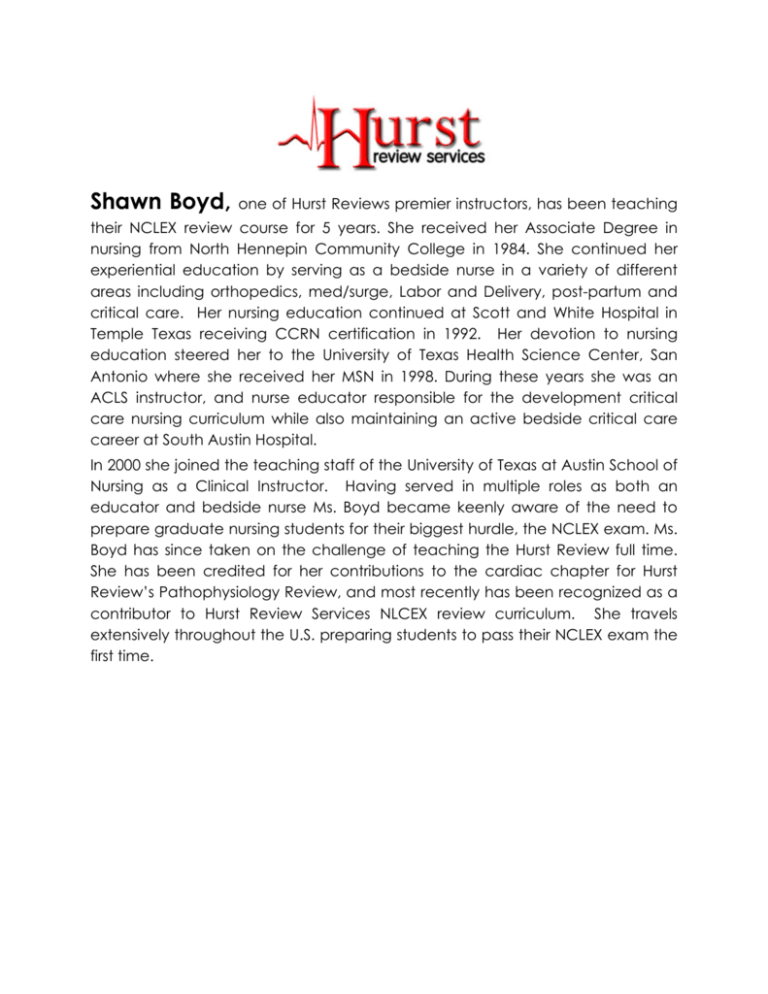 Shawn Boyd,
one of Hurst Reviews premier instructors, has been teaching
their NCLEX review course for 5 years. She received her Associate Degree in
nursing from North Hennepin Community College in 1984. She continued her
experiential education by serving as a bedside nurse in a variety of different
areas including orthopedics, med/surge, Labor and Delivery, post-partum and
critical care. Her nursing education continued at Scott and White Hospital in
Temple Texas receiving CCRN certification in 1992. Her devotion to nursing
education steered her to the University of Texas Health Science Center, San
Antonio where she received her MSN in 1998. During these years she was an
ACLS instructor, and nurse educator responsible for the development critical
care nursing curriculum while also maintaining an active bedside critical care
career at South Austin Hospital.
In 2000 she joined the teaching staff of the University of Texas at Austin School of
Nursing as a Clinical Instructor. Having served in multiple roles as both an
educator and bedside nurse Ms. Boyd became keenly aware of the need to
prepare graduate nursing students for their biggest hurdle, the NCLEX exam. Ms.
Boyd has since taken on the challenge of teaching the Hurst Review full time.
She has been credited for her contributions to the cardiac chapter for Hurst
Review's Pathophysiology Review, and most recently has been recognized as a
contributor to Hurst Review Services NLCEX review curriculum. She travels
extensively throughout the U.S. preparing students to pass their NCLEX exam the
first time.