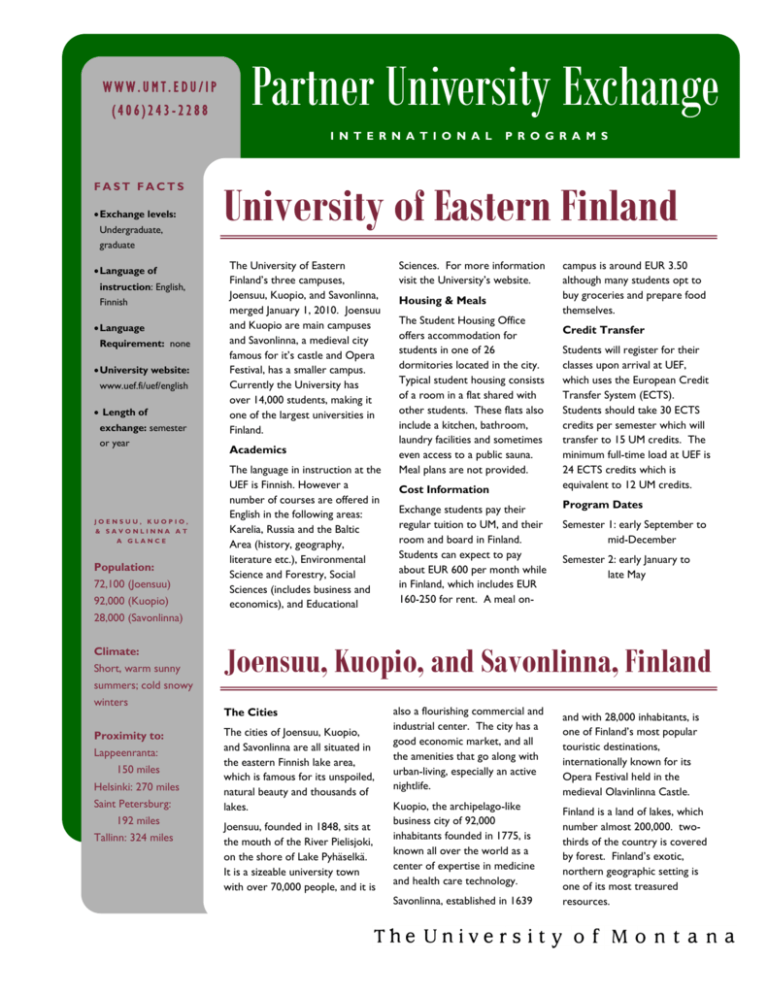 WWW.UMT.EDU/IP
(406)243-2288
Partner University Exchange
I N T E R N A T I O N A L
FAST FACTS
 Exchange levels:
Undergraduate,
graduate
 Language of
instruction: English,
Finnish
 Language
Requirement: none
 University website:
www.uef.fi/uef/english
 Length of
exchange: semester
or year
JOENSUU, KUOPIO,
& SAVONLINNA AT
A GLANCE
Population:
72,100 (Joensuu)
92,000 (Kuopio)
P R O G R A M S
University of Eastern Finland
The University of Eastern
Finland's three campuses,
Joensuu, Kuopio, and Savonlinna,
merged January 1, 2010. Joensuu
and Kuopio are main campuses
and Savonlinna, a medieval city
famous for it's castle and Opera
Festival, has a smaller campus.
Currently the University has
over 14,000 students, making it
one of the largest universities in
Finland.
Academics
The language in instruction at the
UEF is Finnish. However a
number of courses are offered in
English in the following areas:
Karelia, Russia and the Baltic
Area (history, geography,
literature etc.), Environmental
Science and Forestry, Social
Sciences (includes business and
economics), and Educational
Sciences. For more information
visit the University's website.
Housing & Meals
The Student Housing Office
offers accommodation for
students in one of 26
dormitories located in the city.
Typical student housing consists
of a room in a flat shared with
other students. These flats also
include a kitchen, bathroom,
laundry facilities and sometimes
even access to a public sauna.
Meal plans are not provided.
Cost Information
Exchange students pay their
regular tuition to UM, and their
room and board in Finland.
Students can expect to pay
about EUR 600 per month while
in Finland, which includes EUR
160-250 for rent. A meal on-
campus is around EUR 3.50
although many students opt to
buy groceries and prepare food
themselves.
Credit Transfer
Students will register for their
classes upon arrival at UEF,
which uses the European Credit
Transfer System (ECTS).
Students should take 30 ECTS
credits per semester which will
transfer to 15 UM credits. The
minimum full-time load at UEF is
24 ECTS credits which is
equivalent to 12 UM credits.
Program Dates
Semester 1: early September to
mid-December
Semester 2: early January to
late May
28,000 (Savonlinna)
Climate:
Short, warm sunny
summers; cold snowy
winters
Proximity to:
Lappeenranta:
150 miles
Helsinki: 270 miles
Saint Petersburg:
192 miles
Tallinn: 324 miles
Joensuu, Kuopio, and Savonlinna, Finland
The Cities
The cities of Joensuu, Kuopio,
and Savonlinna are all situated in
the eastern Finnish lake area,
which is famous for its unspoiled,
natural beauty and thousands of
lakes.
Joensuu, founded in 1848, sits at
the mouth of the River Pielisjoki,
on the shore of Lake Pyhäselkä.
It is a sizeable university town
with over 70,000 people, and it is
also a flourishing commercial and
industrial center. The city has a
good economic market, and all
the amenities that go along with
urban-living, especially an active
nightlife.
Kuopio, the archipelago-like
business city of 92,000
inhabitants founded in 1775, is
known all over the world as a
center of expertise in medicine
and health care technology.
Savonlinna, established in 1639
and with 28,000 inhabitants, is
one of Finland's most popular
touristic destinations,
internationally known for its
Opera Festival held in the
medieval Olavinlinna Castle.
Finland is a land of lakes, which
number almost 200,000. twothirds of the country is covered
by forest. Finland's exotic,
northern geographic setting is
one of its most treasured
resources.