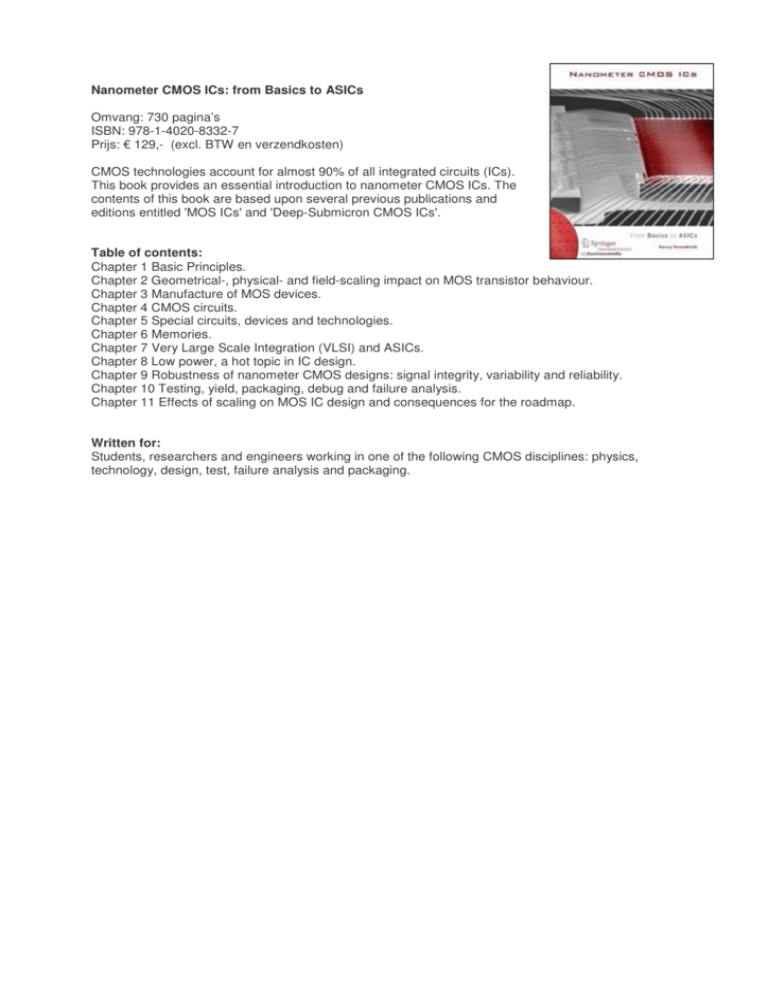 Nanometer CMOS ICs: from Basics to ASICs
Omvang: 730 pagina's
ISBN: 978-1-4020-8332-7
Prijs: € 129,- (excl. BTW en verzendkosten)
CMOS technologies account for almost 90% of all integrated circuits (ICs).
This book provides an essential introduction to nanometer CMOS ICs. The
contents of this book are based upon several previous publications and
editions entitled 'MOS ICs' and 'Deep-Submicron CMOS ICs'.
Table of contents:
Chapter 1 Basic Principles.
Chapter 2 Geometrical-, physical- and field-scaling impact on MOS transistor behaviour.
Chapter 3 Manufacture of MOS devices.
Chapter 4 CMOS circuits.
Chapter 5 Special circuits, devices and technologies.
Chapter 6 Memories.
Chapter 7 Very Large Scale Integration (VLSI) and ASICs.
Chapter 8 Low power, a hot topic in IC design.
Chapter 9 Robustness of nanometer CMOS designs: signal integrity, variability and reliability.
Chapter 10 Testing, yield, packaging, debug and failure analysis.
Chapter 11 Effects of scaling on MOS IC design and consequences for the roadmap.
Written for:
Students, researchers and engineers working in one of the following CMOS disciplines: physics,
technology, design, test, failure analysis and packaging.